Students can receive hands-on industry training with the Assured Automotive Co-op program
Students will learn everything from the basics of industry standards, the workings of the detail department, vehicle repair, safety procedures, how to use grinders, prep/paint⁠—students will even learn techniques performed by their skilled Assured tech mentors as they train in their shadows.
Once students have been introduced to the trade, they will get the opportunity to choose which area of collision repair they'd like to focus on. The program is uniquely tailored to include trainers who are experienced with a wide range of students to allow for maximum learning.
The Co-op program runs year-round with morning or afternoon placements, and is an open and inclusive program to those of all genders. To qualify for the program students must be in Grade 11 or above. Successful completion of the Co-op has lead 65-80% of students to gain employment in the Automotive Industry. All tools/equipment are provided, with the exception of boots.
With the ability to transfer from a co-op into an apprenticeship the large Assured Network allows students the flexibility to move around. Wherever their journey takes them, there is an Assured location to accommodate.
Available at many Assured locations across Canada, students are encouraged to reach out to their schools' co-op/guidance teacher or message visit
assuredauto.ca/contact
to request more information.
For those with passion for the industry, a positive attitude and a willingness to learn the sky's the limit!
Assured Automotive in Burlington Ontario offers some of the top Co-op positions in the company. The program is run by long time collision repair expert Tom Loth. Tom has over 15 years experience training students from all walks of life. Helping students succeed in this industry is his passion. If you are looking for a Co-op in the Burlington area, don't hesitate to reach out!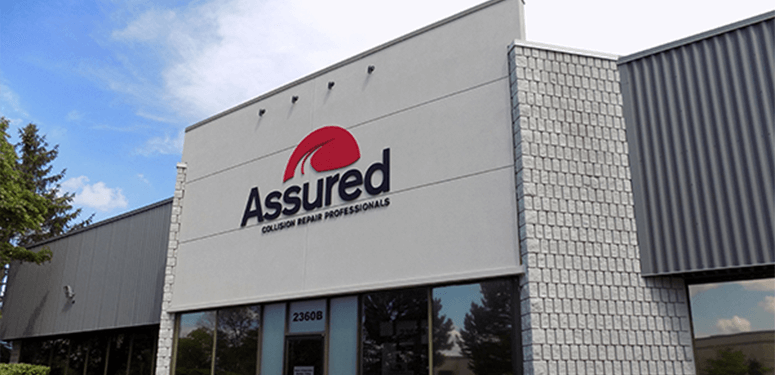 Explore training opportunities
| Training Provider | Course Name | Description | Category | Province/State |
| --- | --- | --- | --- | --- |
| NIAGARA COLLEGE CANADA | Automotive Service Technician Pre-Apprenticeship for Women – NIAGARA COLLEGE CANADA | This Pre-Apprenticeship program is designed for the student to obtain career experience through theoretical and practical lab experiences at the college, learn about maintenance and repair services for motive power vehicles, diagnosing problems, followed | Core Skills | Ontario |
| NEW BRUNSWICK COMMUNITY COLLEGE- SAINT JOHN CAMPUS | Auto Body and Collision Technician – NEW BRUNSWICK COMMUNITY COLLEGE- SAINT JOHN CAMPUS | Repair and restore damaged motor vehicle body parts and interior finishing components, repaint body surfaces, and repair and replace automotive glass. Learn how to prime, paint, weld, apply body filler, conduct fibreglass repair, as well as how to operate | Core Skills | New Brunswick |
| NEW BRUNSWICK COMMUNITY COLLEGE | Welding And Metal Fabrication – NEW BRUNSWICK COMMUNITY COLLEGE | Learn how to read blueprints and plan and implement welding and fabrication processes, including layout through to fitting and fabrication, as well as common welding processes, such as shielded metal arc, flux cored arc, and gas metal arc. | Welding | New Brunswick |
| MOHAWK COLLEGE | Auto Body & Collision Damage Repairer – MOHAWK COLLEGE | Mohawk College's Auto Body and Collision Damage Repairer program is designed to equip students with skills required to repair today's complex vehicles. Students will acquire job-specific skills and learn to repair dents in body panels, fenders and skirtin | Core Skills | Ontario |
| MINISTRY OF TRAINING, COLLEGES & UNIVERSITIES | Pre-Apprenticeship Training – MINISTRY OF TRAINING, COLLEGES & UNIVERSITIES | If you are an individual interested in working in a trade but aren't sure where to begin without skills or experience to get a job as an apprentice, apply for this training from the Ministry of Training, Colleges and Universities. This training is availab | Core Skills | Ontario |
| I-CAR Canada | Air Conditoning Systems Operation and Damage Analysis (MK055E01) – I-CAR Canada | Air Conditioning System Operation and Damage Analysis is designed to provide an understanding of basic A/C system parts and operation, accumulator and receiver/drier A/C system operation and damage analysis, and the types of refrigerant and oils that are | Core Skills | Ontario |
| I-CAR Canada | Understanding Vehicle Communication Networks (MK015E01) – I-CAR Canada | Understanding Vehicle Communications Networks introduces the student to the beginning of vehicle networks and how they have improved today's vehicle communications. The course continues to examine the main parts that make up a communication network. Final | Core Skills | Ontario |
| I-CAR Canada | Planning Mechanical Repairs (MK010V01) – I-CAR Canada | Planning Mechanical Repairs will provide steps for performing a vehicle inspection and vehicle health scan and what to look for when identifying areas of concern. | Core Skills | Ontario |
| I-CAR Canada | Priming and Blocking Repaired Areas (RF001E01) – I-CAR Canada | Priming and Blocking Repaired Areas is a 1-hour course that is designed to provide an understanding of the types of primers and their uses, masking for priming and featheredging substrates, how to measure and mix primers, how to set up and use a spray gun | Paint & Refinish | Ontario |
| I-CAR Canada | Introduction to Custom Painting (IRT00e) – I-CAR Canada | Introduction to Custom Painting is a one-hour course providing an overview of custom painting; various custom finishes and considerations like flash, dry, and cure time; and types of application tools, including masking equipment, air brushes, stencils, a | Core Skills | Ontario |
| I-CAR Canada | Intro to Industry Repair Terms (IRT00e) – I-CAR Canada | This online self-study course contains five modules designed to better understand the following collision repair-related concepts: Non-Structural Structural Structural Part Replacement Glass Damage Report Writing | Core Skills | Ontario |
| I-CAR Canada | Intro to Collision Repair Process Overview (IRP00e) – I-CAR Canada | This online self-study is designed to help better understand the following collision repair-related concepts: Damage Analysis and Vehicle Repair Preparation Structural Repair Non-Structural Repair Refinishing and Corrosion Protection Post-repair Inspectio | Core Skills | Ontario |
| I-CAR Canada | Intro to Refinishing and Corrosion Protection – Part 2 (IRC02e) – I-CAR Canada | This online self-study course contains four modules designed to better understand the following collision repair-related concepts: refinishing tools, refinishing preparation, refinishing defects and corrosion protection. | Core Skills | Ontario |
| BETAG | Panel Repair Aluminum – Level 1 – BETAG | Relevant to technicians of all experience levels, BETAG's Aluminum Panel Repair program focuses on the core principles of straightening aluminum auto body panels, to a level of finish that requires minimal filler to complete a high-quality repair. These s | Non-Structural | London, United Kingdom |
| BASF | Vision+Business – Estimating for Profit (NAV+B002) – BASF | This training teaches you to understand the critical importance of the estimator. Learn to sell first, estimate second. Generate a complete damage report. Effectively negotiate with insurers. Understand how to measure selling performance. | Paint & Refinish | Ontario |
| BASF | Vision+Business – Get the Keys! (NAV+B010) – BASF | This training teaches you to learly identify what differentiates a shop from the competition and how to effectively communicate that to customers to close the sale. Better communicate with prospective and current customers by asking appropriate questions | Paint & Refinish | Ontario |
| BASF | Vision+Business – Measuring & Improving Performance (NAV+B003) – BASF | This training teaches you to collect accurate and timely financial and non-financial data. Develop a working knowledge of the critical collision centre KPIs and what affects them and understand how to use KPIs to measure and improve collision centre perfo | Paint & Refinish | Ontario |
| BASF | Glasurit 90L / 55L / 22L Certification – National Rule (NAGL201NR) Glasurit 55L Virtual Certification – National Rule (NAGL203VNRJ) Glasurit 90L Certification – LVOC (NAGL201LVOC) Glasurit 90L Virtual Certification – LVOC (NAGL201VLVOCJ) Glasurit 90L Virtual Certification – National Rule (NAGL201VNRJ) – BASF | This training teaches you to inspect products properly and know where in the process to improve speed, accuracy and quality in shops. | Paint & Refinish | Ontario |
| BASF | Glasurit Color Adjustment Techniques (NAGL204) Glasurit Virtual Color Adjustment Techniques (NAGL204VJ) – BASF | A systematic mechanical approach to understand tinting and blending colours to achieve an undetectable repair. | Paint & Refinish | Ontario |
| BASF | R-M Color Adjustment Techniques (NARM103) R-M Virtual Color Adjustment Techniques (NARM103VJ) – BASF | A systematic mechanical approach to understand tinting and blending colours to achieve an undetectable repair. | Paint & Refinish | Ontario |