Extended reality training as a gateway to hands-on techniques
By Allison Rogers
What if you could paint a car in the comfort of your own bedroom? Or make a weld from your kitchen table?
It's probably not the best idea—this magazine is unaware of a detergent capable of removing automotive solvents—but Skillveri's extended-reality (XR) training allows you to brush up your skills in a similar fashion, by donning an Oculus Quest 2 or HTC Vive headset and mimicking the same movements you'd perform in the bodyshop or welding room.
Cognisco Technologies Inc, a Montreal based supplier of XR, simulation, and e-learning solutions for Career and Technical Education across North America—including automotive service, machining, cosmetology, and construction—offers the Skillveri XR training solutions for automotive spray painting and welding. The solution is suited for all body collision, refinishing and welding technology programs.
Skillveri runs on commercial off-the-shelf (COTS) hardware via the ubiquitous and inexpensive Meta (Oculus) Quest 2 or HTC Vive platforms, along with software available on an annual subscription basis. With subscriptions, schools can equip entire classrooms of any size and use multiple modules in the same environments; while one student is spraying a fender, another could lay a weld mere feet away.
Skillveri's XR paint training module, called Chroma, is used in hundreds of high schools and colleges worldwide, including Vancouver Community College and numerous Ontario school boards. Through the spraying module, designed specifically to train automotive collision students, Cognisco says users can learn the basic skills necessary to be a great painter. The system mimics the same feedback and noise as a real-life downdraft spray booth and allows students to understand the appropriate movement techniques required for a proper paint job, says Cognisco. Settings are entirely customizable to the student; from fan height, nozzle orientation, part type or material—even paint colours can be selected on a student's whim.
The Skillveri welding module—named Aura— allows students to learn basic structures for different positions and joints, including torch-angle, arc length and speed techniques. Training is offered in multiple welding processes, including MIG, GMAW, SMAW, GTAW and FCAW processes, and in all weld positions—1G-6G, 1F-5F, lap and fillet joints.
Live feedback is also generated as students perform virtual welds, including insights on arc length, speed, angles and welding paths. An in-course exam also allows students to test their skills in the virtual realm, which then provides a score based on a comprehensive assessment of skilled parameters like stickout, travel speed, and more.
Another standout feature of the Aura XR training module includes the platform's cross-section view, which allows users to visually analyze all angles of the weld manually.
"The program is exceptionally easy and quick to start up," said Stephen Perron, vice president and managing partner of Cognisco Technologies, the company that administers Skillveri's learning modules in Canada. "Students are big fans, too, because it challenges their skills."
The same reality-extending devices used in Skillveri's programming are also used in many video games and were one of the most popular gifts last holiday season. Simulators for Skillveri's platform are easily transportable, making learning from anywhere not only possible, but exceptionally easy and affordable. Further, instructors can monitor student results in real-time over the Internet or draw conclusions from completion reports and in-module exams.
For more information on Skillveri's rangel of XR training solutions, visit the website www.cogniscotech.com or skillveri.com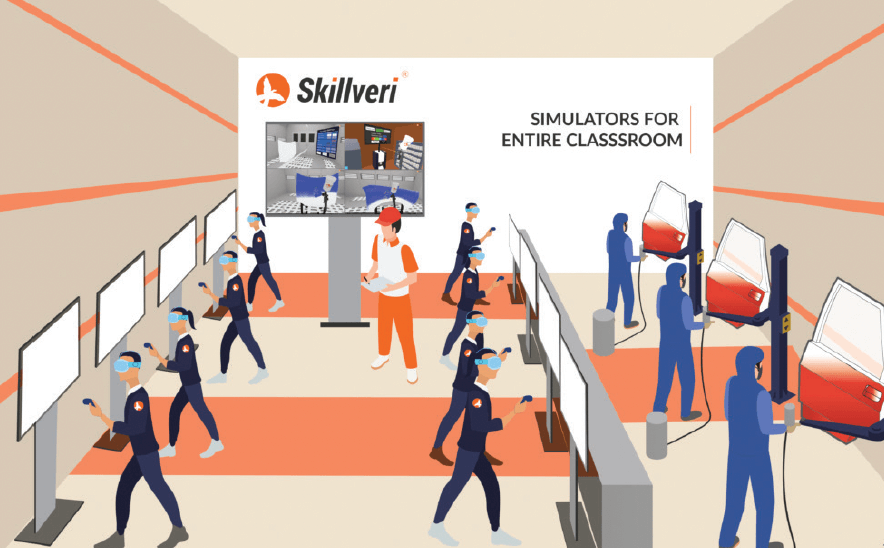 "OUR XR REQUIRES VERY LITTLE HANDHOLDING AND CAN BE QUICKLY SETUP FOR AN ENTIRE CLASSROOM. STUDENTS LOVE IT BECAUSE IT'S ENGAGING AND CHALLENGING."
— Stephen Perron
VP and managing partner, Cognisco Technologies