When it comes to colour matching, there are several methods you can employ to meet your perfect match. Colour matching tools can help technicians identify the best blendable colour match in minutes—and accuracy is important to the quality of the repair, as well as the productivity and profitability of the body shop. Proper maintenance of mixing machine toners, accurate mixing of formulas, and proper application have a significant impact on colour match accuracy.
If your tools are properly maintained, they can not only provide very precise matches but drive your shop's productivity and profitability.
Training is also critical to a successful colour match. Providing proper training on colour tools to technicians ensures the optimized performance of those tools.
THE POWER OF LIGHT
Spectrophotometers began as stationary single-angle instruments used for colour matching.
AkzoNobel says its most popular—and accurate—paint matching tool is its Automatchic Vision (AMV) spectrophotometer combined with its MIXIT colour retrieval software. The company says the tool "takes the guesswork out of colour matching," measuring colour at multiple different angles, and, when synced with AkzoNobel's MIXIT software, can provide "the most accurate level of colour match."
Axalta's spectrophotometer is also a popular choice among painters, selling more than 60,000 units globally. Refinishers can take the device's colour readings from a vehicle's paintwork using the spectrophotometer, which then wirelessly sends the readings to Axalta's online global colour database.
The colour matching software searches more than 200,000 constantly-updated formulas, and where necessary, automatically adjusts the closest formula to provide refinishers with the best possible match, which can then be selected on a smartphone or a tablet and sent via WIFI to an IP scale for mixing the colour formula.
Sophisticated spectrometers feature a colour camera that captures multiple colour images of the car's surface. The images taken will then be used to identify the texture of the colour conjunction using multiple angles to ensure the best match.
PPG says that "the basis for any spectrophotometer's colour matching capability lies in the ability to tap into an extensive colour formula database using colour angle information and algorithms that efficiently and accurately delivers 'target to match' returns."
PPG offers the RAPIDMATCH XI spectrophotometer, which the company says measures more angles than any other device on the market.
BASF says that a spectrophotometer is the most efficient colour matching tool as it can discern more colour than the human eye. The company's KOH spectrometer combines sixangle equipment technology with a large colour library and cutting-edge algorithms. Because the spectrometer can identify a matching colour fast shops can get more vehicles through in a day resulting in more efficiency as well as greater revenue.
Spectrometers read a colour, calculate the differences from a known colour solution and compute the formula to get the highest quality colour solution for a specific repair.
Sherwin-Williams commented that they agree that next-gen multi-angle spectrophotometers can select the correct colour formula with a high degree of accuracy.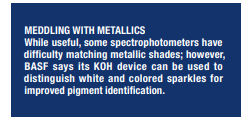 Sherwin also says that formulas are advancing and are accessible almost as soon as a new vehicle rolls off the line. Spectrophotometers then are delivering not only pictures of the colour from multiple angles, but information about the pigment's effect material. 
FANNED OUT: COLOUR DECKS AND CHIPS
Sherwin-Williams comments that only some paint technicians have the unique gift to be able to discern colour and select a match from a chip deck.
While most technicians need more guidance, fan decks are a great option for experienced painters comfortable with tinting colours. They allow for a quick assessment of quality to determine if tinting or blending will be necessary.
Fan decks contain spray variations of a given colour and allow technicians to view the quality of the colour matches available. Automated toner dispensing allows for improvement in the accuracy of formula mixing. Spray technology and equipment has improved the quality and accuracy of fan decks.
For those preferring print tools, PPG believes "colour chips are still a great resource for colour matching". Major paint companies offer colour variant decks with chips that are chromatically arranged for speedy reference, so the painter can choose a colour that comes closest to matching the vehicle.
PPG has recently added a wheel and trim deck to provide information in a print tool, which is printed on durable paper to use in wheel and trim match situations.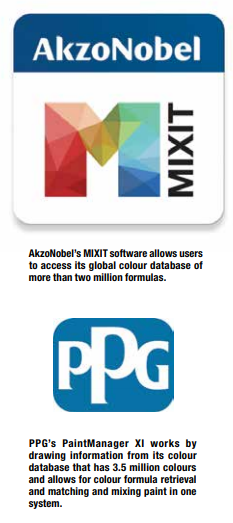 COMPUTERIZED COATINGS
The industry is beginning to recognize the importance of software programs to help narrow down information needed for a technician to commence a colour search. Many softwares can track easy-to-navigate mix sessions, manage job costing, offer advanced reporting and more to help improve efficiency.
Axalta's digital visualization tool allows you to do just that. Through Axalta's ColorNet platform, the Advanced Colour Proofing tool allows technicians to see a representation of the vehicle's colour and adjust the paint formula on a screen to determine the quality of the match before mixing the paint. Axalta says this helps reduce the need to mix paint and create multiple test panels, saving materials and increasing productivity.
The ColorNet software platform, which allows users to virtually enter a comprehensive library of colour formulas integrated with the company's entire suite of colour tools. Axalta says "ColourNet makes colour formula retrieval and reporting quicker and easier."
AkzoNobel's software MIXIT allows users access to its global colour database of more than two million formulas and is updated in realtime. The MIXIT web application is accessible from any device at any time from anywhere. It also integrates AkzoNobel's spectrophotometer Automatchic and smart scale.
PPG's Paintmanager XI software allows a paint technician to locate an accurate colour for any car manufacturer. The software works by drawing information from PPG's colour database that has 3.5 million colours and allows for colour formula retrieval and matching and mixing paint in one system.
BASF also talks about the benefits of digitals tools as they say with its digital tool BASF Refinish can train any technician to use the tool and take a reading, leaving flexibility in who determines the final colour choice based on results. This allows for a quality match with no additional resources.
BASF also has matching tools integrated with its colour retrieval platform, SmartTRAK. SmartTRAK software is equipped with integrated formula retrieval, job management, inventory management and reporting. The program also contains SmartSCAN which takes measurements from BASF spectrophotometer and imports them directly into the formula retrieval tool.
The industry seems to agree that, in order to provide perfect colour matches every time, your facility needs a variety of tools and methods.
You'll need a spectrophotometer and colour retrieval softwares to assess vehicle colours and find the proper formulas. You need accurate scales to measure formulas, while integration between colour retrieval platforms, bodyshop management systems and other digital solutions bring maximum efficiency to your processes, from material usage and inventory replenishment.