"WHEN THIS IS ALL OVER, WE'RE THINKING ABOUT IMPLEMENTING 24-HOUR DROP-OFF SERVICE. THE CUSTOMER COULD DROP OFF THEIR CAR, SNAP SOME PHOTOS WITH THE PROGI SYSTEM AND LEAVE WITHOUT ANY EMPLOYEES EVEN PRESENT AT THE SHOP. THAT'S A HOPE AND A DREAM AWAY, BUT IT MAY BE SOMETHING WE CONTINUE TO USE IN THE FUTURE." – FRANK SOTTILE, OWNER AND OPERATOR, CARSTAR BRAMPTON
While many of the restrictions placed on Canadian businesses may have made life harder for collision businesses to operate effectively, one adaptation has simplified things for repairers. In order to reduce the amount of contact between insurance personnel, most auto insurers began to accept that photo-based estimations could replace traditional appraisals. While initially related to preventing the spread of disease, it seems that insurers may wish to make this change a permanent one.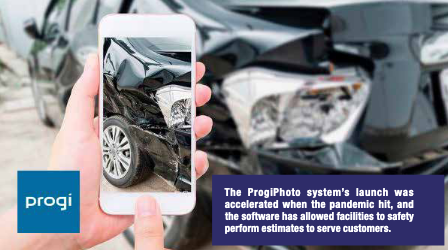 The advantages are clear to many in the collision business.
Frank Sottile, owner and operator of CARSTAR Brampton says the ProgiPhoto estimation system—released in March to help facilities comply to COVID-19 protocols—could help to introduce a 24-hour vehicle drop-off option for his customers.
"The customer could drop off their car, snap some photos with the Progi system and leave without any employees even present at the shop," said Sottile. "That's a hope and a dream away, but it may be something we continue to use in the future."
Future goals aside, the pros to photo estimation in the immediate months following the pandemic are clear. Overall, shops should do everything they can to communicate with their customers and keep both their customers and employees safe.
"The goal is just getting [the driving public] over that fear," Sottile told the Training Directory. "I think fear is the best word to describe what people are feeling. We need to build that trust with the driving public and touchless procedures certainly help to do that."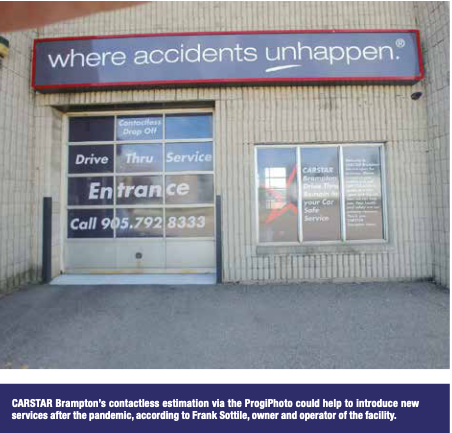 TAKING STEPS TOWARD TOUCHLESS
Many facilities across the country have implemented touchless procedures amid the pandemic. Frank Sottile, owner and operator of CARSTAR Brampton, says the push toward touchless could even help his facility introduce 24-hour vehicle drop-off.
CARSTAR BRAMPTON'S DROP-OFF PROCESS IS AS FOLLOWS:
1. Customer drives into employee-free garage, where estimation is completed via ProgiPhoto system
2. Customer signs paperwork in disinfected area using pen in sealed bag
3. Customer retrieves any materials (rental keys, etc.)
4. Customer leaves through remote-activated garage door