Explore the hundreds of listings in the 2022 Training Directory to find the course that is just right for you!
Hit the books with these recycler-focused courses
Online offerings for ease of access!
Young dogs, old dogs, and any dogs in between; they can all learn new tricks. Take a lesson from the beloved domesticated pet; it's never too late to brush up or gain knowledge somewhere new. We've compiled a list of recycler-focused courses for your perusal.
Offered online for ease of access, some courses can be completed in a day or less. Contact any of the listed training providers for more information on course offerings.
A category for all your needs!
Our goal with the our Annual Training Directory and trainingmatters.ca is to present a complete and comprehensive destination, which provides all automotive and collision repair training courses available to the industry nationally. Here you will find everything you need to know about collision repair/autobody courses offered through colleges, training centres, manufacturers, OEMs and more.
Training and certification are they key ingredients to staying ahead of the technology curve and enjoying a successful and sustainable career.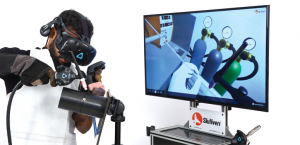 Extended reality training as a gateway to hands-on techniques By Allison Rogers What if you could paint a car in
Featured Company Profiles
Keep up to date on everything going on in the automotive industry by subscribing to our e-zine!