Explore the hundreds of listings in the 2022 Training Directory to find the course that is just right for you!

Fix Network Training Centres
Fix Network's training centres provide dedicated education and training for each of Fix Network's lines of business – collision repair, glass repair and replacement, and mechanical services. As vehicles continue to advance, the training centres help both seasoned and new technicians to keep pace with the complexities of aftermarket services, by providing them the required skills and knowledge. The centres are equipped with the latest tools and technologies to repair and service any vehicle that rolls through the shop door. Fix Network boasts state-of-the-art training facilities at its Ontario headquarters in Milton, Ont.; its Quebec/Canadian headquarters in Blainville, Que.; and will soon offer services out of its largest-ever training facility at the Fix Auto Alberta headquarters in Calgary, Alta.
A category for all your needs!

Our goal with the our Annual Training Directory and trainingmatters.ca is to present a complete and comprehensive destination, which provides all automotive and collision repair training courses available to the industry nationally. Here you will find everything you need to know about collision repair/autobody courses offered through colleges, training centres, manufacturers, OEMs and more.
Training and certification are they key ingredients to staying ahead of the technology curve and enjoying a successful and sustainable career.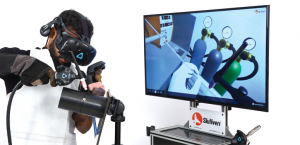 Extended reality training as a gateway to hands-on techniques By Allison Rogers What if you could paint a car in
Featured Company Profiles
Keep up to date on everything going on in the automotive industry by subscribing to our e-zine!