Explore the hundreds of listings in the 2022 Training Directory to find the course that is just right for you!
Anyone in the collision repair industry knows that navigating change is an integral part of the job. Learning how to repair electric vehicles and working alongside high-voltage batteries are just one topic on the horizon. Add ever-changing body materials, OEM position statements and new hues to colour match to that list—that puts a whole lot on modern collision repairer's learning docket!
Thankfully, Collision Repair mag has gathered hundreds of top-notch industry courses designed to equip learners with the modern skills required to repair the vehicles of today. From courses on paint and refinishing techniques or tweaking non-structural strategies to wracking up those core skills to get your start in the industry, this Spotlight on Training and the
trainingmatters.ca
course catalogue has something for every student of the trades.
Does your company have a program or course you think would be a
A category for all your needs!
Our goal with the our Annual Training Directory and trainingmatters.ca is to present a complete and comprehensive destination, which provides all automotive and collision repair training courses available to the industry nationally. Here you will find everything you need to know about collision repair/autobody courses offered through colleges, training centres, manufacturers, OEMs and more.
Training and certification are they key ingredients to staying ahead of the technology curve and enjoying a successful and sustainable career.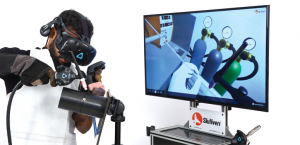 Extended reality training as a gateway to hands-on techniques By Allison Rogers What if you could paint a car in
Featured Company Profiles
Keep up to date on everything going on in the automotive industry by subscribing to our e-zine!