Explore the hundreds of listings in the 2022 Training Directory to find the course that is just right for you!

Electric Vehicle (EV) Technician Program (T951)
This program is intended to address a global need for people who are skilled in diagnosing, servicing and repairing high voltage EVs and commercial charging stations. Students receive both theoretical and laboratory instruction through a combination of multimedia learning resources and an electrical/electronics simulation software package (CircuitLogix Pro) to allow for the testing, validation, and understanding of electrical and electronic circuits that are found in a typical EV.
The program will also be beneficial to Automotive Service Technicians who have a strong background in internal combustion engine (ICE) powered vehicles, but who lack the knowledge and skills in power electronics and data communication systems to safely perform service-related work on EVs and Hybrid Electric Vehicles (HEVs).
A category for all your needs!

Our goal with the our Annual Training Directory and trainingmatters.ca is to present a complete and comprehensive destination, which provides all automotive and collision repair training courses available to the industry nationally. Here you will find everything you need to know about collision repair/autobody courses offered through colleges, training centres, manufacturers, OEMs and more.
Training and certification are they key ingredients to staying ahead of the technology curve and enjoying a successful and sustainable career.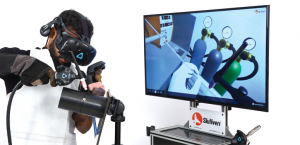 Extended reality training as a gateway to hands-on techniques By Allison Rogers What if you could paint a car in
Featured Company Profiles
Keep up to date on everything going on in the automotive industry by subscribing to our e-zine!