Electric Vehicle (EV) Technician Program (T951)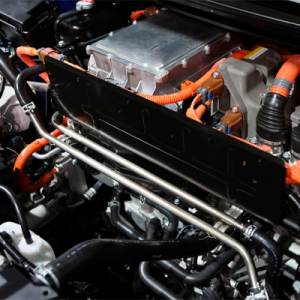 The Electric Vehicle (EV) Technician training program is intended to address a global need for people who are skilled in diagnosing, servicing and repairing high voltage EVs and commercial charging stations.
Students in the EV Technician program receive both theoretical and laboratory instruction through a combination of multimedia learning resources and an electrical/electronics simulation software package (CircuitLogix Pro) to allow for the testing, validation, and understanding of electrical and electronic circuits that are found in a typical EV.
The program will also be highly beneficial to Automotive Service Technicians who have a strong background in internal combustion engine (ICE) powered vehicles, but who lack the knowledge and skills in power electronics and data communication systems to safely perform service-related work on EVs and Hybrid Electric Vehicles (HEVs). Additionally, this program is relevant to electricians who will be installing, servicing and maintaining residential and commercial EV charging stations.
Explore training opportunities
Training Provider
Course Name
Description
Category
Province/State
Betag
Outer Panel Repair Specialist (OPRS)

BETAG's OPRS Learning Pathway provides a clear roadmap for developing a comprehensive outer panel repair capability – including small damage, steel, aluminum and plastic repair skills.

16 instructor led, workshop based training days are split into 4 blocks of 4-day learning sessions, over 4 months.

Non-structural repair
N/A
George Brown
Electric Vehicle (EV) Technician Program (T951)

This program is intended to address a global need for people who are skilled in diagnosing, servicing and repairing high voltage EVs and commercial charging stations. Students receive both theoretical and laboratory instruction through a combination of multimedia learning resources and an electrical/electronics simulation software package (CircuitLogix Pro) to allow for the testing, validation, and understanding of electrical and electronic circuits that are found in a typical EV.

The program will also be beneficial to Automotive Service Technicians who have a strong background in internal combustion engine (ICE) powered vehicles, but who lack the knowledge and skills in power electronics and data communication systems to safely perform service-related work on EVs and Hybrid Electric Vehicles (HEVs).

EV
Ontario
Filco
Filco Integrative Welding

The Integrative welding course covers the current welding techniques with Mig-Mag, Brazing and welding with different types of metals including Aluminum. Learn all the basics of welding from set up to proper use of equipment. You'll even learn about arc length, tension, speed, and metal identification.  We give you access to in-depth hands-on training in welding skills while working with the most up-to-date technology.

Welding
Quebec
Filco
Filco 3D Measuring System Training

Stay ahead of your competition and be ranked amongst the top body vehicle repairers with our 3D Measuring System Training. You will get the most up-to-date repair methods and learn how to measure a vehicle and rapidly diagnose & identify damages using the latest software & technology in 3D Measuring Systems. Learn how to work with high-strength steel, aluminum, and carbon fiber car bodies.

Filco Academy is accredited by the 'Commission des partenaires du marché du travail' promoting workforce skills development and recognition.
Train with us! Be a cut above OEM requirements!

Measuring
Quebec
CARSTAR CANADA
Collision University – Carstar Canada

With dedicated training and educational support through Collision University, CARSTAR has exclusive systems in place to help your location thrive. CARSTAR also provides a variety of support for independent shop owners through its marketing, operations, insurance and fleet teams.

Management/Estimating
Ontario
WEDGE CLAMP SYSTEMS INC.
Instructional Videos – WEDGE CLAMP SYSTEMS INC.

Wedge Clamp wants to ensure there is proper training videos available on their equipment, so they have a full library of instructional videos to teach anyone how to use their equipment properly and safely. Viewers can watch videos on how to use equipment from the chainless anchoring systems to the Eclipse electronic measuring system. The mandate is to make certain that the Wedge Clamp brand has proper support through training, thus ensuring that use of its equipment is done with 100 percent knowledge and application resulting in safe, quality repairs.

Measurement/Alignment
British Columbia
VPS Canada
Introduction to paint protection – VPS Canada

Topics covered in our 32-hour course range from the fundamentals and theory behind paint protection film to topics such as: vehicle preparation, workspace organization, effective time management, installation basics, proper film handing and tools/chemicals and their proper uses.

Paint/Refinish
Winnipeg
VANCOUVER ISLAND UNIVERSITY
Automotive Service Technician – VANCOUVER ISLAND UNIVERSITY

This entry-level program gives students the knowledge and skills to work as an auto mechanic. The Automotive Service Technician course offers daily lectures, seminars and demonstrations of current servicing techniques, as well as extensive practical training in a functioning automotive bodyshop setting.

Core Skills
British Columbia
VANCOUVER COMMUNITY COLLEGE
Automotive Service Technician Harmonized Foundation Certificate – VANCOUVER COMMUNITY COLLEGE

Students will acquire the knowledge needed to work as an automotive service technician. From safe working practices, to diagnosing service steering systems, to how to conduct yourself on the shop floor students will walk away with everything they need to know to be a successful automotive service technician. Upon successful completion of the course, students will receive an Automotive Service Technician Harmonized Foundation Certificate and 450 hours toward the first level of apprenticeship training.

Core Skills
British Columbia
VANCOUVER COMMUNITY COLLEGE
Automotive Collision and Refinishing Foundation – VANCOUVER COMMUNITY COLLEGE

Students will learn how the ins and outs on how to finish damaged vehicles in VCC's state-of-the-art auto body shop, as well as learning prime and repair. Training within the program is done with modern equipment and the latest techniques and the program is accredited for apprenticeship.

Core Skills
British Columbia
VANCOUVER COMMUNITY COLLEGE
Automotive Service Technician Apprentice – VANCOUVER COMMUNITY COLLEGE

This program allows for students to get a B.C. trade certificate and earn an income while learning how to repair engines, fuel systems, tires, breaks, electronics and transmissions, while also learning the latest in autmotive diagnostics.

Apprenticeship
British Columbia
VANCOUVER COMMUNITY COLLEGE
Automotive Refinishing Prep Technician Apprentice – VANCOUVER COMMUNITY COLLEGE

This course helps students learn the skills needed in auto refinishing prep like chemical treatments, masking, sanding, and spray gun operation. Students train in classrooms and autobody labs in Vancouver Community College facility at the college's Broadway campus.

Apprenticeship
British Columbia
VANCOUVER COMMUNITY COLLEGE
Automotive Paint and Refinishing Technician Apprentice – VANCOUVER COMMUNITY COLLEGE

Students will learn the skills needed in auto paint and refinishing like spray gun technology and protective and restorative treatments. This technical training program is designed for the apprentice currently working in the automotive collision and repair and automotive refinishing industry.

Apprenticeship
British Columbia
VANCOUVER COMMUNITY COLLEGE
Automotive Glass Technician Apprentice – VANCOUVER COMMUNITY COLLEGE

This trade certificate allows for students to earn an income while learning how to remove, install and repair auto glass.

Apprenticeship
British Columbia
VANCOUVER COMMUNITY COLLEGE
Automotive Collision Repair Technician Apprentice – VANCOUVER COMMUNITY COLLEGE

Students can earn an income while learning the latest in surface repair, structural repair and wheel alignments. There are three different levels to this certificate. Level 1 covers shop safety and students get to learn auto body construction and repair fundamentals. Level 2 students get to use what they've learned to repair a wide variety of autobody surfaces, and level 3 teaches students structural repairs and wheel alignment.

Apprenticeship
British Columbia
VALE TRAINING SOLUTIONS
Electric & Hybrid Vehicles Estimatics – VALE TRAINING SOLUTIONS

Learn how to generate damage estimates on hybrid and electric vehicles. Students will also learn the safety and knowledge needed to repair hybrid and EVs. The course is designed for the student that is well-versed in writing estimates and wants an edge and insight into the quickly emerging Hybrid and Electric vehicle market that is approaching worldwide

Hybrid/EV
Texas
VALE TRAINING SOLUTIONS
Auto Estimatics® – VALE TRAINING SOLUTIONS

This course allows for students to learn how to generate damage estimates. Attain the skills and knowledge to prepare a complete and accurate electronic estimate using automated system data as well as practical repair formulas and structural analysis methods.

Management/Estimating
Texas
VALE TRAINING SOLUTIONS
Auto Examiner – VALE TRAINING SOLUTIONS

This program teaches students how to perform damage estimates on outer panels of cars, light trucks, vans, SUVs and recognize signs of structural misalignment and damage to the most commonly damaged mechanical systems. Students in this program perform practice estimates on each section of the vehicle (front, side, and rear impacts on outer body components).

Management/Estimating
Texas
UNIVERSITY OF THE FRASER VALLEY
Automotive Service Technician Apprenticeship – UNIVERSITY OF THE FRASER VALLEY

Graduates of the program will leave with their Automotive Technician Red Seal accreditation, which means they will be able to work anywhere in Canada. There are four levels of training within the program preparing students to be successful in the automotive technician field.

Apprenticeship
British Columbia
UNIVERSITY OF THE FRASER VALLEY
Automotive Collision Repair and Refinish – UNIVERSITY OF THE FRASER VALLEY

This program allows for students to work in a modernized automotive repair and paint shop that is equipped with leading-edge technology and equipment. Acquire the technical skills necessary to perform in any shop while also developing design flair for working on custom vehicles, hot rods and race cars.

Core Skills
British Columbia
UNIVERSITY OF THE FRASER VALLEY
Automotive Service Technician – UNIVERSITY OF THE FRASER VALLEY

Graduates of the Automotive Service Technician program will be ready to enter into the autmotive industry with the skills needed to succeed. Students will learn how to use specialized equipment, service break, steering and suspension systems, perform engine service and repair, service engine support systems and service electrical systems.

Core Skills
British Columbia
UNIVERSITY COLLEGE OF THE NORTH, THE PAS CAMPUS
Automotive Technician – UNIVERSITY COLLEGE OF THE NORTH, THE PAS CAMPUS

The Automotive Technician program teaches students the basic purpose, construction, operation, service of component parts and how to assemby an automobile. They will also learn how to disassemble, inspect, machine callibrate and reassemble motor vehicle units and components.

Core Skills
Manitoba
Tropicana Employment Centre
Auto body & Collision damage Repairer Branch 1, Trade Code 310B Pre-apprenticeship (Level 1) – Tropicana Employment Centre

This program prepares youth for a career in auto body collision and damage repair. This program is a tuition-free program funded by the Government of Ontario designed as a stepping stone to finding an apprenticeship, with sessions running September through April each year. Students also receive 6 weeks of academic upgrading and a life skills training session.

Apprenticeship
Ontario
Titanium Tools and Equipment
Titanium Tools and Equipment – Titanium Tools and Equipment

Titanium Tools and Equipment provides industry professional virtual and in person product training to distributors and technicians at its warehouse, showroom and training centre located in Maple, Ontario. Training is offered on Celette equipment such as the Naja measuring system and Cameleon Universal jig system and dedicated jig system. Miracle System steel and aluminum dent pulling systems, spot welder and MIG welder training. Titanium Tools and Equipment also provides training on the WIELÄNDER+SCHILL Xpress 800 Rivet gun.

Structural Repair
Ontario
Tinbasher Inc.
Aluminum MIG Welding and Repair Program of Non-Structural panels – Tinbasher Inc.

This a Hands on Program to learn the techniques to Weld and Repair Today's Aluminums. This is a In-Shop, two-day repair program including four Hours of repair and aluminum theory and 12 hours of hands on repair. Presented by John Poole, Former Instructor at Centennial College, in Toronto. General Motors Cadillac Alante' Aluminum Program, Acura NSX Aluminum Repair Program. Etc.

Aluminum
Ontario
THOMPSON RIVERS UNIVERSITY
Automotive Service Technician Foundation – THOMPSON RIVERS UNIVERSITY

Students will learn general shop practice, automotive fundamentals and how to operate basic test equipment. They will also be able to learn from instructors with over 40 years of experience in the trade. Students can also bring in their own vehicles to work on if it is relevant to the class material. Graduates receive first-year credit for apprenticeship technical training after completing the program.

Core Skills
British Columbia
THOMPSON RIVERS UNIVERSITY
Automotive Service Technician Apprentice – THOMPSON RIVERS UNIVERSITY

Students will learn how to use a range of skills and knowledge needed to perform preventative maintenance, diagnose problems and repair vehicle systems on cars and light trucks.

Apprenticeship
British Columbia
SYMACH ITALY
REMO Maintenance and Equipment Training Software – SYMACH ITALY

REMO is Symach's cloud-based maintenance and wideo tutorial training software. REMO provides push notification reminders when certain maintenance tasks should be performed on each piece of equipment at required intervals for each shop; along with step-by-step instruction and tutorials to perform each task. REMO also contains equipment and process training videos, as well as secure acess to REMO Shop Online for spare parts ordering.

Management/Estimating
Bologna, Italy
SYMACH ITALY
SPAP In-Shop Training and Production Planning – SYMACH ITALY

Hands-on training using Symach equipment and repair techniques to optimize workflow and maximize productivity. Training includes use of equipment, SPAP process and production planning. Learn to achieve high quality repairs in less time to meet daily production goals. Course duration; 5 to 10 business days on-site; considering number of technicians, size of shop and equipment available. Training Cost and duration determined at time of Equipment Purchase.

Management/Estimating
Bologna, Italy
SYMACH CANADA
New Shop Design or Renovation Planning – SYMACH CANADA

Proper planning can save tens of thousands in material and labor costs. Learn how to analyse your current
business to better plan for new shop construction, renovation of existing shop or brownfield facility. This
course provides the analytics to consider for modern shop design/layout, how/what to plan, space
requirements and all considerations involved. Online modules are interactive and allow for follow up
questions and consultation. Available on request.

Management/Estimating
Ontario
ST. LAWRENCE COLLEGE
Welding and Fabrication Technician – ST. LAWRENCE COLLEGE

This program prepares students for the welding industry's demands by being able to work with welding technology at the technician level. Graduates will be able to receive a college diploma and the equivalent of all the in-school training necessary to meet the requirements of the provincially administered welder apprenticeship program.

Welding
Ontario
ST. LAWRENCE COLLEGE
Automotive Service Technician – ST. LAWRENCE COLLEGE

This is the in-school study portion of the apprenticeship of the apprenticeship program for students already registered and working in the trade. Areas of study include engines, fuel and electrical systems, powertrains, steering, suspension and brakes, and applied shop practice, including safety, welding, air conditioning and more.

Apprenticeship
Ontario
ST. CLAIR COLLEGE
Welding Techniques – ST. CLAIR COLLEGE

Students will become proficient in Arc and MIG welding, so they can become entry-level welders in a variety of industries and trades.

Welding
Ontario
Spanesi Americas Inc.
106 and Fixture Training Course – December 2022 – Spanesi Americas Inc.

This training allows students to learn from the Technical Experts at Spanesi Americas, to use the 100 Series Bench and Universal Jig System!

Structural Repair
IL
Spanesi Americas Inc.
Spanesi Touch Training – December 2022 – Spanesi Americas Inc.

This training allows students to get the most out of your Spanesi Touch measuring system with training from our factory-trained staff!

Structural Repair
IL
Spanesi Americas Inc.
Welding Clinic – November 2022 – Spanesi Americas Inc.

This training allows students to learn from the Technical Experts at Spanesi Americas, to program the Q5 series welders and sharpen your welding skills.

Structural Repair
IL
Spanesi Americas Inc.
Spanesi Touch Training – November 2022 – Spanesi Americas Inc.

This training allows students to get the most out of your Spanesi Touch measuring system with training from our factory-trained staff!

Structural Repair
IL
Spanesi Americas Inc.
106 and Fixture Training Course – October 2022 – Spanesi Americas Inc.

This training allows students to learn from the Technical Experts at Spanesi Americas, to use the 100 Series Bench and Universal Jig System!

Structural Repair
IL
Spanesi Americas Inc.
Spanesi Touch Training – October 2022 – Spanesi Americas Inc.

This training allows students to get the most out of your Spanesi Touch measuring system with training from our factory-trained staff!

Structural Repair
IL
Spanesi Americas Inc.
Welding Clinic – October 2022 – Spanesi Americas Inc.

This training allows students to learn from the Technical Experts at Spanesi Americas, to program the Q5 series welders and sharpen your welding skills.

Structural Repair
IL
Spanesi Americas Inc.
Spanesi Touch Training – October 2022 – Second Class Added – Spanesi Americas Inc.

This training allows students to get the most out of your Spanesi Touch measuring system with training from our factory-trained staff!

Structural Repair
IL
Spanesi Americas Inc.
106 and Fixture Training Course – September 2022 – Spanesi Americas Inc.

This training allows students to learn from the Technical Experts at Spanesi Americas, to use the 100 Series Bench and Universal Jig System!

Structural Repair
IL
Spanesi Americas Inc.
Spanesi Touch Training – September 2022 – Spanesi Americas Inc.

This training allows students to get the most out of your Spanesi Touch measuring system with training from our factory-trained staff!

Structural Repair
IL
Spanesi Americas Inc.
Welding Clinic – September 2022 – Spanesi Americas Inc.

This training allows students to learn from the Technical Experts at Spanesi Americas, to program the Q5 series welders and sharpen your welding skills.

Structural Repair
IL
Spanesi Americas Inc.
Spanesi Touch Training – August 2022 – Second Class Added – Spanesi Americas Inc.

This training allows students to get the most out of your Spanesi Touch measuring system with training from our factory-trained staff!

Structural Repair
IL
Spanesi Americas Inc.
106 and Fixture Training Course – August 2022 – Spanesi Americas Inc.

This training allows students to learn from the Technical Experts at Spanesi Americas, to use the 100 Series Bench and Universal Jig System!

Structural Repair
IL
Spanesi Americas Inc.
Spanesi Touch Training – August 2022 – Spanesi Americas Inc.

This training allows students to get the most out of your Spanesi Touch measuring system with training from our factory-trained staff.

Structural Repair
IL
SOUTHERN ALBERTA INSTITUTE OF TECHNOLOGY
Pre-Employment Automotive Service Technician – SOUTHERN ALBERTA INSTITUTE OF TECHNOLOGY

Students will develop hands-on skills in preventative maintenance, basic diagnosis and repairs on cars and light-duty trucks.

Core Skills
Alberta
SOUTHERN ALBERTA INSTITUTE OF TECHNOLOGY
Automotive Service Technology – SOUTHERN ALBERTA INSTITUTE OF TECHNOLOGY

This program prepares students on how to work as an apprentice for an automotive service technician. It combines modern equipment in a shop environment, as well as automotive theory and business courses. Automotive courses are provided in a combination of classroom, lab and shop environments.

Core Skills
Alberta
SOUTHERN ALBERTA INSTITUTE OF TECHNOLOGY
Pre-employment Auto Body – SOUTHERN ALBERTA INSTITUTE OF TECHNOLOGY

This 12-week program provides an alternative entry into the auto body industry. Students will acquire the skills to prepare a vehicle for auto body repair by removing paint finish, taping, sanding and masking. You will learn safe auto body prep and detail practices and procedures. Hands-on practice includes substrate preparation, application of fillers and undercoats, sanding, taping and masking, installation and detail, component removal, safety and tools.

Core Skills
Alberta
SOUTHERN ALBERTA INSTITUTE OF TECHNOLOGY
Automotive Service Technician Apprentice – SOUTHERN ALBERTA INSTITUTE OF TECHNOLOGY

Students will learn how to perform preventative maintenance, diagnose faulty operations and repair cars and light trucks.

Apprenticeship
Alberta
SOUTHERN ALBERTA INSTITUTE OF TECHNOLOGY
Auto Body Technician Apprentice – SOUTHERN ALBERTA INSTITUTE OF TECHNOLOGY

This program teaches you how to repair and replace damaged motor vehicle structures, body parts, interior and exterior finishes. You may specialize in prepping, refinishing, sheet metal and plastics repair, or frame straightening.

Apprenticeship
Alberta
SOLERA CANADA (AUDATEX ONLINE TRAINING CENTRE)
Audatex Estimating Alternate Parts and Real Steel Recycled Parts Setup – SOLERA CANADA (AUDATEX ONLINE TRAINING CENTRE)

Learn how to set up and use the Alternate Parts and Real Steel Recycled Parts search features in Audatex Estimating.

Management/Estimating
Ontario
SOLERA CANADA (AUDATEX ONLINE TRAINING CENTRE)
Qapter Estimate Review Training for Reviewers – SOLERA CANADA (AUDATEX ONLINE TRAINING CENTRE)

Learn how to use and navigate Qapter Estimate Review.

Management/Estimating
Ontario
SOLERA CANADA (AUDATEX ONLINE TRAINING CENTRE)
Estimate Check in Qapter Estimating Video – SOLERA CANADA (AUDATEX ONLINE TRAINING CENTRE)

Learn how to use Estimate Check in Qapter Estimating.

Management/Estimating
Ontario
SOLERA CANADA (AUDATEX ONLINE TRAINING CENTRE)
State Farm VIR Practices Update – SOLERA CANADA (AUDATEX ONLINE TRAINING CENTRE)

Learn about State Farm VIR policies and procedures for users who are already utilizing the State Farm VIR process

Management/Estimating
Ontario
SOLERA CANADA (AUDATEX ONLINE TRAINING CENTRE)
State Farm Select Service VIR Procedures for Non-Audatex Estimating Shops – SOLERA CANADA (AUDATEX ONLINE TRAINING CENTRE)

Learn the State Farm Select Service Vehicle Inspection Report workflow for shop not utilizing Audatex Estimating for State Farm estimates

Management/Estimating
Ontario
SOLERA CANADA (AUDATEX ONLINE TRAINING CENTRE)
State Farm Select Service VIR Procedures for Autosource Web Shops – SOLERA CANADA (AUDATEX ONLINE TRAINING CENTRE)

Learn the State Farm Select Service Vehicle Inspection Report workflow for shops utilizing Audatex Estimating for State Farm estimates

Management/Estimating
Ontario
SOLERA CANADA (AUDATEX ONLINE TRAINING CENTRE)
State Farm Select Service VIR Procedures for Audatex Estimating Shops – SOLERA CANADA (AUDATEX ONLINE TRAINING CENTRE)

Learn the Vehicle Inspection Report workflow for State Farm Select Service who are writing estimates in Audatex Estimating

Management/Estimating
Ontario
SOLERA CANADA (AUDATEX ONLINE TRAINING CENTRE)
State Farm Conditioning with LearningCheckpoint – SOLERA CANADA (AUDATEX ONLINE TRAINING CENTRE)

Learn about the Autosource Conditioning best practices for Tires and Mechanical.

Management/Estimating
Ontario
SOLERA CANADA (AUDATEX ONLINE TRAINING CENTRE)
State Farm Autosource Specialty Total Loss Entry – SOLERA CANADA (AUDATEX ONLINE TRAINING CENTRE)

Learn how to process accurate Specialty valuations.

Management/Estimating
Ontario
SOLERA CANADA (AUDATEX ONLINE TRAINING CENTRE)
Autosource VIR Webinar for State Farm Staff – SOLERA CANADA (AUDATEX ONLINE TRAINING CENTRE)

Learn about Option and Conditioning Training for Autosource Total Losses.

Management/Estimating
Ontario
SOLERA CANADA (AUDATEX ONLINE TRAINING CENTRE)
Qapter Estimating Training for State Farm Appraisers – SOLERA CANADA (AUDATEX ONLINE TRAINING CENTRE)

Learn how to enter Settlement Fees in Qapter Estimating.

Management/Estimating
Ontario
SOLERA CANADA (AUDATEX ONLINE TRAINING CENTRE)
Welcome to MySupportGarage  – SOLERA CANADA (AUDATEX ONLINE TRAINING CENTRE)

A brief video introduction to MySupportGarage features and how to use them.

Management/Estimating
Ontario
SOLERA CANADA (AUDATEX ONLINE TRAINING CENTRE)
Damage Capture Introduction  – SOLERA CANADA (AUDATEX ONLINE TRAINING CENTRE)

A brief video overview of the convenient features of mobile Damage Capture.

Management/Estimating
Ontario
SOLERA CANADA (AUDATEX ONLINE TRAINING CENTRE)
How to Export from the Qapter Work List  – SOLERA CANADA (AUDATEX ONLINE TRAINING CENTRE)

Watch this quick video to learn how to export from the Qapter Work List.

Management/Estimating
Ontario
SOLERA CANADA (AUDATEX ONLINE TRAINING CENTRE)
How to install CIECA from File Manager  – SOLERA CANADA (AUDATEX ONLINE TRAINING CENTRE)

Watch this quick video to learn how to install CIECA in Qapter Estimating.

Management/Estimating
Ontario
SOLERA CANADA (AUDATEX ONLINE TRAINING CENTRE)
Password Reset Video (128)  – SOLERA CANADA (AUDATEX ONLINE TRAINING CENTRE)

This video will teach users how to reset Your Password in Audatex Estimating Video

Management/Estimating
Ontario
SOLERA CANADA (AUDATEX ONLINE TRAINING CENTRE)
AudaUpdate Video (133)  – SOLERA CANADA (AUDATEX ONLINE TRAINING CENTRE)

This video will teaches users how to run AudaUpdate

Management/Estimating
Ontario
SOLERA CANADA (AUDATEX ONLINE TRAINING CENTRE)
How to Install AudaUpdate Video (152)  – SOLERA CANADA (AUDATEX ONLINE TRAINING CENTRE)

Watch this video to learn how to install AudaUpdate.

Management/Estimating
Ontario
SOLERA CANADA (AUDATEX ONLINE TRAINING CENTRE)
How to Email in Audatex Estimating Video (148)  – SOLERA CANADA (AUDATEX ONLINE TRAINING CENTRE)

Watch this video when you need to email an estimate or need help emailing from Audatex Estimating.

Management/Estimating
Ontario
SOLERA CANADA (AUDATEX ONLINE TRAINING CENTRE)
How to Setup or Update Tax and Labor Rates Video (158)  – SOLERA CANADA (AUDATEX ONLINE TRAINING CENTRE)

Watch this video to learn how to setup/change/update/adjust Tax and Labor Rates from within the Estimate or from the Profile.

Management/Estimating
Ontario
SOLERA CANADA (AUDATEX ONLINE TRAINING CENTRE)
How to Copy an Estimate or Supplement in Audatex Estimating Video (146)  – SOLERA CANADA (AUDATEX ONLINE TRAINING CENTRE)

Watch this video to learn how to copy an estimate or supplement on the Audatex Estimating Work List.

Management/Estimating
Ontario
SOLERA CANADA (AUDATEX ONLINE TRAINING CENTRE)
Estimate/Evaluation Recovery Video (149)  – SOLERA CANADA (AUDATEX ONLINE TRAINING CENTRE)

This video will teach users how to Recover a Deleted Estimate or Valuation in Audatex Estimating Video

Management/Estimating
Ontario
SOLERA CANADA (AUDATEX ONLINE TRAINING CENTRE)
Claim Number Synchronization (132)  – SOLERA CANADA (AUDATEX ONLINE TRAINING CENTRE)

This video will teach users how to Synchronize by Claim Number Video

Management/Estimating
Ontario
SOLERA CANADA (AUDATEX ONLINE TRAINING CENTRE)
Exporting from Audatex Estimating Video (151)  – SOLERA CANADA (AUDATEX ONLINE TRAINING CENTRE)

This video will teach users how to export from Audatex Estimating or when added damages do not transfer or you are unable to export.

Management/Estimating
Ontario
SOLERA CANADA (AUDATEX ONLINE TRAINING CENTRE)
How to View the Labor Report Video (922)  – SOLERA CANADA (AUDATEX ONLINE TRAINING CENTRE)

Watch this video to learn how to read the Labor Report and view included Operation.

Management/Estimating
Ontario
SOLERA CANADA (AUDATEX ONLINE TRAINING CENTRE)
How to Add Images to an Estimate Video (927)  – SOLERA CANADA (AUDATEX ONLINE TRAINING CENTRE)

Watch this video to learn how to attach images/photos to an Estimate in Audatex Estimating.

Management/Estimating
Ontario
SOLERA CANADA (AUDATEX ONLINE TRAINING CENTRE)
How to Configure Export Paths Video (929)  – SOLERA CANADA (AUDATEX ONLINE TRAINING CENTRE)

Watch this video to set up an export path in Audatex Estimating or when you are unable to export.

Management/Estimating
Ontario
SOLERA CANADA (AUDATEX ONLINE TRAINING CENTRE)
How to Confirm an Estimate Uploaded Video (932)  – SOLERA CANADA (AUDATEX ONLINE TRAINING CENTRE)

Watch this video to see how to close and upload an Estimate in Audatex Estimating.

Management/Estimating
Ontario
SOLERA CANADA (AUDATEX ONLINE TRAINING CENTRE)
How to Add Related Prior Damage in Audatex Estimating Video (928)  – SOLERA CANADA (AUDATEX ONLINE TRAINING CENTRE)

Watch this video to see how to add related prior damage in Audatex Estimating.

Management/Estimating
Ontario
SOLERA CANADA (AUDATEX ONLINE TRAINING CENTRE)
Vehicle Data Version Confirmation Video (933) – SOLERA CANADA (AUDATEX ONLINE TRAINING CENTRE)

Watch this video to learn how to confirm vehicle data version.

Management/Estimating
Ontario
SOLERA CANADA (AUDATEX ONLINE TRAINING CENTRE)
How to Setup a Web or Multiuser Workstation Video (930)  – SOLERA CANADA (AUDATEX ONLINE TRAINING CENTRE)

Watch this video to see how to add or set up / install a new workstation in Audatex Estimating.

Management/Estimating
Ontario
SOLERA CANADA (AUDATEX ONLINE TRAINING CENTRE)
Visual Intelligence Video  – SOLERA CANADA (AUDATEX ONLINE TRAINING CENTRE)

Watch this video to learn about Visual Intelligence.

Management/Estimating
Ontario
SOLERA CANADA (AUDATEX ONLINE TRAINING CENTRE)
Repair Status Training – SOLERA CANADA (AUDATEX ONLINE TRAINING CENTRE)

Learn how to use Repair Status to monitor and control claims at partner repair shops.

Management/Estimating
Ontario
SOLERA CANADA (AUDATEX ONLINE TRAINING CENTRE)
Audatex Labor Report – SOLERA CANADA (AUDATEX ONLINE TRAINING CENTRE)

Learn how to read the Audatex Labor Report

Management/Estimating
Ontario
SOLERA CANADA (AUDATEX ONLINE TRAINING CENTRE)
Add Tires in Qapter Estimating Video – SOLERA CANADA (AUDATEX ONLINE TRAINING CENTRE)

Learn how to add tires to an estimate in Qapter Estimating.

Management/Estimating
Ontario
SOLERA CANADA (AUDATEX ONLINE TRAINING CENTRE)
Create a Supplement in Qapter Estimating Video – SOLERA CANADA (AUDATEX ONLINE TRAINING CENTRE)

Learn how to create a supplement on a completed estimate in Qapter Estimating.

Management/Estimating
Ontario
SOLERA CANADA (AUDATEX ONLINE TRAINING CENTRE)
Print and Email in Qapter Estimating – SOLERA CANADA (AUDATEX ONLINE TRAINING CENTRE)

Learn how to print or email in Qapter Estimating.

Management/Estimating
Ontario
SOLERA CANADA (AUDATEX ONLINE TRAINING CENTRE)
Rates and Taxes in Qapter Estimating Video – SOLERA CANADA (AUDATEX ONLINE TRAINING CENTRE)

Learn how to use Qapter Fees 2.0 in Qapter Estimating.

Management/Estimating
Ontario
SOLERA CANADA (AUDATEX ONLINE TRAINING CENTRE)
How to Merge Assignments in Qapter Estimating – SOLERA CANADA (AUDATEX ONLINE TRAINING CENTRE)

Learn how to Merge Assignments in Qapter Estimating.

Management/Estimating
Ontario
SOLERA CANADA (AUDATEX ONLINE TRAINING CENTRE)
Preferences Setup in Qapter Estimating – SOLERA CANADA (AUDATEX ONLINE TRAINING CENTRE)

Learn how to setup Estimating and Autosource settings, estimator, repairer or appraiser settings, setup prestored report and damage remarks, manual entries , paintless dent repair, thresholds, alternate parts, disclaimers, customer database, mandatory fields and RO Assignment setup.

Management/Estimating
Ontario
SOLERA CANADA (AUDATEX ONLINE TRAINING CENTRE)
Hide and Find Work Items in Qapter Estimating – SOLERA CANADA (AUDATEX ONLINE TRAINING CENTRE)

Learn how to Hide and Find Work Items in Qapter Estimating.

Management/Estimating
Ontario
SOLERA CANADA (AUDATEX ONLINE TRAINING CENTRE)
Setup and Use APU Solutions in Qapter Estimating – SOLERA CANADA (AUDATEX ONLINE TRAINING CENTRE)

Learn how to setup Rates and Taxes in the Setup page and Select and Update records within the Estimate in Qapter Estimating.

Management/Estimating
Ontario
SOLERA CANADA (AUDATEX ONLINE TRAINING CENTRE)
Write a Basic Estimate in Qapter Estimating – SOLERA CANADA (AUDATEX ONLINE TRAINING CENTRE)

This series of training videos are recommended for Audatex Estimating users migrating to Qapter Estimating, who would like to learn how to write a basic estimate

Management/Estimating
Ontario
SOLERA CANADA (AUDATEX ONLINE TRAINING CENTRE)
Paintless Dent Repair – SOLERA CANADA (AUDATEX ONLINE TRAINING CENTRE)

Learn how to use the paintless dent repair feature in Qapter Estimating.

Management/Estimating
Ontario
SOLERA CANADA (AUDATEX ONLINE TRAINING CENTRE)
Qapter Estimating eLearning Series – SOLERA CANADA (AUDATEX ONLINE TRAINING CENTRE)

Learn how to enter and Estimate and Autosource Valuation in Qapter Estimating/Autosource

Management/Estimating
Ontario
SOLERA CANADA (AUDATEX ONLINE TRAINING CENTRE)
Qapter Estimating Settlement Fees – SOLERA CANADA (AUDATEX ONLINE TRAINING CENTRE)

Learn how to print or email in Qapter Estimating.

Management/Estimating
Ontario
SOLERA CANADA (AUDATEX ONLINE TRAINING CENTRE)
How to Install and Configure the CIECA Application – SOLERA CANADA (AUDATEX ONLINE TRAINING CENTRE)

State Farm users should view this short video to learn how to install and configure the CIECA application in Qapter Estimating/Autosource.

Management/Estimating
Ontario
SOLERA CANADA (AUDATEX ONLINE TRAINING CENTRE)
Qapter Fees 2.0 Training – SOLERA CANADA (AUDATEX ONLINE TRAINING CENTRE)

When you have completed this curriculum, you will be able to write an estimate using Qapter Estimating software

Management/Estimating
Ontario
SOLERA CANADA (AUDATEX ONLINE TRAINING CENTRE)
Visual Intelligence Training – SOLERA CANADA (AUDATEX ONLINE TRAINING CENTRE)

Learn how to setup and use APU Solutions in Qapter Estimating.

Management/Estimating
Ontario
SOLERA CANADA (AUDATEX ONLINE TRAINING CENTRE)
Pre-Inspection Reports in Qapter Estimating – SOLERA CANADA (AUDATEX ONLINE TRAINING CENTRE)

Learn how to change the pre-inspection reports, settings and access the pre-inspection report in Qapter Estimating.

Management/Estimating
Ontario
SOLERA CANADA (AUDATEX ONLINE TRAINING CENTRE)
Working with Comments in Qapter Estimating – SOLERA CANADA (AUDATEX ONLINE TRAINING CENTRE)

Learn how to work with the comments feature in Qapter Estimating.

Management/Estimating
Ontario
SOLERA CANADA (AUDATEX ONLINE TRAINING CENTRE)
Re-Assign a Claim in Qapter Estimating – SOLERA CANADA (AUDATEX ONLINE TRAINING CENTRE)

Learn how to re-assign a claim in Qapter Estimating.

Management/Estimating
Ontario
SOLERA CANADA (AUDATEX ONLINE TRAINING CENTRE)
Restore Profile Settings in Qapter Estimating – SOLERA CANADA (AUDATEX ONLINE TRAINING CENTRE)

Learn how to restore profile settings in Qapter Estimating.

Management/Estimating
Ontario
SOLERA CANADA (AUDATEX ONLINE TRAINING CENTRE)
Frame Dimensions in Qapter Estimating Training – SOLERA CANADA (AUDATEX ONLINE TRAINING CENTRE)

Learn how to access and print or download Frame Dimensions in Qapter Estimating .

Management/Estimating
Ontario
SOLERA CANADA (AUDATEX ONLINE TRAINING CENTRE)
Webinaire Formation Qapter – SOLERA CANADA (AUDATEX ONLINE TRAINING CENTRE)

Webinaire de formation – Logiciel d'estimation Qapter. Découvrez comment utiliser Qapter, comprenant: • La rédaction d'une estimation • L'édition des photos • La configuration des chemins d'exportation • La vérification de l'estimation

Management/Estimating
Ontario
SOLERA CANADA (AUDATEX ONLINE TRAINING CENTRE)
Request Photos in Qapter Estimating for Shops – SOLERA CANADA (AUDATEX ONLINE TRAINING CENTRE)

Shop users will learn how to request photos in Qapter Estimating

Management/Estimating
Ontario
SOLERA CANADA (AUDATEX ONLINE TRAINING CENTRE)
Autosource Specialty Entry in Qapter Autosource – SOLERA CANADA (AUDATEX ONLINE TRAINING CENTRE)

Learn how to enter an Autosource Specialty unit in Qapter Autosource.

Management/Estimating
Ontario
SOLERA CANADA (AUDATEX ONLINE TRAINING CENTRE)
Autosource Training in Qapter Autosource – SOLERA CANADA (AUDATEX ONLINE TRAINING CENTRE)

Mercury users will learn how to enter a new Autosource Valuation and update a Valuation in Qapter Autosource.

Management/Estimating
Ontario
SOLERA CANADA (AUDATEX ONLINE TRAINING CENTRE)
Enter and Update an Autosource Valuation in Qapter Autosource – SOLERA CANADA (AUDATEX ONLINE TRAINING CENTRE)

Learn how to enter and update an Autosource Valuation in Qapter Autosource.

Management/Estimating
Ontario
SOLERA CANADA (AUDATEX ONLINE TRAINING CENTRE)
Diminished Value in Qapter Autosource Training – SOLERA CANADA (AUDATEX ONLINE TRAINING CENTRE)

Learn about Diminished Value in Qapter Autosource training

Management/Estimating
Ontario
SOLERA CANADA (AUDATEX ONLINE TRAINING CENTRE)
How to Use Autosource Refresh in Qapter Autosource – SOLERA CANADA (AUDATEX ONLINE TRAINING CENTRE)

Users will learn how to use Autosource Refresh in Qapter Autosource.

Management/Estimating
Ontario
SOLERA CANADA (AUDATEX ONLINE TRAINING CENTRE)
One Maaco Training: Estimator List Employees – SOLERA CANADA (AUDATEX ONLINE TRAINING CENTRE)

Users will learn how to Add or Remove Employees from the Estimator List

Management/Estimating
Ontario
SOLERA CANADA (AUDATEX ONLINE TRAINING CENTRE)
One Maaco Training: WSBR – Payroll Changes – SOLERA CANADA (AUDATEX ONLINE TRAINING CENTRE)

Users will learn how to Reset or Change the WSBR – Payroll – Void RO Password

Management/Estimating
Ontario
SOLERA CANADA (AUDATEX ONLINE TRAINING CENTRE)
One Maaco Training: Import Paths – SOLERA CANADA (AUDATEX ONLINE TRAINING CENTRE)

Users will learn how to Change the Import Path in One Maaco

Management/Estimating
Ontario
SOLERA CANADA (AUDATEX ONLINE TRAINING CENTRE)
One Maaco Training: Authortization Edits – SOLERA CANADA (AUDATEX ONLINE TRAINING CENTRE)

Users will learn how to Edit Repair Authorization Form in One Maaco

Management/Estimating
Ontario
SOLERA CANADA (AUDATEX ONLINE TRAINING CENTRE)
One Maaco Training: Contact Merging – SOLERA CANADA (AUDATEX ONLINE TRAINING CENTRE)

Users will learn how to Merge Contacts in One Maaco

Management/Estimating
Ontario
SOLERA CANADA (AUDATEX ONLINE TRAINING CENTRE)
One Maaco Training: Contacts – SOLERA CANADA (AUDATEX ONLINE TRAINING CENTRE)

Users will learn how to Add or Remove a Contact in One Maaco

Management/Estimating
Ontario
SOLERA CANADA (AUDATEX ONLINE TRAINING CENTRE)
One Maaco Training: Database Backup – SOLERA CANADA (AUDATEX ONLINE TRAINING CENTRE)

Users will learn how to Backup the One Maaco Database

Management/Estimating
Ontario
SOLERA CANADA (AUDATEX ONLINE TRAINING CENTRE)
One Maaco Training: Grid view Customization – SOLERA CANADA (AUDATEX ONLINE TRAINING CENTRE)

Users will learn how to Customize the Grid View in One Maaco

Management/Estimating
Ontario
SOLERA CANADA (AUDATEX ONLINE TRAINING CENTRE)
One Maaco Training: One Maaco Reports – SOLERA CANADA (AUDATEX ONLINE TRAINING CENTRE)

Users will learn how to Customize One Maaco Reports

Management/Estimating
Ontario
SOLERA CANADA (AUDATEX ONLINE TRAINING CENTRE)
One Maaco Training: KPI Reports – SOLERA CANADA (AUDATEX ONLINE TRAINING CENTRE)

Users will learn how to Setup Nightly KPI Reports in One Maaco

Management/Estimating
Ontario
SOLERA CANADA (AUDATEX ONLINE TRAINING CENTRE)
One Maaco Training: Missing Shortcuts – SOLERA CANADA (AUDATEX ONLINE TRAINING CENTRE)

Users will learn how to access links/program when a Launcher or Shortcut is Missing

Management/Estimating
Ontario
SOLERA CANADA (AUDATEX ONLINE TRAINING CENTRE)
One Maaco Training: Tax/Labor Settings – SOLERA CANADA (AUDATEX ONLINE TRAINING CENTRE)

Users will learn how to Adjust Tax and Labor Settings in One Maaco

Management/Estimating
Ontario
SOLERA CANADA (AUDATEX ONLINE TRAINING CENTRE)
One Maaco Training: Password Protection – SOLERA CANADA (AUDATEX ONLINE TRAINING CENTRE)

Users will learn how to Disable Password Protected Repair Orders in One Maaco

Management/Estimating
Ontario
SOLERA CANADA (AUDATEX ONLINE TRAINING CENTRE)
One Maaco Training: Required Fields – SOLERA CANADA (AUDATEX ONLINE TRAINING CENTRE)

Users will learn how to Update Required Fields in One Maaco

Management/Estimating
Ontario
SOLERA CANADA (AUDATEX ONLINE TRAINING CENTRE)
One Maaco Training: Security Role Updates – SOLERA CANADA (AUDATEX ONLINE TRAINING CENTRE)

Users will learn how to Update User Based Security Roles in One Maaco

Management/Estimating
Ontario
SOLERA CANADA (AUDATEX ONLINE TRAINING CENTRE)
One Maaco Training: Voids – SOLERA CANADA (AUDATEX ONLINE TRAINING CENTRE)

Users will learn how to Void a Repair Order in One Maaco

Management/Estimating
Ontario
SOLERA CANADA (AUDATEX ONLINE TRAINING CENTRE)
One Maaco Training: Statement Reports – SOLERA CANADA (AUDATEX ONLINE TRAINING CENTRE)

Users will learn how to View and Print a Statement Report in this One Maacot training

Management/Estimating
Ontario
SOLERA CANADA (AUDATEX ONLINE TRAINING CENTRE)
One Maaco Training: Tech Only Workstations – SOLERA CANADA (AUDATEX ONLINE TRAINING CENTRE)

Users will learn how to Make a Tech Only Workstation in this One Maaco training

Management/Estimating
Ontario
SOLERA CANADA (AUDATEX ONLINE TRAINING CENTRE)
One Maaco Training: Discounts – SOLERA CANADA (AUDATEX ONLINE TRAINING CENTRE)

Users will learn how to Add a Discount in this One Maaco training

Management/Estimating
Ontario
SOLERA CANADA (AUDATEX ONLINE TRAINING CENTRE)
One Maaco Training: Payment Methods – SOLERA CANADA (AUDATEX ONLINE TRAINING CENTRE)

Users will learn how to Add Payment Methods in this One Maaco training

Management/Estimating
Ontario
SOLERA CANADA (AUDATEX ONLINE TRAINING CENTRE)
One Maaco Training: Allocation of labor hours – SOLERA CANADA (AUDATEX ONLINE TRAINING CENTRE)

Users will learn how to Allocate, Flag, Edit, or Remove Labor Hours in this One Maaco training.

Management/Estimating
Ontario
SOLERA CANADA (AUDATEX ONLINE TRAINING CENTRE)
One Maaco Training: User ID Password Not Known – SOLERA CANADA (AUDATEX ONLINE TRAINING CENTRE)

Users will learn how to fix user ID not known errors by utilizing this training

Management/Estimating
Ontario
SOLERA CANADA (AUDATEX ONLINE TRAINING CENTRE)
Avis AutoWatch GoTime Application Training – SOLERA CANADA (AUDATEX ONLINE TRAINING CENTRE)

Avis AutoWatch GoTime Application Training

Management/Estimating
Ontario
SOLERA CANADA (AUDATEX ONLINE TRAINING CENTRE)
Tesla AutoWatch GoTime App Training – SOLERA CANADA (AUDATEX ONLINE TRAINING CENTRE)

Step by step instructions for creating repair orders, updating the stage of repair, taking photos of your clients vehicles and completing the repair order.

Management/Estimating
Ontario
SOLERA CANADA (AUDATEX ONLINE TRAINING CENTRE)
AutoWatch GoTime App Training – SOLERA CANADA (AUDATEX ONLINE TRAINING CENTRE)

Step by step instructions for creating repair orders, adding assignments, updating the stage of repair, scanning VINs, taking photos of your clients vehicles and completing the repair order

Management/Estimating
Ontario
SOLERA CANADA (AUDATEX ONLINE TRAINING CENTRE)
Autosource Valuation Request – SOLERA CANADA (AUDATEX ONLINE TRAINING CENTRE)

Requesting an Autosource total loss valuation.

Management/Estimating
Ontario
SOLERA CANADA (AUDATEX ONLINE TRAINING CENTRE)
Autosource Training and Conditioning – SOLERA CANADA (AUDATEX ONLINE TRAINING CENTRE)

Learn about Autosource and conditioning.

Management/Estimating
Ontario
SOLERA CANADA (AUDATEX ONLINE TRAINING CENTRE)
Autosource Total Loss Manager – SOLERA CANADA (AUDATEX ONLINE TRAINING CENTRE)

Total Loss Manager Claims Experience

Management/Estimating
Ontario
SOLERA CANADA (AUDATEX ONLINE TRAINING CENTRE)
Reading and Understanding an Autosource Valuation – SOLERA CANADA (AUDATEX ONLINE TRAINING CENTRE)

Reading and Understanding an Autosource Valuation.

Management/Estimating
Ontario
SOLERA CANADA (AUDATEX ONLINE TRAINING CENTRE)
Autosource Market Search Video – SOLERA CANADA (AUDATEX ONLINE TRAINING CENTRE)

Watch this video for a quick overview of the Autosource Market Search in Audatex Estimating.

Management/Estimating
Ontario
SOLERA CANADA (AUDATEX ONLINE TRAINING CENTRE)
How to Update a Valuation or Reinspection Video – SOLERA CANADA (AUDATEX ONLINE TRAINING CENTRE)

Learn how to update a Valuation or Reinspection in Audatex Estimating/Autosource.

Management/Estimating
Ontario
SOLERA CANADA (AUDATEX ONLINE TRAINING CENTRE)
How to Use the Autosource Pre-Inspection Report Video – SOLERA CANADA (AUDATEX ONLINE TRAINING CENTRE)

Learn how to use the Autosource Pre-Inspection Report in Audatex Estimating/Autosource.

Management/Estimating
Ontario
SOLERA CANADA (AUDATEX ONLINE TRAINING CENTRE)
Autosource Refresh Video – SOLERA CANADA (AUDATEX ONLINE TRAINING CENTRE)

Learn how to refresh Autosource destinations in Audatex Estimating/Autosource.

Management/Estimating
Ontario
SOLERA CANADA (AUDATEX ONLINE TRAINING CENTRE)
Autosource Reinspection Form Video – SOLERA CANADA (AUDATEX ONLINE TRAINING CENTRE)

Learn how to modify the Reinspection Form in Audatex Estimating/Autosource.

Management/Estimating
Ontario
SOLERA CANADA (AUDATEX ONLINE TRAINING CENTRE)
Autosource Diminished Value Training – SOLERA CANADA (AUDATEX ONLINE TRAINING CENTRE)

Submit, view, and read a Diminished Value Report.

Management/Estimating
Ontario
SOLERA CANADA (AUDATEX ONLINE TRAINING CENTRE)
Audatex Total Loss Conditioning Webinar – SOLERA CANADA (AUDATEX ONLINE TRAINING CENTRE)

State Farm users can watch this live webinar to learn about Autosource Options and Conditioning

Management/Estimating
Ontario
SOLERA CANADA (AUDATEX ONLINE TRAINING CENTRE)
Autosource Conditioning Best Practices for Tires and Mechanical – SOLERA CANADA (AUDATEX ONLINE TRAINING CENTRE)

This teaches users about Autosource Conditioning best practices for Tires and Mechanical repairs.

Management/Estimating
Ontario
SOLERA CANADA (AUDATEX ONLINE TRAINING CENTRE)
AutoFocus 2.0 Menu Interface Changes – SOLERA CANADA (AUDATEX ONLINE TRAINING CENTRE)

This teaches users how to navigate menu interface changes in AutoFocus 2.0

Management/Estimating
Ontario
SOLERA CANADA (AUDATEX ONLINE TRAINING CENTRE)
How to Add a Discount in AutoFocus 2.0 – SOLERA CANADA (AUDATEX ONLINE TRAINING CENTRE)

This teaches users how to add a discount in Autofocus 2.0

Management/Estimating
Ontario
SOLERA CANADA (AUDATEX ONLINE TRAINING CENTRE)
How to Add Payment Methods in AutoFocus 2.0 – SOLERA CANADA (AUDATEX ONLINE TRAINING CENTRE)

This teaches usershow to add Payment Methods in AutoFocus 2.0

Management/Estimating
Ontario
SOLERA CANADA (AUDATEX ONLINE TRAINING CENTRE)
How to Add, Modify, or Delete an Employee in AutoFocus 2.0 – SOLERA CANADA (AUDATEX ONLINE TRAINING CENTRE)

This teaches usershow to add, modify, or delete an employee in AutoFocus 2.0

Management/Estimating
Ontario
SOLERA CANADA (AUDATEX ONLINE TRAINING CENTRE)
How to Merge Contacts in AutoFocus 2.0 – SOLERA CANADA (AUDATEX ONLINE TRAINING CENTRE)

This teaches users how to merge contacts in AutoFocus 2.0

Management/Estimating
Ontario
SOLERA CANADA (AUDATEX ONLINE TRAINING CENTRE)
How to Update Required Fields in AutoFocus 2.0 – SOLERA CANADA (AUDATEX ONLINE TRAINING CENTRE)

This teaches users how to update required fields in AutoFocus 2.0

Management/Estimating
Ontario
SOLERA CANADA (AUDATEX ONLINE TRAINING CENTRE)
AutoFocus 2.0 Training Course (New) – SOLERA CANADA (AUDATEX ONLINE TRAINING CENTRE)

AutoFocus allows users, bodyshop owners and repairers the ability to navigate and manage all aspects of the collision repair process. This program teaches the basics of the program to help streamline the collision repair process for shops and customers alike

Management/Estimating
Ontario
SOLERA CANADA (AUDATEX ONLINE TRAINING CENTRE)
Audatex Insight Analytics – SOLERA CANADA (AUDATEX ONLINE TRAINING CENTRE)

Learn how to create data rich reports and present results graphically using the powerful Insight Analytics tool.

Management/Estimating
Ontario
SOLERA CANADA (AUDATEX ONLINE TRAINING CENTRE)
Audatex Estimating Optional Features – SOLERA CANADA (AUDATEX ONLINE TRAINING CENTRE)

This teaches users on Estimating Optional Features in Audatex programming

Management/Estimating
Ontario
SOLERA CANADA (AUDATEX ONLINE TRAINING CENTRE)
Audatex Estimating eLearning Series for Audatex Associates – SOLERA CANADA (AUDATEX ONLINE TRAINING CENTRE)

This is an Audatex estimating e-learning series for Adutex associates

Management/Estimating
Ontario
SOLERA CANADA (AUDATEX ONLINE TRAINING CENTRE)
Audatex Estimating Essentials Creating Estimates – SOLERA CANADA (AUDATEX ONLINE TRAINING CENTRE)

This teaches usershow to create for estimates in Audatex Estimating Essentials

Management/Estimating
Ontario
SOLERA CANADA (AUDATEX ONLINE TRAINING CENTRE)
Audatex Estimating Tips for Flawless Operation – SOLERA CANADA (AUDATEX ONLINE TRAINING CENTRE)

This teaches users Audatex Estimating Tips for Flawless Operation

Management/Estimating
Ontario
SOLERA CANADA (AUDATEX ONLINE TRAINING CENTRE)
Audatex Estimating eLearning Series for Shop Users – SOLERA CANADA (AUDATEX ONLINE TRAINING CENTRE)

When you have completed this curriculum, you will be able to write an estimate using Audatex Estimating software.

Management/Estimating
Ontario
SOLERA CANADA (AUDATEX ONLINE TRAINING CENTRE)
Audatex Estimating eLearning Series for Insurance Users – SOLERA CANADA (AUDATEX ONLINE TRAINING CENTRE)

When you have completed this curriculum, you will be able to write an estimate using Audatex Estimating Software.

Management/Estimating
Ontario
SOLERA CANADA (AUDATEX ONLINE TRAINING CENTRE)
Upgrade Through AudaUpdate Standalone and Multi-Users – SOLERA CANADA (AUDATEX ONLINE TRAINING CENTRE)

This video teaches users what to do if they are receiving a prompt that a new version of Audatex Estimating has been downloaded and is ready to install.

Management/Estimating
Ontario
SOLERA CANADA (AUDATEX ONLINE TRAINING CENTRE)
Password Reset Training – SOLERA CANADA (AUDATEX ONLINE TRAINING CENTRE)

This video teaches users how to reset your Audatex Estimating password.

Management/Estimating
Ontario
SOLERA CANADA (AUDATEX ONLINE TRAINING CENTRE)
Understanding Labor Operations and the Labor Database – SOLERA CANADA (AUDATEX ONLINE TRAINING CENTRE)

This teaches users how to understand labor operations and the labor database

Management/Estimating
Ontario
SOLERA CANADA (AUDATEX ONLINE TRAINING CENTRE)
Top Troubleshooting Tips for your Work List – SOLERA CANADA (AUDATEX ONLINE TRAINING CENTRE)

This teaches users how to use the Tire Database in Audatex Estimating.

Management/Estimating
Ontario
SOLERA CANADA (AUDATEX ONLINE TRAINING CENTRE)
Audatex Estimating QUICK START Training with Learning Checkpoint – SOLERA CANADA (AUDATEX ONLINE TRAINING CENTRE)

Audatex Estimating QUICK START Training with Learning Checkpoint

Management/Estimating
Ontario
SOLERA CANADA (AUDATEX ONLINE TRAINING CENTRE)
How to Refresh All Profiles Video – SOLERA CANADA (AUDATEX ONLINE TRAINING CENTRE)

This video teaches users how to refresh All Profiles in Audatex Estimating.

Management/Estimating
Ontario
SOLERA CANADA (AUDATEX ONLINE TRAINING CENTRE)
How to Use Paintless Dent Repair (PDR) in an Estimate – SOLERA CANADA (AUDATEX ONLINE TRAINING CENTRE)

This short video teaches users how to use PDR in an Estimate.

Management/Estimating
Ontario
SOLERA CANADA (AUDATEX ONLINE TRAINING CENTRE)
Quick Damage Page Overview Video – SOLERA CANADA (AUDATEX ONLINE TRAINING CENTRE)

This short video teaches users how to see a quick overview of the Damage page.

Management/Estimating
Ontario
SOLERA CANADA (AUDATEX ONLINE TRAINING CENTRE)
Advanced Damage Entries Video – SOLERA CANADA (AUDATEX ONLINE TRAINING CENTRE)

This short video teaches users how to make advanced damage entries in Audatex Estimating.

Management/Estimating
Ontario
SOLERA CANADA (AUDATEX ONLINE TRAINING CENTRE)
Basic Damage Entries Video – SOLERA CANADA (AUDATEX ONLINE TRAINING CENTRE)

This short video teaches users how to enter a basic damage entry in Audatex Estimating.

Management/Estimating
Ontario
SOLERA CANADA (AUDATEX ONLINE TRAINING CENTRE)
How to Close the Claim Video – SOLERA CANADA (AUDATEX ONLINE TRAINING CENTRE)

This short video teaches users how to close a claim in Audatex Estimating.

Management/Estimating
Ontario
SOLERA CANADA (AUDATEX ONLINE TRAINING CENTRE)
Frame Dimensions Video – SOLERA CANADA (AUDATEX ONLINE TRAINING CENTRE)

Watch this video for a quick introduction to Frame Dimensions in Audatex Estimating. Audatex Frame Dimensions gives technicians instant access to a vehicle's exact frame dimension map

Management/Estimating
Ontario
SOLERA CANADA (AUDATEX ONLINE TRAINING CENTRE)
Paintless Dent Repair Video – SOLERA CANADA (AUDATEX ONLINE TRAINING CENTRE)

This short video teaches users how to use Paintless Dent Repair in Audatex Estimating.

Management/Estimating
Ontario
SOLERA CANADA (AUDATEX ONLINE TRAINING CENTRE)
How to Print Reports Video – SOLERA CANADA (AUDATEX ONLINE TRAINING CENTRE)

This short video teaches users how to print reports in Audatex Estimating.

Management/Estimating
Ontario
SOLERA CANADA (AUDATEX ONLINE TRAINING CENTRE)
Tire Database Video – SOLERA CANADA (AUDATEX ONLINE TRAINING CENTRE)

This short video teaches users Learn how to use the Tire Database in Audatex Estimating.

Management/Estimating
Ontario
SOLERA CANADA (AUDATEX ONLINE TRAINING CENTRE)
How to Use 3D Graphics Video – SOLERA CANADA (AUDATEX ONLINE TRAINING CENTRE)

This short video teaches users how to use 3D graphics in Audatex Estimating.

Management/Estimating
Ontario
SOLERA CANADA (AUDATEX ONLINE TRAINING CENTRE)
Repair Facility Rates Video – SOLERA CANADA (AUDATEX ONLINE TRAINING CENTRE)

This short video teaches users how to edit your repair facility information in Audatex Estimating.

Management/Estimating
Ontario
SOLERA CANADA (AUDATEX ONLINE TRAINING CENTRE)
Tax and Threshold Setup Video – SOLERA CANADA (AUDATEX ONLINE TRAINING CENTRE)

This short video teaches users how to setup tax and thresholds in Audatex Estimating.

Management/Estimating
Ontario
SOLERA CANADA (AUDATEX ONLINE TRAINING CENTRE)
Damage Remarks Video – SOLERA CANADA (AUDATEX ONLINE TRAINING CENTRE)

This short video teaches users how to set up and save damage remarks.

Management/Estimating
Ontario
SOLERA CANADA (AUDATEX ONLINE TRAINING CENTRE)
How to Search for Estimates Video – SOLERA CANADA (AUDATEX ONLINE TRAINING CENTRE)

This short video teaches users Learn how to search for estimates in Audatex Estimating.

Management/Estimating
Ontario
SOLERA CANADA (AUDATEX ONLINE TRAINING CENTRE)
Autosource Reinspection Video – SOLERA CANADA (AUDATEX ONLINE TRAINING CENTRE)

Watch this video for a quick introduction to Autosource Reinspection in Audatex Estimating.

Management/Estimating
Ontario
SOLERA CANADA (AUDATEX ONLINE TRAINING CENTRE)
Autosource Settlement Entry Video – SOLERA CANADA (AUDATEX ONLINE TRAINING CENTRE)

Watch this video for a quick introduction to the Autosource Settlement Entry feature in Audatex Estimating.

Management/Estimating
Ontario
SOLERA CANADA (AUDATEX ONLINE TRAINING CENTRE)
Profile backup/restoration Video – SOLERA CANADA (AUDATEX ONLINE TRAINING CENTRE)

This short video teaches users how to back up and restore profile settings in Audatex Estimating.

Management/Estimating
Ontario
SOLERA CANADA (AUDATEX ONLINE TRAINING CENTRE)
New Estimating Training Video – SOLERA CANADA (AUDATEX ONLINE TRAINING CENTRE)

This short video teaches users how to create a new estimate in Audatex Estimating.

Management/Estimating
Ontario
SOLERA CANADA (AUDATEX ONLINE TRAINING CENTRE)
Enhanced Prior Damage Workflow Video – SOLERA CANADA (AUDATEX ONLINE TRAINING CENTRE)

This short video teaches users how to complete a prior damage estimate in Audatex Estimating.

Management/Estimating
Ontario
SOLERA CANADA (AUDATEX ONLINE TRAINING CENTRE)
Work List Overview Video – SOLERA CANADA (AUDATEX ONLINE TRAINING CENTRE)

Watch this quick video for an overview of how to use the Audatex Estimating Work List.

Management/Estimating
Ontario
SOLERA CANADA (AUDATEX ONLINE TRAINING CENTRE)
How to Export and Import Claim Data Video – SOLERA CANADA (AUDATEX ONLINE TRAINING CENTRE)

This short video teaches users how to export and import claim data in Audatex Estimating.

Management/Estimating
Ontario
SOLERA CANADA (AUDATEX ONLINE TRAINING CENTRE)
How to Merge an Assignment with an Existing Claim Video – SOLERA CANADA (AUDATEX ONLINE TRAINING CENTRE)

This short video teaches users how to merge an assignment with an existing claim in Audatex Estimating.

Management/Estimating
Ontario
SOLERA CANADA (AUDATEX ONLINE TRAINING CENTRE)
How to Re-Assign a Claim Video – SOLERA CANADA (AUDATEX ONLINE TRAINING CENTRE)

This short video teaches users how to re-assign a claim in Audatex Estimating.

Management/Estimating
Ontario
SOLERA CANADA (AUDATEX ONLINE TRAINING CENTRE)
Working with Comments Video – SOLERA CANADA (AUDATEX ONLINE TRAINING CENTRE)

This short video teaches users how to work with the Comments feature in Audatex Estimating.

Management/Estimating
Ontario
SOLERA CANADA (AUDATEX ONLINE TRAINING CENTRE)
Using Claims Search Viewer – SOLERA CANADA (AUDATEX ONLINE TRAINING CENTRE)

Learn about the workflow process using Claims Search Viewer.

Management/Estimating
Ontario
SOLERA CANADA (AUDATEX ONLINE TRAINING CENTRE)
APU Parts Search Video – SOLERA CANADA (AUDATEX ONLINE TRAINING CENTRE)

This is a short video which teaches users how to search for alternative parts in Audatex Estimating. The alternative parts search allows users to locate recycled, refurbished, and aftermarket parts for vehicle repairers.

Management/Estimating
Ontario
SOLERA CANADA (AUDATEX ONLINE TRAINING CENTRE)
Reading the Estimate Report – SOLERA CANADA (AUDATEX ONLINE TRAINING CENTRE)

Learn how to read the Estimate report in Qapter Estimating

Management/Estimating
Ontario
SKILLS CANADA
Skills Canada Collision Repair Program – SKILLS CANADA

This program promotes careers in the collision repair industry. It also allows for students to compete in competitions across Canada. The Skills Canada Collision Repair Program has a lot of hands-on training opportunities and gain knowledge during their experience as a competitor.

Core Skills
Ontario K1P 6E6
SHERWIN-WILLIAMS AUTOMOTIVE FINISHES
Throughput Production Management – SHERWIN-WILLIAMS AUTOMOTIVE FINISHES

The production management workshop methods learned will identify and define all related procedures to process a repair in the most cost-effective manner for the collision facility, vehicle owner and insurance provider.

Core Skills
Ontario
SHERWIN-WILLIAMS AUTOMOTIVE FINISHES
Repair Planning for Rapid Throughput – SHERWIN-WILLIAMS AUTOMOTIVE FINISHES

This course will cover the importance of a full and accurate repair plan and its role in a lean collision facility.

Management/Estimating
Ontario
SHERWIN-WILLIAMS AUTOMOTIVE FINISHES
Parts Correctness – SHERWIN-WILLIAMS AUTOMOTIVE FINISHES

This workshop will delve deeply into the specific steps of a parts correctness strategy.

Management/Estimating
Ontario
SHERWIN-WILLIAMS AUTOMOTIVE FINISHES
In-Process Quality Assurance – SHERWIN-WILLIAMS AUTOMOTIVE FINISHES

Are you achieving consistent and predictable repair results every day? There is a way. Find out how in this course.

Management/Estimating
Ontario
SHERWIN-WILLIAMS AUTOMOTIVE FINISHES
Improving Workshop Efficiency – SHERWIN-WILLIAMS AUTOMOTIVE FINISHES

This course focuses on the theory and mechanics of lean production, helping participants to understand and implement process improvement.

Management/Estimating
Ontario
SHERWIN-WILLIAMS AUTOMOTIVE FINISHES
Express Repair – SHERWIN-WILLIAMS AUTOMOTIVE FINISHES

Participants in the workshop will take a hard look into express repair strategy, and learn how to reduce repair cycle times by implementing a specific express repair process in their business.

Management/Estimating
Ontario
SHERWIN-WILLIAMS AUTOMOTIVE FINISHES
Damage Analysis and Blueprinting – SHERWIN-WILLIAMS AUTOMOTIVE FINISHES

Take a deep dive into the mechanics of a comprehensive damage analysis, with specific steps outlined to ensure that participants learn how to conduct a thorough analysis of vehicles and transfer that data into a Blueprint/RO – prior to launching them into production.

Management/Estimating
Ontario
SHERWIN-WILLIAMS AUTOMOTIVE FINISHES
Cycle Time Reduction – SHERWIN-WILLIAMS AUTOMOTIVE FINISHES

This workshop will delve deeply into a comprehensive cycle time reduction strategy, with specific steps outlined to ensure that participants learn how to reduce repair cycle times by implementing 10 absolutes in their business.

Management/Estimating
Ontario
SHERWIN-WILLIAMS AUTOMOTIVE FINISHES
Tactically Lean – SHERWIN-WILLIAMS AUTOMOTIVE FINISHES

This course connects the dots between high-minded lean concepts and real-world results.

Management/Estimating
Ontario
SHERWIN-WILLIAMS AUTOMOTIVE FINISHES
5S Method to Lean – SHERWIN-WILLIAMS AUTOMOTIVE FINISHES

This course will cover the importance of eliminating clutter inside a collision facility.

Management/Estimating
Ontario
SHERWIN-WILLIAMS AUTOMOTIVE FINISHES
Leading for Results – SHERWIN-WILLIAMS AUTOMOTIVE FINISHES

This program will include specific steps for participants to better manage employee performance on the production floor.

Management/Estimating
Ontario
SHERWIN-WILLIAMS AUTOMOTIVE FINISHES
Improving Performance with KPIs – SHERWIN-WILLIAMS AUTOMOTIVE FINISHES

This course helps collision repair shops discover ways to measure their performance with Key Performance Indicators (KPIs), and use those measurements to focus their efforts to improve their business.

Management/Estimating
Ontario
SHERWIN-WILLIAMS AUTOMOTIVE FINISHES
Compensation Solutions for Profit – SHERWIN-WILLIAMS AUTOMOTIVE FINISHES

This course guides attendees through compensation planning strategies.

Management/Estimating
Ontario
SHERWIN-WILLIAMS AUTOMOTIVE FINISHES
Achieving Service ExcEllence – SHERWIN-WILLIAMS AUTOMOTIVE FINISHES

This course provides participants with the skills, information and tools necessary to provide a memorable customer interaction process.

Management/Estimating
Ontario
SHERWIN-WILLIAMS AUTOMOTIVE FINISHES
The Road to Sales Success – SHERWIN-WILLIAMS AUTOMOTIVE FINISHES

This course can improve the effectiveness of your sales technique during the estimate process. It utilizes proven sales techniques especially tailored to the collision repair industry.

Management/Estimating
Ontario
SHERWIN-WILLIAMS AUTOMOTIVE FINISHES
Estimating Solutions for Profit – SHERWIN-WILLIAMS AUTOMOTIVE FINISHES

The ultimate goal of the course will be to maximize your profitability by writing a more complete estimate and effectively negotiating an agreed price for the repair.

Management/Estimating
Ontario
SHERIDAN COLLEGE – DAVIS CAMPUS
Welding Techniques – SHERIDAN COLLEGE – DAVIS CAMPUS

Students will get in-depth hands-on education in current welding techniques — working with the most current technology — and study the theory at the same time. Learn shielded metal arc welding (SMAW), gas metal arc welding (GMAW), gas tungsten arc welding (GTAW) and flux-cored arc welding (FCAW).

Welding
Ontario
SHERIDAN COLLEGE – DAVIS CAMPUS
Welding and Fabrication Technician – Diploma – SHERIDAN COLLEGE – DAVIS CAMPUS

In the first year of your welding diploma, you'll get hands-on training in shielded metal arc welding (SMAW), gas metal arc welding (GMAW), gas tungsten arc welding (GTAW) and flux-cored arc welding (FCAW). In second year, you'll learn advanced techniques including flat, horizontal, vertical and overhead welding.

Welding
Ontario
SAULT COLLEGE
Motive Power Technician – Advanced Repair – SAULT COLLEGE

Designed to prepare students to repair a wide variety of cars, trucks and heavy equipment, as well as work with parts and service, this program will teach you how to analyze, diagnose and solve various motive power system problems by using problem-solving and critical thinking skills and strategies.

Core Skills
Ontario
SAULT COLLEGE
Motive Power Fundamentals – Automotive Repair – SAULT COLLEGE

Learn how to identify basic automotive system problems. Also learn how to identify, inspect and test automotive engine components and systems. You will learn how to disassemble and assemble components to the required specifications.

Core Skills
Ontario
SAULT COLLEGE
Automotive Service Technician – SAULT COLLEGE

This course teaches fundamental and specific skills of the trade through the training of practical applications. Strengthening the apprentices' high standards of craftsmanship, problem-solving skills and personal pride in their respective trades.

Apprenticeship
Ontario
SASKATCHEWAN POLYTECHNIC
Automotive Service Technician – SASKATCHEWAN POLYTECHNIC

The Automotive Service Technician course is a one-year certificate program offered in Moose Jaw and Saskatoon. You'll learn how to diagnose, repair, service and maintain advanced mechanical and electrical systems in today's vehicles.

Core Skills
saskatchewan
SASKATCHEWAN POLYTECHNIC
Automotive Painter – SASKATCHEWAN POLYTECHNIC

This applied certificate provides a solid foundation in the knowledge and skills needed to work in automotive painting. Students will dismantle and assemble vehicles, hammer out small dings, prepare, prime and refinish vehicle panels, and repair paint defects. They will also spend a week in an autobody shop.

Core Skills
saskatchewan
SASKATCHEWAN POLYTECHNIC
Auto Body Technician – SASKATCHEWAN POLYTECHNIC

Through this course, students will receive practical training in: basic and advanced metal work; basic and advanced painting; benchwork and safe working procedures; door servicing, glass installation and electrical systems; front sheet metal and plastic material repair; industry communications and math; and welding.

Core Skills
saskatchewan
SASKATCHEWAN INDIAN INSTITUTE OF TECHNOLOGIES
Automotive Service Technician Preparation – SASKATCHEWAN INDIAN INSTITUTE OF TECHNOLOGIES

This program includes classroom and hands on training, life skills training, career planning, and safety tickets. Students can also complete a work practicum and can earn 360 hours of trade time credit toward apprenticeship.

Core Skills
saskatchewan
SASKATCHEWAN INDIAN INSTITUTE OF TECHNOLOGIES
Auto Body Repair – SASKATCHEWAN INDIAN INSTITUTE OF TECHNOLOGIES

In this course you will gain experience and knowledge about how to repair and replace front-end components, body components, doors and frames, and underbody components.

Core Skills
saskatchewan
RIDER TRAINING INSTITUTE
Motorcycle Maintenance – RIDER TRAINING INSTITUTE

This motorcycle maintenance course is designed to give motorcyclists the simple skills required to keep their motorcycle in a safe operating condition, perform simple preventative maintenance and determine when a professional's touch is required. Students will gain hands-on experience by performing basic maintenance procedures on an RTI motorcycle and using their own motorcycle for reference and comparison throughout the course.

Non-Structural Repair
Ontario
RED RIVER COLLEGE
Welding – RED RIVER COLLEGE

This program develops skills and knowledge in oxyacetylene, arc, tungsten inert gas (TIG) and metal inert gas (MIG) welding processes. You will spend the majority of class time on practical shop work, plus mathematics, science, industrial communications and blueprint reading.

Welding
Manitoba
RED RIVER COLLEGE
Collision Repair and Refinishing – RED RIVER COLLEGE

This program develops the skills for working with minor sheet metal damage, including aluminum substrates. It also covers minor panel replacement; interior and exterior trim; moulding removal and installation; proper methods of substrate preparation and refinishing; and repair estimating.

Core Skills
Manitoba
RED RIVER COLLEGE
Automotive Technician – Diploma – RED RIVER COLLEGE

Training alternates between three sessions of classroom instruction and three sessions of four-week work experience placements. Classroom instruction will broaden your knowledge in the automotive electronics area and will also cover engine management, fuel injection and ABS brakes.

Core Skills
Manitoba
RED RIVER COLLEGE
Automotive Technician – Certificate – RED RIVER COLLEGE

Students will develop the knowledge and skills required to disassemble, inspect, machine, calibrate and reassemble motor vehicle units and components. They will study internal combustion engines, automatic and standard transmissions, brakes, steering, electrical circuits, wiring and fuel systems.

Core Skills
Manitoba
RED DEER COLLEGE
Welder Apprenticeship – RED DEER COLLEGE

Join or sever metals in beams, girders, vessels, piping and other metal components used in construction and manufacturing. Utilize electric arc, MIG, TIG and gas welding (oxy acetylene).

Welding
Alberta
RED DEER COLLEGE
Automotive Service Technician – RED DEER COLLEGE

Automotive service technicians perform preventative maintenance, diagnose faulty operations and repair automotive vehicles and light trucks. The term of apprenticeship is four years, including a minimum of 1,560 hours of on-the-job training, and eight weeks of technical training each year.

Apprenticeship
Alberta
R. S. Finishing
Custom Equipment Training – R. S. Finishing

Training and Certification: Steel GMA Welding.

Core Skills
Ontario
PROGI
Progi Training – PROGI

Progi offers a comprehensive training program to improve the operational efficiency of collision shop managers. This two-part program offers a basic component and an advanced component called ProgiElite. These components allow collision managers to properly plan their operations, acquire parts and monitor their performance.

Core Skills
Quebec
PRO SPOT INTERNATIONAL INC. TRAINING DIVISION
Welding Certification – PRO SPOT INTERNATIONAL INC. TRAINING DIVISION

Training and Certification for Steel GMA Welding.

Welding
California
PRO SPOT INTERNATIONAL INC. TRAINING DIVISION
Welding Theory – PRO SPOT INTERNATIONAL INC. TRAINING DIVISION

An introduction to Squeeze-Type Resistance Spot Welding.

Welding
California
Precision For Collision
CLEM-00002 Computerized Measuring – Precision For Collision

This 2-day, I-CAR recognized course is designed to make the experienced or new technician more efficient in diagnosis, measuring, and repair of collision damaged vehicles using Car-O-Liner computerized measuring systems.

Measurement/Alignment
California
PPG Canada
PPG Paint Training – PPG Canada

PPG has a number of online training options. As the online courses may change, check out our Training overview page for current information/availability: https://us.ppgrefinish.com/Training/Home
Visit the Tech Tips page for application tips, including SOP videos and guides: https://us.ppgrefinish.com/Training/Tech-Tips

Paint/Refinish
Ontario
POLYVANCE
EPR-01 Estimating Plastic Repair – POLYVANCE

Estimating plastic repair is an online, self-paced course designed to educate collision damage estimators and technicians in determining the repairability of damaged plastic parts. The course is designed to educate someone with no prior knowledge of plastics or the repair of plastics to the point at which they can confidently discuss the differences in plastic types and repair methods with technicians, and to be able to quickly determine whether a damaged plastic part is a candidate for repair or if it should be replaced. The course is divided into four modules.

Non-Structural Repair
Alabama
POLYVANCE
PR-04, One Day Plastic Repair & Refinishing – POLYVANCE

This course is designed to prepare a student with basic body shop knowledge and skills to understand the complete process of repairing and refinishing a plastic bumper cover. The focus will be on PP-blend bumper covers, but the course will also touch on thermoset polyurethane bumpers and other plastic parts, such as headlights and washer bottles.

Non-Structural Repair
Alabama
POLYVANCE
PR-03, Headlight Repair Course – POLYVANCE

This one-hour, video-based, e-learning course will demonstrate how to repair broken headlight tabs with the nitrogen plastic welding system.

Non-Structural Repair
Alabama
POLYVANCE
PR-02, Plastic Repair & Refinishing – POLYVANCE

This course focuses on the hands-on skills needed to repair a bumper from start to finish. This course will cover the following topics: identify different types of plastic; explain the basic nitrogen welding process; properly operate a plastic welder; work dents out of bumpers; weld a tear to the edge of a bumper; repair a torn slot tab, a torn bumper mounting flange or a torn flexible hinge tab; repair a thermoset polyurethane bumper; properly finish the repair with filler and primer; and refinish textured plastic bumpers.

Non-Structural Repair
Alabama
POLYVANCE
PR-01, Introduction to Nitrogen Plastic Welding – POLYVANCE

At the end of this course, students will be able to: identify different types of plastic; explain the basic nitrogen welding process; properly operate a plastic welder; weld a tear to the edge of a bumper; repair a torn slot tab, a torn bumper mounting flange or a torn flexible hinge tab; and repair a thermoset polyurethane bumper.

Non-Structural Repair
Alabama
PLIOGRIP
Bumper Repair – PLIOGRIP

In this course offered by Motivated Reps, students will learn the features and benefits of plastic repair materials, how to identify types of plastics, methods of choosing an appropriate repair material, application areas and process, as well as OEM procedures in plastic repair.

Non-Structural Repair
Ontario
PLIOGRIP
Panel Bonding and Weld Bonding – PLIOGRIP

In this course offered by Motivated Reps, students will learn the benefits of adhesive bonding, as well as how to choose the appropriate adhesive, where to use adhesives and following OEM procedures when panel and weld bonding.

Welding
Ontario
PDR Canada
Varies – PDR Canada

PDR Canada uses industry leading tools and training exclusive to PDR Canada to repair your vehicles. We train PDR Techs how to fix minor dents and door dings, as well as more advanced Paintless Dent Repair methods. This will be offered at PDR Canada located in Sherwood Park, Alberta. Contact Domenic for more information at 780-953-4739.

Non-Structural Repair
Alberta
PARKLAND COLLEGE
Welding Certificate – PARKLAND COLLEGE

Learn on state-of-the-art equipment at the Trades and Technology Centre. You will receive training in multiple welding processes, operating fabrication equipment, using blueprints, general shop practice and shop safety.While acquiring this degree, you will gain 1,200 hours of trade time credit provided that you meet the academic and timeline requirements.

Welding
Saskatchewan
PAINTSOURCE
Paint Correction Using Dry Sandpaper – PAINTSOURCE

Cutting and polishing technology has improved significantly over the years, decreasing time and mess when it comes to paint correction. Paint Source Automotive Supplies offers free expert training for you and/or your staff on how to properly use paint correction techniques using a dry sanding processes.

Paint/Refinish
Ontario
Pacific Collision Equipment Co.
CLEM-00007 Basic Electronic Measuring – Pacific Collision Equipment Co.

Basic Computerized Measuring system Training. Car-o-liner training. Dates subject to change, see online for details.

Measurement/Alignment
California
OLDS COLLEGE
– OLDS COLLEGE

Join or sever metals in beams, girders, vessels, piping and other metal components used in construction and manufacturing. Utilize electric arc, MIG, TIG and gas welding (oxy acetylene).

Welding
AB
OKANAGAN COLLEGE, KELOWNA CAMPUS
Collision Repair/Refinishing Prep Technician – OKANAGAN COLLEGE, KELOWNA CAMPUS

In Okanagan College's Collision Repair/Refinishing Prep Technician course students with little or no previous experience in the automotive collision trade will learn the necessary skills to seek employment in this industry. Students will learn subject matter including Automotive Collision Repair and Automotive Refinishing Prep Technician, allowing students the opportunity to enter one of three different apprenticeships. The program includes a two-week industry work placement where students gain practical skills.

Core Skills
BC
OKANAGAN COLLEGE, KELOWNA CAMPUS
Automotive Glass Technician Apprentice – OKANAGAN COLLEGE, KELOWNA CAMPUS

An automotive glass technician removes, installs, repairs and generally services all types of stationary and moveable glass in motor vehicles. Apprentices are required to attend a total of two weeks of technical training courses over this two year apprenticeship.

Apprenticeship
BC
OKANAGAN COLLEGE, KELOWNA CAMPUS
Auto Body and Collision Technician Apprenticeship – OKANAGAN COLLEGE, KELOWNA CAMPUS

After completing all five levels of this apprenticeship, technicians will be able to repair and restore damaged motor vehicles, assess body damage and develop repair estimates and repair plans.

Apprenticeship
BC
OKANAGAN COLLEGE, KELOWNA CAMPUS
Automotive Refinishing Technician Apprenticeship – OKANAGAN COLLEGE, KELOWNA CAMPUS

In level one of this apprenticeship, students will learn how to safely and properly use equiptment, solvents, they will be able to prepare surfaces for painting, identify different chemical additives and paint problems. In level two, they will use trade equiptment, organize and use proper workplacec documentation, repair equiptment and perform post refinishing functions.

Apprenticeship
BC
NOVA SCOTIA COMMUNITY COLLEGE
Auto Body and Collision Repair – NOVA SCOTIA COMMUNITY COLLEGE

In this program, you learn procedures for welding, repairing and aligning body panels. You also learn how to prepare and paint surfaces, and how to use electronic databases to estimate costs related to vehicle damage. Students learn skills required to meet I-CAR Canada standards.

Core Skills
Nova Scotia
NOVA SCOTIA COMMUNITY COLLEGE
Automotive Service and Repair – NOVA SCOTIA COMMUNITY COLLEGE

Gain knowledge and skills related to the service and repair of the mechanical and electrical systems of automobiles and light trucks, then apply those skills during a work term.

Core Skills
Nova Scotia
NORTHWESTERN POLYTECHNIC
Automotive Service Technician – NORTHWESTERN POLYTECHNIC

Automotive Service Technicians adjust, test and repair engines, steering systems, braking systems, drive trains, vehicle suspensions, electrical systems and air-conditioning systems, and do wheel alignments. In large shops, they sometimes specialize in repairing, rebuilding and servicing specific parts (e.g., transmissions, engines, electrical components, etc.). In smaller shops, automotive service technicians may work on a wider variety of repair jobs. This job allows for students to learn on the job through a comprehensive apprenticeship program

Apprenticeship
Alberta
NORTHLANDS COLLEGE
Automotive Service Technician – NORTHLANDS COLLEGE

In this program students will learn to diagnose, repair, service and maintain advanced mechanical and electrical systems in vehicles, and get plenty of practical, hands-on training.

Core Skills
Saskatchewan
NORTHERN LIGHTS COLLEGE
Automotive Service Technician Foundation Training – NORTHERN LIGHTS COLLEGE

Northern Lights College's Automotive Service Technician Foundation Training program consists of Foundation and Level 1 Automotive Service Technician Technical training as per the ITA prescribed curriculum. This program meets the ITA prerequisite for Level 2 technical training. Automotive Service Technician is a nationally designated trade under the Interprovincial Red Seal program, according to Northern Lights College. Successful completion of the Automotive Service Technician Foundation Program results in the student acquiring credit for Level 1 AST technical training and 450 work-based hours, and eligibility to move into Level 2 Apprenticeship training once they have a sponsor.

Core Skills
British Columbia
NORTHERN LIGHTS COLLEGE
Automotive Service Technician Apprenticeship – NORTHERN LIGHTS COLLEGE

This program consists of Automotive Service Technician Levels 1, 2, 3 and 4 Technical training as per the ITA prescribed curriculum. Automotive Service Technician is a nationally designated trade under the Interprovincial Red Seal program. Individuals who complete the Automotive Service Technician Foundation Program will receive a credit contribution for the Level 1 technical training and 450 work-based hours toward completion of the Automotive Service Technician Level 1 apprenticeship program.

Apprenticeship
British Columbia
NORTHERN COLLEGE
Automotive Service Technician Apprenticeship Program – NORTHERN COLLEGE

Training is delivered in day release format, one day per week for 40 weeks plus 6500 practical hours. Three levels of theoretical in-school training includes instruction in work practices, engine systems, electrical/electronic and emission systems, drivetrain systems, suspension/steering and brake systems, and air conditioning systems.

Apprenticeship
Ontario
NORTHERN ALBERTA INSTITUTE OF TECHNOLOGY
Pre-Employment Automotive Service Technician – NORTHERN ALBERTA INSTITUTE OF TECHNOLOGY

The Pre-employment Automotive Service Technician program is a short-term program that combines applied academic skills, employability skills and introductory trade/occupation competencies, preparing grads for entry-level positions in the automotive industry.

Core Skills
Alberta
NORTHERN ALBERTA INSTITUTE OF TECHNOLOGY
Pre-Employment Auto Body Repair – NORTHERN ALBERTA INSTITUTE OF TECHNOLOGY

Industry regulations, component removal and installation, substrate preparation, welding, and basic sheet metal repair. Graduates of the program can challenge the first-period apprenticeship-related theory examination for the autobody technician program.

Core Skills
Alberta
NORTHERN ALBERTA INSTITUTE OF TECHNOLOGY
Automotive Service Technican – NORTHERN ALBERTA INSTITUTE OF TECHNOLOGY

Automotive service technicians perform preventative maintenance, diagnose faulty operations and repair automotive vehicles and light trucks. The term of apprenticeship is four years including, a minimum of 1,560 hours of on-the-job training, and eight weeks of technical training each year.

Apprenticeship
Alberta
NORTHERN ALBERTA INSTITUTE OF TECHNOLOGY
Auto Body Technician – NORTHERN ALBERTA INSTITUTE OF TECHNOLOGY

Repair and replace damaged motor vehicle structures and body components, prepare for refinishing, and apply interior and exterior finishes. Specialize in prepping, refinishing, sheet metal and plastics repair, or frame straightening.

Apprenticeship
Alberta
NORTH ISLAND COLLEGE
Welder Apprenticeship Harmonized – NORTH ISLAND COLLEGE

Advance your skills and qualifications in the welding trade while working toward your Interprovincial (Red Seal) designation. Learn a variety of welding techniques as you work through Levels 1, 2 and 3 of the Industry Training Authority-approved apprenticeship training. NIC's welding programs provide students with access to impressive well-equipped shops, combined with experienced, highly qualified instructors.

Welding
British Columbia
NORTH ISLAND COLLEGE
Automotive Service Technician Foundation Harmonized Certificate – NORTH ISLAND COLLEGE

Learn and hone essential skills from brake system servicing and steering to suspension service, wheel alignment, electronic systems and more as you earn apprenticeship technical training credit toward Interprovincial (Red Seal) certification. You'll be prepared for a wide range of opportunities in the mechanics trade from automotive service technician and parts technician to service writer or service manager.

Core Skills
British Columbia
NIAGARA COLLEGE CANADA
Welding Techniques – NIAGARA COLLEGE CANADA

As a welder you will be well equipped to fuse metal together with careful precision using a variety of advanced welding techniques. Gain practical experience taking metal fabrication projects from engineering drawings through cutting and forming stages to welding processes.

Welding
Ontario
NIAGARA COLLEGE CANADA
Motive Power Technician – Automotive (Co-op) – NIAGARA COLLEGE CANADA

You will be analyzing and solving complex motive system problems and diagnosing and repairing mechanical, electronic and electrical motive power components and systems. Gain practical experience using troubleshooting techniques and test equipment to support automotive transportation in a co-op work term.

Core Skills
Ontario
NIAGARA COLLEGE CANADA
Automotive Service Technician Apprenticeship – NIAGARA COLLEGE CANADA

As an automotive service technician, you are trained in mechanical diagnostics, cost estimations and customer relations related to a wide range of vehicles and have the skill set required to navigate computerized diagnostic equipment.

Apprenticeship
Ontario
NEW BRUNSWICK COMMUNITY COLLEGE- SAINT JOHN CAMPUS
Auto Body and Collision Technician – NEW BRUNSWICK COMMUNITY COLLEGE- SAINT JOHN CAMPUS

Repair and restore damaged motor vehicle body parts and interior finishing components, repaint body surfaces, and repair and replace automotive glass. Learn how to prime, paint, weld, apply body filler, conduct fibreglass repair, as well as how to operate manual, electric and pneumatic tools.

Core Skills
New Brunswick
NEW BRUNSWICK COMMUNITY COLLEGE
Welding And Metal Fabrication – NEW BRUNSWICK COMMUNITY COLLEGE

Learn how to read blueprints and plan and implement welding and fabrication processes, including layout through to fitting and fabrication, as well as common welding processes, such as shielded metal arc, flux cored arc, and gas metal arc.

Welding
New Brunswick
NEW BRUNSWICK COMMUNITY COLLEGE
Welding – NEW BRUNSWICK COMMUNITY COLLEGE

In this program, you'll gain a strong understanding of electric-arc welding, welding safety, power sources, and electrode classifications and selection. You'll also learn to read and interpret blueprints and welding specifications, understand code standards and develop overall knowledge of metallurgy.

Welding
New Brunswick
NEW BRUNSWICK COMMUNITY COLLEGE
Automotive Technology – NEW BRUNSWICK COMMUNITY COLLEGE

Through a blend of classroom and practical work, students will learn how to diagnose, service and repair complex components using mechanical skills and electronic diagnostic equipment. This apprenticeable trade will prepare students well for contemporary computerized shops.

Core Skills
New Brunswick
NEW BRUNSWICK COMMUNITY COLLEGE
Automotive Service Technician – NEW BRUNSWICK COMMUNITY COLLEGE

Automotive service technicians diagnose, service and repair a wide range of vehicle issues, including: steering, electrical, suspension, brakes, engines, fuel, exhaust, electronics and accessories for these systems. Students will learn techniques such as brazing, cutting, and welding. This course is also offered at the Saint John campus.

Core Skills
New Brunswick
NAPA
N/A – NAPA

NAPA Autotech offers a wide variety of convenient, cost-effective ways to train automotive professionals. In addition to self-paced and eLearning, NAPA Autotech offers classes in: diagnostics, hybrid electric vehicles, heating and cooling, steering, suspension and driveline, brake systems, drivability (ignition and fuel systems), electrical/electronics, emissions, light truck diesel, and service sales. Each class provides technicians with hands-on learning activities and each participant receives a course manual to bring back to the shop. All classes are 100% technical and are delivered by experienced ASE certified training specialists. NAPA is in partnership with RLO Training. Lincoln Tech and NAPA have developed a strategic relationship to ensure that LTI's automotive training programs remain up-to-date and of high quality.

Core Skills
n/a
MOHAWK COLLEGE
Welder – Apprenticeship – MOHAWK COLLEGE

Acquire thorough knowledge of Shielded Metal Arc Welding (SMAW), Gas Metal Arc Welding (GMAW), Gas Tungsten Arc Welding (GTAW) and thermal cutting. Learn arc, gas and resistance welding theory, and how to read and interpret blueprints. Carry out plasma cutting and TIG welding. Learn how to fit sub assemblies and assemblies together and to prepare assemblies for welding.

Welding
Ontario
MOHAWK COLLEGE
Automotive Service Technician – MOHAWK COLLEGE

Acquire sound theoretical knowledge and practical applications to meet the challenges of increasingly complex vehicles and testing techniques. Develop diagnostic capabilities, skills to perform maintenance and mechanical repairs, and learn about major automotive assemblies, engines, running gear, chassis, electrical, and fuel systems.

Core Skills
Ontario
MOHAWK COLLEGE
Auto Body & Collision Damage Repairer – MOHAWK COLLEGE

Mohawk College's Auto Body and Collision Damage Repairer program is designed to equip students with skills required to repair today's complex vehicles. Students will acquire job-specific skills and learn to repair dents in body panels, fenders and skirting, file, sand, grind and spray paint. They will also explore shrinking or stretching metal panels with heat treatment and welding breaks in body panels or structures; develop craftsmanship, problem-solving skills, personal pride, desirable work attitudes and a keen sense of responsibility in public and personal safety. Plus, there is the option for students to "earn while you learn", combining on-the-job and in-school training.

Core Skills
Ontario
MINISTRY OF TRAINING, COLLEGES & UNIVERSITIES
Pre-Apprenticeship Training – MINISTRY OF TRAINING, COLLEGES & UNIVERSITIES

If you are an individual interested in working in a trade but aren't sure where to begin without skills or experience to get a job as an apprentice, apply for this training from the Ministry of Training, Colleges and Universities. This training is available throughout different organizations across Ontario, such as colleges or community agencies.

Core Skills
Ontario
MINISTRY OF TRAINING, COLLEGES & UNIVERSITIES
Co-op Diploma Apprenticeship Program – MINISTRY OF TRAINING, COLLEGES & UNIVERSITIES

Individuals can pursue college courses and begin training as an apprentice in a skilled trade through this program. Depending on the trade, the program can be completed in two yearshave both a college diploma and completed apprenticeship requirements toward your apprenticeship certification in a skilled trade.

Apprenticeship
Ontario
MINISTRY OF TRAINING, COLLEGES & UNIVERSITIES
Ontario Youth Apprenticeship Program – MINISTRY OF TRAINING, COLLEGES & UNIVERSITIES

Grade 11 and 12 students in Ontario can earn co-op education credits through work placements in a skilled trade, such as Automotive Service Technician. Co-op education credits are equivalent to secondary school credits, but earned through work placement.

Apprenticeship
Ontario
Metropolitan Car-o-liner, In.
Computerized Measuring 2022 CLEM-00014 – Metropolitan Car-o-liner, In.

In this class you will learn and practice the basic and intermediate levels of electronic measuring unibody and full frame; EVO anchoring and fixture system to make the most of your Car-O-Liner investment; take back valuable tips and tricks not covered in basic training; gain confidence in using the system for quick frame/structural diagnosis up to complete repairs and post repair measuring; use printouts to completely document frame alignment, suspension part diagnosis and completed repairs; and learn how Car-O-Tronic can be used to diagnose upper body and used as a quick diagnostic tool for pre-measuring during blueprinting or triage workflow.

Management/Estimating
New Jersey
MEDICINE HAT COLLEGE
Automotive Service Technician – MEDICINE HAT COLLEGE

If you love working on vehicles, the Automotive Service Technician program could be the route for you. Automotive service technicians perform preventative maintenance, diagnose faulty operations and repair automotive vehicles and light trucks. The term of apprenticeship is four years, including a minimum of 1500 hours of on-the-job training, and eight weeks of technical training each year.

Apprenticeship
Alberta
MANITOBA INSTITUTE OF TRADES & TECHNOLOGY
Automotive Service Technician – MANITOBA INSTITUTE OF TRADES & TECHNOLOGY

Hands-on learning in a shop environment, classroom theory, MITT's Work Skills Series workshops, and the opportunity to complete an eight-week work practicum combine to equip Automotive Service Technician students with career-ready fundamentals in automotive repair, basic diagnostics, and troubleshooting in just eight months. Graduates who meet specific criteria can earn credit toward Apprenticeship Manitoba Level 1.

Core Skills
Manitoba
LOYALIST COLLEGE
Automotive Service Technician Apprenticeship – LOYALIST COLLEGE

In this program, you can attend three full-time blocks of training, each eight weeks long, or study at Loyalist one day per week to complete your three levels. Learning combines classroom instruction and practical theory labs. Put your knowledge to the test in state-of-the-art service bays.

Apprenticeship
Ontario
LETHBRIDGE COLLEGE
Automotive Systems – LETHBRIDGE COLLEGE

This one-year certificate program will prepare you for an in-demand career in automotive services shops and mechanic garages through a curriculum designed in consultation with industry members.
In our modern shops with the latest equipment and electronic diagnostic technology, you'll get lots of hands-on practice and develop your understanding of automotive technology.From simple components to advanced computerized vehicle systems, students gain practical insight into cars and trucks and what makes them tick.

Core Skills
Alberta
LETHBRIDGE COLLEGE
Automotive Service Technician Apprenticeship – LETHBRIDGE COLLEGE

If you're already working in the automotive industry, the Automotive Service Technician Apprenticeship program will give your career as a mechanic an added boost. Over the duration of this four-year apprenticeship, you'll develop your confidence through a mix of on-the-job training, technical experience and theory. The courses in this program include emission control systems; fuel systems; hybrid electrical vehicles; vehicle system management, integration and vehicle networks; manual transmissions, transaxles and clutches; and suspension and steering. You'll spend 80 percent of your time with a qualified service technician in the shop.

Apprenticeship
Alberta
LAKELAND COLLEGE
Welder – Vermilion Campus – LAKELAND COLLEGE

Use your hand and eye coordination, creativity and ability to concentrate on detailed work as a welder. About half of your training will be to improve your practical welding skills. The other half is about shop skills.Students will learn to use different processes depending upon the type of metal being fused. Often, they will work from a blueprint or work order to complete a project. Apprenticeship is three years with an eight-week technical training period per year.

Welding
Alberta
LAKELAND COLLEGE
Automotive Service Technician – LAKELAND COLLEGE

You will do preventative maintenance, diagnose faults and repair automotive vehicles and light trucks. Learn on the job, as well as during the required training periods.

Apprenticeship
Alberta
KWANTLEN POLYTECHNIC UNIVERSITY
Automotive Service Technician Certificate (Foundation) – KWANTLEN POLYTECHNIC UNIVERSITY

In this 30-week program, students will learn how to repair a customer's vehicle in a fully operational auto repair shop. They will also learn about shop safety, inspection, diagnostics, repair and servicing of mechanical, electrical and electronic systems for automobiles and light trucks.

Core Skills
British Columbia
KWANTLEN POLYTECHNIC UNIVERSITY
Automotive Service Technician – Apprenticeship – KWANTLEN POLYTECHNIC UNIVERSITY

This apprenticeship program is designed to provide students the full scope of knowledge and applied skills necessary to perform the occupation. Apprentices have an employer to sponsor them and are registered with the Industry Training Authority (ITA). KPU delivers in-school technical training for Automotive Service Technician apprenticeship levels 1, 2, 3 and 4. The in-school technical training varies for each level and is 6 to 7 weeks in duration. The pathway to becoming a certified Automotive Service Technician generally takes 4 years to complete the in-school technical training and work-based hours.

Apprenticeship
British Columbia
KEYANO COLLEGE
Welding – KEYANO COLLEGE

Graduates from the program will be skilled in the fusing of metals using prescribed welding applications; have a working knowledge of welding equipment; comprehend drawings and develop layout patterns for projects and calculate quantities of materials; have a thorough knowledge of metals, arc electrodes, welding gases and gas welding filler roads; and recognize defective welds, know the cause and proper procedure for the repair of the defective area.
The Welder – Apprenticeship program is a three-year program that includes a minimum of 1,560 hours of on-the-job training and eight weeks of technical training each year

Apprenticeship
Alberta
I-CAR Canada
Vehicle Technology and Trends 2021 (VT021E01) – I-CAR Canada

Vehicle Technology and Trends 2021 is a 1-hour course that provides an overview of new and trending automotive technologies for 2021. The course provides a summary of where the automotive industry is heading, including the advancement in electric vehicle technology and vehicle maker plans specifically. Next, the course previews the 2021 new vehicle models for domestic, Asian imports, and European imports. The course concludes with a brief overview of future electronic and construction technologies that the industry will see in the coming years.

Core Skills
Ontario
I-CAR Canada
Glue Pull Repair (GPR) (VT350E01) – I-CAR Canada

This half-hour course that explains the advantages of using glue pull repair (GPR) for non-structural repairs. The course also describes the difference between paintless dent repair and GPR, while discusses the limitations of GPR. The course also lists the tools required to make a GPR, and explains the common process steps required for GPR.

Non-Structural Repair
Ontario
I-CAR Canada
Ford Ranger Overview and Repair Considerations (VT340E01) – I-CAR Canada

Upon completion of this course, you will be able to identify various features of the new Ford Ranger, identify body construction materials, and general repair information. You will also be able to identify and explain body, frame and electrical/electronic repair considerations of the Ranger.

OEM Procedures
Ontario
I-CAR Canada
Nissan Collision Repair Overview (VT325E01) – I-CAR Canada

Nissan Collision Repair Overview is a one-hour course detailing Nissan's Electronic Service Manual (ESM) access, information, and navigation. This course also provides an overview on some of Nissan's collision repair procedures and ADAS tools, setup, and calibrations.

OEM Procedures
Ontario
I-CAR Canada
Ford Collision Repair Overview (VT320E01) – I-CAR Canada

Ford Collision Repair Overview is a one-hour course detailing Ford's Workshop Manual (WSM) access, information, and navigation. This course also focuses on Ford's collision repair procedures and considerations. The ADAS overview takes a look at system operations and repair procedures.

OEM Procedures
Ontario
I-CAR Canada
Kia Collision Repair Overview (VT315E01) – I-CAR Canada

Kia Collision Repair Overview is a 30-minute course that consists of three modules. This course will provide an overview of collision repair that includes vehicles, repair info access, repair requirements, and technology on Kia vehicles.

OEM Procedures
Ontario
I-CAR Canada
Incorporating ADAS in Your Business (VT310E01) – I-CAR Canada

This half-hour course examines the importance of preparing the business for ADAS repairs. This course identifies the different options available for ADAS calibrations and what is required to develop an in-shop ADAS calibration facility.

ADAS
Ontario
I-CAR Canada
Controlling Static in the Refinish Process (VT305E01) – I-CAR Canada

This half-hour course will explain static, how it is created, and how it affects refinishing materials. It will also explain how and when to use Anti-static tools and products during refinishing, reviewing and explaining these technologies in the process.

Paint/Refinish
Ontario
I-CAR Canada
Ultraviolet (UV) and Infrared (IR) Curing Technologies (VT300E01) – I-CAR Canada

This is a half-hour course designed to demonstrate the benefits and considerations for shops considering implementing the use of ultraviolet (UV) and infrared (IR) curing technology.

Paint/Refinish
Ontario
I-CAR Canada
Requirements and Considerations for Achieving an Accurate Advanced Driver Assistance System (ADAS) Calibration (VT295E01) – I-CAR Canada

This course introduces AUTEL's calibration equipment and tools used to perform static and dynamic calibrations for forward-facing cameras, front radars, rear radars, and infrared or IR advanced driver assistance systems or ADAS sensors. The course will consist of an overview of the diagnostic/calibration tablet and calibration kit, functionality of these items, and demonstrations of static and dynamic calibrations for front-facing cameras, front radar, and rear radar on multiple makes of vehicles. This course is specific to using the AUTEL calibration kit procedures.

ADAS
Ontario
I-CAR Canada
AUTEL® MaxiSys® Diagnostic Tablet and Calibration Kit (VT290E01) – I-CAR Canada

This course introduces AUTEL's® calibration equipment and tools used to perform static and dynamic calibrations for forward-facing cameras, front radars, rear radars, and infrared or IR advanced driver assistance systems or ADAS sensors. The course will consist of an overview of the diagnostic/calibration tablet and calibration kit, functionality of these items, and demonstrations of static and dynamic calibrations for front-facing cameras, front radar, and rear radar on multiple makes of vehicles. This course is specific to using the AUTEL® calibration kit procedures.

ADAS
Ontario
I-CAR Canada
Hunter Engineering Inspection Equipment (VT285E01) – I-CAR Canada

This is a 1-hour course that that will provide an overview on Hunter Engineering inspection systems. These systems include the QUICK ID system, Quick Tread system, Code Link, Quick Check system, and the new Quick Check Drive system. The course provides explanations of these systems' capabilities, functionality, and operations. The videos shown in this course will assist in providing information and understanding for each system.

Measurement/Alignment
Ontario
I-CAR Canada
Collision Repair of the 2019 Chevrolet Silverado/GMC Sierra (VT275E01) – I-CAR Canada

This 1-hour course covers collision repair of the completely redesigned 2019 Silverado/Sierra truck line. This course includes the identification of the increase of repair procedures along with a spotlight on great details now in them. Major service parts are identified, and all major repairs are identified and discussed. Lastly the electromechanical systems pertinent to collision repair are covered.

OEM Procedures
Ontario
I-CAR Canada
Bosch Scan Tool and Advanced Driver Assistance Systems (ADAS) Calibration Kit (VT270E01) – I-CAR Canada

This course introduces Bosch calibration equipment and tools used to perform static and dynamic calibrations for forward-facing cameras. The course will consist of an overview of the Bosch kit and scan tool, functionality of these items, and demonstrations of static and dynamic calibrations for several vehicles.

ADAS
Ontario
I-CAR Canada
Post Repair Advanced Driver Assistance Systems (ADAS) Testing (VT265E01) – I-CAR Canada

This course will discuss how to perform post repair inspection for advanced driver assistance systems (ADAS) before returning the vehicle to the customer. Topics discussed will include the purpose of ADAS post repair inspections and why they are becoming increasingly important for the collision repair industry, an introduction to various systems, best practices for documentation and testing of these systems, and several demonstrations performing system specific post repair ADAS tests.

ADAS
Ontario
I-CAR Canada
2018 Jeep Wrangler JL (VT260E01) – I-CAR Canada

This 1-hour online course will cover the fourth generation Jeep Wrangler identified as the JL including all the major changes. Additional features of this course include comparison page of the 3 generation wrangler JK carried over for 2018 and the JL, the specific types of metals used, the ADAS available for the Wrangler JL, and an overview of their new eTorque system with authorized structural and non-structural repairs. Foams, sealers, sound deadeners, and adhesives used in the construction and repairs of the Wrangler JL as well as special systems and considerations are discussed.

OEM Procedures
Ontario
I-CAR Canada
General Motors (GM) Company 2019 Model Year (VT255E01) – I-CAR Canada

In this 1-hour online course you will learn about the GM full vehicle lineup for 2019. This includes new and existing models. Materials used in the construction will be covered. A discussion of repair procedures is also included on certain models and the course concludes with a discussion of technology that can be standard or optional on GM vehicles.

OEM Procedures
Ontario
I-CAR Canada
Windshields and Advanced Driver Assist Systems (ADAS) (VT250E02) – I-CAR Canada

This course will teach technicians about systems that are related to and impacted by windshield repair, replacement, and R&I procedures. Further instruction will be provided on what technicians need to look for when determining if the system has been damaged and needs to be replaced. After completing this course, students will be able to identify various types of windshield damage, and various types of driver assist systems
They will also understand and describe how the various types of ADAS work, whilst being able to identify some of the issues regarding removing or replacing windshields connected to ADAS. Finnally, students will identify ADAS parts located near or attached to the windshield, remove ADAS parts and store properly, install ADAS parts and identify the two primary types of calibration.

Glass Repair
Ontario
I-CAR Canada
Using Vehicle Maker Repair Procedures (VT245E02) – I-CAR Canada

This course provides an overview of the importance of following OEM specific repair requirements and the many resources available to find them. Topics that will be covered are OEM specific websites, I-CAR resources, service bulletins and other resources.
After completing this course, students will be able to explain the need for accessing original equipment manufacturer repair information, explain service information content, identify various service information sources, identify specific OEM repair information and explain how to follow OEM repair procedures.

OEM Procedures
Ontario
I-CAR Canada
Understanding Volvo Collision Repair (VT240E01) – I-CAR Canada

This course provides an overview of a variety of collision repair practices such as spot weld replacement, outer body panel partial replacement, and heated glass repair on Volvo vehicles. The course covers the VIDA website, Volvo's online resource for repairing their vehicles. The course also discusses Volvo's hybrid and safety systems. After completing this course, students will be able to: understand the collision repair procedures and requirements for the Volvo model line, describe how to navigate through the Volvo repair information website, VIDA and identify Volvo's answers to top requested questions.

OEM Procedures
Ontario
I-CAR Canada
Steering Angle Sensor Overview and Diagnostics (VT235E02) – I-CAR Canada

This course begins with an explanation of what steering angle and steering angle sensors are and how they affect the drivability of the vehicle. Next ,the course covers parts and systems related to steering angle sensors. Common problems that can face steering angle sensors will also be discussed along with proper damage analysis. The course wraps up with requirements for steering angle sensor reset and calibration. After completing this course, students will be able to explain steering angle, describe the function of the steering angle sensor, list the parts and systems related to the steering angle sensor, describe the problems that can affect the steering angle sensor, explain how to diagnose a steering angle sensor and how to reset and calibrate a steering angle sensor.

ADAS
Ontario
I-CAR Canada
Understanding Volkswagen Collision Repair (VT230E01) – I-CAR Canada

This course explores procedures and requirements for making collision repairs to Volkswagen vehicles. This one-hour course describes how to navigate through the Volkswagen repair information website, erWin. Answers are provided, from a Volkswagen perspective, for the top questions collision repair shops request answers to. After completing this course, students will understand the collision repair procedures and requirements for the Volkswagen model line, describe how to navigate through the Volkswagen repair information website, explain the mandatory steps for repairing Volkswagen vehicles and identify VW's answers to the top questions requested regarding an OEM.

OEM Procedures
Ontario
I-CAR Canada
General Motors (GM) Company Collision Repair Overview (VT225E02) – I-CAR Canada

This course covers the instructions for repairing GM vehicles, including GM's new approach at body repair information. The course also provides a historical perspective of GM. This course provides the answers to the top questions technicians have about repairing a General Motors vehicle that has been in a collision. After completing this course, students will be able to describe the new way body repair information is being provided on the GM repair website, understand I-CAR's history with General Motors Company, list several sources of repair information for GM vehicles, identify GM's answers to the questions collision repair shops have told requested and understand GM's calibration requirements for different advanced driver-assist systems.

OEM Procedures
Ontario
I-CAR Canada
Calibration Requirements for Blind Spot and Parking Assist Systems (VT220E02) – I-CAR Canada

This course will cover several manufacturers' systems and help technicians identify if a vehicle has either system and what needs to be done after the repair to ensure the system is working properly. After completing this course, you will be able to identify whether a vehicle is equipped with a blind spot system, front or rear park assist system, or active park assist system, whilst being able to identify what special tools are required for calibration of these systems. Students will also be able to explain the procedures for calibrating these millimeter wave radar and ultrasonic sensor systems.

ADAS
Ontario
I-CAR Canada
Camera Calibration, Inspection, and Initialization Requirements (VT215E02) – I-CAR Canada

This course will cover post-repair requirements for rearview cameras, 360-degree view camera systems, and night vision cameras. It will explain what events, either during the actual collision or during the collision repair, will require the system to be inspected, calibrated, or initialized. After completing this course, you will be able to: identify if a vehicle is equipped with a rearview camera, surround view camera system, and/or night view camera system, identify what special tools are required for calibration or initialization of these systems, explain the procedures for calibrating, inspecting, or initializing these camera systems on vehicles made by Ford Motor Company, General Motors, Honda/Acura, Subaru, Kia, and others.

ADAS
Ontario
I-CAR Canada
Introduction to Diagnostics and Scan Tools (VT210E02) – I-CAR Canada

This Course provides students with an introduction to the various safety system technologies found on today's cars and the importance of performing pre- and post-scans based on the required trouble codes and calibration requirements of each system. The course discusses how Standard Operating Procedures (SOP) for diagnostics and scans can be beneficial to a repair facility followed by an introduction of the various scan tools available and what their capabilities are.

ADAS
Ontario
I-CAR Canada
Fiat Chrysler Automobiles (FCA) Collision Repair Overview (VT205E01) – I-CAR Canada

After completing this course, you will be able to: explain FCA's position on cold straightening, partial replacements, types of joints for repair and FCA's recommended corrosion protection. Students will also be able to explain the repair procedures for the new 2017 Pacifica platform, grasp an understanding of the history of Fiat Chrysler Automobiles and understand FCA's position on pre- and post-scans, as well as understanding FCA's position on system wiring repairs.

OEM Procedures
Ontario
I-CAR Canada
Calibration of Front Facing Cameras and Front Radars (VT200E02) – I-CAR Canada

After completing this course, students will know how to identify if a vehicle is equipped with a front facing camera or front millimeter wave radar unit, identify what special tools are required for calibration, explain what is involved in the calibration procedures for Fiat Chrysler Automobiles, Ford Motor Company, General Motors, Honda/Acura, Toyota/Lexus, Hyundai, Kia, Volvo, and others.

ADAS
Ontario
I-CAR Canada
Vehicle Technology and Trends 2020 (VT020E01) – I-CAR Canada

Vehicle Technology and Trends is a 1-hour course that covers trending topics in the automotive and collision industry for 2020. This is broken down by regions which are domestics, Asian imports, and European imports. This course will also touch on some of the new vehicles either being offered as a new model, or ones that have had a complete redesign for 2020. The course concludes with a discussion of future vehicles and technologies.

Core Skills
Ontario
I-CAR Canada
Vehicle Technology and Trends 2019 (VT019E01) – I-CAR Canada

Vehicle Technology and Trends is a 1-hour course that covers trending topics in the automotive and collision industry for 2019. This is broken down by regions which are domestics, Asian imports, and European imports. This course will also touch on some of the new vehicles either being offered as a new model, or ones that have had a complete redesign for 2019. The course concludes with a discussion of future vehicles and technologies.

Core Skills
Ontario
I-CAR Canada
Vehicle Technology and Trends 2018 (VT018E02) – I-CAR Canada

Vehicle Technology and Trends 2018 will cover features and collision repair procedures for several 2018 models, including North American, Asian, and European vehicles. Manufacturing trends are increasing, with more vehicle makers turning to electric propulsion and thinking about autonomy. Safety features are also trending in a big way. After completing this course, students will be able to explain the role of new steels in new vehicle construction, describe Evasive Steering Assist technology, discuss the trend among OEMs to make advanced driver-assist systems standard, and understand how OEMs are introducing autonomous vehicles before their time. Students will also be able to summarize the latest headlamp innovations, explain Ford's continuing surge towards the use of aluminum, recognize GM's new approach at body repair information, whilst identifying the 2018 family of Honda Clarity models and describing the mixed material Audi A8.

Core Skills
Ontario
I-CAR Canada
Vehicle Technology and Trends 2017 (VT017E02) – I-CAR Canada

After completing this course, students will be able to list OEMs that require scans and calibrations, describe the various safety systems on modern vehicles, understand how using standard operating procedures can benefit the entire shop.
Students will also learn how to use the collision advantage to help identify hidden electrical damage. They will also be able to determine the basic differences between OBD II and OEM codes, and when OEM scan tools are required. Furthermore, this course will show how to perform diagnostics in-house, have a technician that travels between facilities (MSO), use remote diagnostics with OEM software, or sublet to an independent diagnostics-specialist.
This course will also describe why maintaining good vehicle voltage for scans and troubleshooting is important, helping to understand the limitations of electrical system self-diagnostics.
Finally, after completing this course, students will be able to explain the importance of scan tools for collision repair, discuss the growing use of composite reinforcements, understand the unique collision repair considerations for many of the new 2017 vehicle platforms, discuss the near-future trends facing the automotive industry and how they affect collision repair and understand the operation of the new battery-powered GMA (MIG) pulse welder from AMI.

Core Skills
Ontario
I-CAR Canada
Fixture Systems (TL039E01) – I-CAR Canada

This course explains bench, rack, and fixture system types. This is followed by presenting information about loading a vehicle onto a fixture system. Next, information about dedicated fixtures, universal fixtures, and anchoring is presented. The course continues with information about safety considerations. Then, fixture bench setup and operation is presented. This course concludes with maintenance considerations for fixture systems.

Measurement/Alignment
Ontario
I-CAR Canada
Bonded Glass Tools (TL038E01) – I-CAR Canada

This course teaches through a variety of multimedia, providing instruction on the various types of tools used in the removal of bonded glass. Each tool module includes an overview, safety, operation, and maintenance procedures.

Glass Repair
Ontario
I-CAR Canada
Electronic Measuring System (TL037E01) – I-CAR Canada

This course allows students to identify how to safely use, properly operate and maintain different types of electronic measuring systems.

Measurement/Alignment
Ontario
I-CAR Canada
Plasma Arc Cutters (TL036E01) – I-CAR Canada

This training course is designed to provide a basic understanding of plasma arc cutters. The course begins by presenting an overview of plasma arc cutting and plasma arc cutting equipment used with collision repairs. Next, safety considerations when using a plasma arc cutter are presented. The course continues with information about plasma arc cutter set-up and operation. This course concludes with maintenance considerations for plasma arc cutters.

Welding
Ontario
I-CAR Canada
Portable Color-Matching Lights (TL035E01) – I-CAR Canada

This training course is designed to provide a basic understanding of portable color-matching lights. The course begins by presenting information about portable color-matching lights used with collision repairs. Next, safety considerations for portable color-matching lights are presented. The course continues with information about portable color-matching light set-up and operation. This course concludes by presenting maintenance considerations for portable color-matching lights.

Paint/Refinish
Ontario
I-CAR Canada
Spraybooths (TL034E01) – I-CAR Canada

This course is designed to provide a basic understanding of spraybooths used for refinishing. The course begins by explaining the purpose of a spraybooth and describing the different types of spraybooths. Next, spraybooth safety and personal protection is discussed when using spraybooths. Then, spraybooth setup and operation is described. The course concludes by explaining maintenance considerations for spraybooths.

Paint/Refinish
Ontario
I-CAR Canada
Spectrophotometers (TL033E01) – I-CAR Canada

This course is designed to provide a basic understanding of spectrophotometers used for refinishing. The course begins by explaining the purpose of a spectrophotometer. Next, safety considerations are discussed when using a spectrophotometer. Then, spectrophotometer setup and operation is described. The course concludes by explaining maintenance considerations for spectrophotometers.

Paint/Refinish
Ontario
I-CAR Canada
Solvent Recyclers (TL032E01) – I-CAR Canada

This course is designed to provide a basic understanding of solvent recyclers used in refinishing. The course begins by explaining the purpose of a solvent recycler. Then, the common types of solvents used in a solvent recycler are identified. Next, personal and equipment safety requirements are discussed when using a solvent recycler. Then, solvent recycler setup and operation is described. The course concludes by describing maintenance considerations for solvent recyclers.

Health & Safety
Ontario
I-CAR Canada
Sanding Blocks and Nib Removal Tools (TL031E01) – I-CAR Canada

This course is designed to provide a basic understanding of sanding blocks and nib removal tools used with finish sanding repairs. The course begins with an overview of sanding blocks and nib removal tools used with finish sanding repairs. The course concludes with information about the operation of these tools.

Paint/Refinish
Ontario
I-CAR Canada
Film Thickness Gauges (TL030E01) – I-CAR Canada

This course is designed to provide a basic understanding of digital and mechanical film thickness gauges. The course begins by presenting information about film thickness gauges used with collision repairs. Next, film thickness gauge set-up and operation is presented. This course concludes by presenting maintenance considerations for film thickness gauges.

Paint/Refinish
Ontario
I-CAR Canada
Eraser Wheels (TL029E01) – I-CAR Canada

This course is designed to provide a basic understanding of eraser wheels. The course begins by explaining the purpose of an eraser wheel. Next, eraser wheel safety and personal protection is discussed. Then, eraser wheel operation is described. The course concludes by explaining maintenance considerations for eraser wheels.

Health & Safety
Ontario
I-CAR Canada
Air Movement Equipment (TL028E01) – I-CAR Canada

This course is designed to provide a basic understanding of air movement equipment used with refinishing. The course begins by presenting information about the types of air movement associated with drying a waterborne finish. This is followed by an overview of air movement equipment used with refinishing. Next, safety considerations for air movement equipment are presented. The course continues with information about air movement equipment set-up and operation. This course concludes by presenting maintenance considerations for air movement equipment.

Health & Safety
Ontario
I-CAR Canada
Temperature Monitoring Tools (TL027E01) – I-CAR Canada

This course is designed to provide a basic understanding of temperature indicators and noncontact infrared thermometers. The course begins by presenting information about heat indicators such as heat detection crayons, heat detection paint, and heat monitoring strips used with collision repairs. Next, heat indicator operation is presented. The course continues with information about noncontact thermometers. Then, safety considerations and tool operation for noncontact thermometers is discussed. This course concludes by presenting maintenance considerations for noncontact thermometers.

Health & Safety
Ontario
I-CAR Canada
Spray Guns (TL026E01) – I-CAR Canada

This course is designed to provide a basic understanding of spray guns used for refinishing. The course begins by presenting basic information about spray guns. Next, personal protection considerations are discussed when using spray guns. Then, spray gun setup and operation is presented. The course concludes by explaining maintenance considerations for spray guns.

Paint/Refinish
Ontario
I-CAR Canada
Pump Sprayers (TL025E01) – I-CAR Canada

This course is designed to provide students with a basic understanding of pump sprayers used for refinishing. This course explains the purpose of a pump sprayer, safety considerations when using a pump sprayer, pump sprayer operation, and maintenance considerations for pump sprayers.

Paint/Refinish
Ontario
I-CAR Canada
Masking Machines (TL024E01) – I-CAR Canada

This course is designed to provide a basic understanding of masking machines used for refinishing. The course begins by explaining the purpose of a masking machine and the various masking supplies that can be added to it. Next, safety considerations are discussed when using a masking machine, such as using caution when working with the sharp cutting blades. Then, masking machine setup and organization is described as well as how to apply masking tape to the masking paper and dispense properly from the machine. The course concludes by describing maintenance considerations for masking machines.

Paint/Refinish
Ontario
I-CAR Canada
Mixing Rooms and Equipment (TL023E01) – I-CAR Canada

This course is designed to provide a basic understanding of mixing rooms and the equipment used in a mixing room. The course begins by explaining the purpose of a mixing room. Next, safety considerations are discussed when using a mixing room. Then, mixing room setup, operation, and maintenance is explained.

Paint/Refinish
Ontario
I-CAR Canada
Dust Extraction (TL022E01) – I-CAR Canada

This course is designed to provide a basic understanding of dust extraction. The course begins by explaining the purpose of dust extraction. The different types of dust extraction equipment are then described. Next, safety considerations are discussed when using dust extraction equipment. Then, dust extraction equipment setup and operation is described. The course concludes by describing maintenance considerations for dust extraction equipment.

Health & Safety
Ontario
I-CAR Canada
Random Orbital Sanders (TL021E01) – I-CAR Canada

This course is designed to provide a basic understanding of RO sanders that will allow the user to safely and properly operate this tool. The course begins by presenting an overview of RO sanders used with collision repairs. Next, information about RO sander safety, set-up, and operation is presented. The course concludes with maintenance considerations for RO sanders.

Health & Safety
Ontario
I-CAR Canada
Buffers (TL020E01) – I-CAR Canada

This course is designed to provide a basic understanding of buffers used with collision repairs and begins by presenting introductory information about buffers used with collision repairs. Next, safety considerations for buffers are presented. The course continues with information about buffer set-up and operation. This course concludes by presenting maintenance considerations for buffers.

Core Skills
Ontario
I-CAR Canada
Air Hammers and Attachments (TL019E01) – I-CAR Canada

This course is designed to provide a basic understanding of air hammers and attachments. The course begins by explaining the purpose of air hammers. Then, the different features of an air hammer and the variety of bit attachments are identified. Next, safety considerations are discussed when using an air hammer. Then, air hammer setup and operation is described. The course concludes by describing maintenance considerations for air hammers and bit attachments.

Core Skills
Ontario
I-CAR Canada
Steel Dent Pulling (TL018E01) – I-CAR Canada

This course is designed to provide a basic understanding of steel dent pulling tools used for refinishing. The course begins by explaining the purpose of steel dent pulling tools and identifying the different types of steel dent pulling tools. Next, personal safety and vehicle protection requirements are discussed when using steel dent pulling tools. Then, steel dent pulling tool setup and operation is described. The course concludes by describing maintenance considerations for steel dent pulling tools.

Non-Structural Repair
Ontario
I-CAR Canada
Aluminum Dent Pulling (TL017E01) – I-CAR Canada

This course is designed to provide a basic understanding of aluminum dent pulling tools used for refinishing. The course begins by explaining the purpose of aluminum dent pulling tools and identifying the different types of aluminum dent pulling tools. Next, personal safety and vehicle protection requirements are discussed when using aluminum dent pulling tools. Then, aluminum dent pulling tool setup and operation is described. The course concludes by describing maintenance considerations for aluminum dent pulling tools.

Non-Structural Repair
Ontario
I-CAR Canada
Frame Equipment Mounting (TL016E01) – I-CAR Canada

This course provides an overview of different types of frame equipment, clamps and safety protection. Maintenance of equipment will also be addressed.

Measurement/Alignment
Ontario
I-CAR Canada
Plastic Repair Tools and Equipment (TL015E01) – I-CAR Canada

This course is designed to provide a basic understanding of how plastic repair tools are used to repair damaged plastic parts. The course begins with an overview of airless plastic welding tools and hot air nitrogen plastic welding equipment. Other plastic repair tools are also covered. This course continues with information about proper setup and operation of plastic repair tools and equipment, and it concludes with maintenance considerations.

Core Skills
Ontario
I-CAR Canada
Sanding Blocks for Cosmetic Straightening (TL012E01) – I-CAR Canada

This training course is designed to provide a basic understanding of sanding blocks used with cosmetic straightening repairs. The course begins with an overview of sanding blocks used with cosmetic straightening repairs. The course concludes with information about the operation of sanding blocks and includes maintenance considerations for these tools.

Paint/Refinish
Ontario
I-CAR Canada
Grinders and Cutoff Wheels (TL011E01) – I-CAR Canada

This training course is designed to provide a basic understanding of grinders and cutoff wheel tools used with collision repair. The course begins by presenting an overview of angle grinders, straight die grinders, and cutoff wheel tools. Next, safety considerations for these tools are presented. The course continues with information about angle grinder, straight die grinder, and cutoff wheel tool set-up and operation. This course concludes by presenting maintenance considerations for these tools.

Core Skills
Ontario
I-CAR Canada
One and Two Part Applicators (TL010E01) – I-CAR Canada

This training course is designed to provide a basic understanding of one and two part applicators. The course begins by presenting an overview of one and two part applicators used with collision repairs. Next, an overview of static mixing tips is presented. The course continues with steps for cartridge preparation and concludes with information about applicator operation.

Core Skills
Ontario
I-CAR Canada
Infrared (IR) Heat Lamps (TL009E01) – I-CAR Canada

This course is designed to provide a basic understanding of infrared (IR) heat lamps used with collision repairs. The course begins by presenting an overview of IR heat lamps used with collision repairs. Next, information about IR heat lamp set-up and operation is presented. This course concludes with IR heat lamp maintenance considerations.

Paint/Refinish
Ontario
I-CAR Canada
Drills and Drill Bits (TL008E01) – I-CAR Canada

This course is designed to provide a basic understanding of the various types of drills and drill bits that are commonly used in a collision repair facility including drill selection for the appropriate task, operation, safety and maintenance.

Core Skills
Ontario
I-CAR Canada
Body Hammers, Dollies, Spoons, Picks, and Files (TL007E01) – I-CAR Canada

This is a tool course designed to provide the learner with a tool overview, proving teaching in tool operation and tool maintenance on body hammers, dollies, spoons, picks, and body files.

Core Skills
Ontario
I-CAR Canada
Torque Wrenches (TL006E01) – I-CAR Canada

This course is designed to provide a basic understanding of torque wrenches used with collision repairs including an overview of the various types of torque wrenches that may be used. Operation and maintenance considerations for torque wrenches are also included.

Core Skills
Ontario
I-CAR Canada
Thread Repair and Extraction Tools (TL005E01) – I-CAR Canada

This course presents an overview of thread repair and extraction tools used with collision repairs including safety considerations, operation and maintenance.

Core Skills
Ontario
I-CAR Canada
Point-To-Point Measuring Tools (TL004E01) – I-CAR Canada

This course is designed to provide a basic understanding of and information on how to operate and maintain point-to-point measuring tools, specifically tram gauges and tape measures.

Measurement/Alignment
Ontario
I-CAR Canada
Impact Tools (TL003E01) – I-CAR Canada

This course provides an overview of impact tools used with collision repairs including safety considerations, operation and maintenance considerations.

Health & Safety
Ontario
I-CAR Canada
Floor Jacks / Stands / Lifts (TL002E01) – I-CAR Canada

This course is designed to provide a basic understanding of floor jacks, jack stands, and lifts used with collision repairs including operation and safety considerations.

Health & Safety
Ontario
I-CAR Canada
Recertification: Steel GMA Welding (ST120L01) – I-CAR Canada

The Recertification: Steel GMA Welding event is a recertification test that verifies students can still meet the requirements of the standard steel GMA welding certification. This test, without instructor guidance, will demonstrate a student's continued knowledge, ability, and skills in steel GMA welding. The students will make ten unique welds with coupons based on the certification criteria.

Welding
Ontario
I-CAR Canada
Recertification: Aluminum GMA (MIG) Welding (ST115L01) – I-CAR Canada

The Recertification: Aluminum GMA (MIG) Welding event is a recertification test that verifies students can still meet the requirements of the standard aluminum GMA (MIG) welding certification. This test, without instructor guidance, will demonstrate a student's continued knowledge, ability, and skills in aluminum welding. The students will make four unique welds with coupons based on the certification criteria.

Welding
Ontario
I-CAR Canada
Recertification: Steel Sectioning (ST110L01) – I-CAR Canada

The Recertification: Steel Sectioning event is a recertification test that verifies students can still meet the requirements of the standard steel sectioning certification. This test demonstrates student's continued ability, knowledge, and skills with cutting, spot weld removal, and making offset repair joints using plug, open butt joint, and butt joint with backing welds on steel structural parts. There will be no instructor guidance for this recertification.

Welding
Ontario
I-CAR Canada
Training and Certification: Steel Sectioning (ST105L01) – I-CAR Canada

This training measures a student's performance in cutting, spot weld removal, and making offset repair joints using plug, open butt joint, and butt joint with backing welds on steel structural parts. Students will perform common welds and must pass an on-site visual inspection and destructive test on the welds before receiving their rail.

Welding
Ontario
I-CAR Canada
Aluminum Sectioning Hands-On Skills Development (ST100L01) – I-CAR Canada

This training is intended to build on skills an aluminum welder already has. This course is not a certification course. Students will be coached on their mistakes and will be informed when completed if they would likely have passed a certification. A course certificate of completion will be received if the student completes the activities. Students will be required to answer questions and participate in general discussion reviewing materials learned in prerequisite courses. They will then use a body repair manual and student textbook to perform hands-on sectioning requirements on an aluminum rail prop.

Aluminum
Ontario
I-CAR Canada
Sectioning Scenarios (ST095V01) – I-CAR Canada

This course is designed to provide an understanding of sectioning, how to prepare a part for sectioning, how to determine sectioning locations, cutting and welding techniques, full-frame sectioning considerations, and completing the repair.

Core Skills
Ontario
I-CAR Canada
Sectioning Overview (ST090E01) – I-CAR Canada

This course is designed to provide an understanding of the benefits of sectioning, sectioning guidelines and preparation, how to make cuts for sectioning joints, how to weld sectioning joints, the types of GMA welded sectioning joints, and making sectioning joints. Sectioning considerations are also provided.

Core Skills
Ontario
I-CAR Canada
Measuring, Anchoring, and Pulling Strategies Hands-On Skills Development (ST085L01) – I-CAR Canada

This course will allow technicians to measure a vehicle with collision damage and focus on the anchoring and pulling strategies. By securing the vehicle and placing it onto a frame machine, students will measure, anchor and attach the pulling attachments needed to simulate a pull. There will be no actual pulling done on the vehicle. If chains can be attached, you will go as far as removing the slack from the chains and stop to discuss the pulling strategies. Students will review and discuss measurement handouts of various actual damaged vehicles with collision damage.

Measurement/Alignment
Ontario
I-CAR Canada
Full-Frame/Unitized Structure Pulling Strategy and Planning (ST080V01) – I-CAR Canada

This course examines how to review and analyze vehicle damage and measurements to formulate a proper plan for restoring vehicle dimensions. This course looks at how to evaluate the vehicle structure, material strengths, and panel attachment methods to determine how to anchor, select the proper clamping equipment, and make pulls that realign the vehicle structure.

Measurement/Alignment
Ontario
I-CAR Canada
Full-Frame/Unitized Structure Pulling Overview (ST075E02) – I-CAR Canada

This course teaches students about the equipment, set-up and process for structural pulling. Reading measurements and making pull adjustments are explained. Some unique differences among straightening both the unitized and full-frame vehicles are discussed.

Measurement/Alignment
Ontario
I-CAR Canada
Part Replacement at Factory Seams (ST070E02) – I-CAR Canada

This course provides considerations for a complete part replacement on a unitized structure as well as the common parts that are replaced. The planning for part replacement is presented as well as preparing the area for part installation. In Full-Frame replacement, the student will learn the parts that can be replaced at the factory seams and the considerations for welding parts of the replacement frame.

Aluminum
Ontario
I-CAR Canada
Aluminum Vehicle Overview (ST065E02) – I-CAR Canada

This course provides an understanding of the manufacturing methods used in aluminum body construction as well as the heating, anchoring, straightening, part removal and part replacement methods used during the repair process.

Aluminum
Ontario
I-CAR Canada
Advanced High-Strength Steel (ST060E01) – I-CAR Canada

This course will provide an understanding of the types of steel and reinforcements used on a vehicle, steel strengths, and repair considerations for steel.

Measurement/Alignment
Ontario
I-CAR Canada
Introduction to Three-Dimensional Measuring (ST055E02) – I-CAR Canada

This course is designed to provide an understanding of how three-dimensional measurements provide a more accurate assessment of vehicle damage, how to identify damage conditions, and how to measure a vehicle.

Measurement/Alignment
Ontario
I-CAR Canada
Fixed Glass Removal and Installation (ST050E01) – I-CAR Canada

This course is designed to provide an understanding of the characteristics of fixed glass. Instruction will be provided on fixed glass removal procedures, glass and vehicle preparation for fixed glass installation, fixed glass adhesive characteristics, and windshield installation procedures.

Glass Repair
Ontario
I-CAR Canada
Training and Certification: Aluminum GMA (MIG) Welding (ST045L01) – I-CAR Canada

This training covers GMA (MIG) aluminum welding processes, techniques, and best practices through hands-on performance and certification testing. Students will be responsible for machine maintenance and set up, and making welds with coupons based on the instructor's criteria.

Aluminum
Ontario
I-CAR Canada
Aluminum GMA Welding Theory (ST040E01) – I-CAR Canada

This course is designed to provide an understanding of the terminology, equipment and consumables associated with aluminum GMA welding theory and identify welding preparation, tuning, and techniques for aluminum GMA welding.

Aluminum
Ontario
I-CAR Canada
MIG Brazing Hands-On Skills Development (ST035L01) – I-CAR Canada

This course allows students actual practice completing MIG brazing. Students will prepare props, as well as set up and tune the welder to braze coupons in the common joint configurations used by vehicle makers. They will complete the class by dressing one of their MIG brazed samples.

Welding
Ontario
I-CAR Canada
Introduction to MIG Brazing (ST030E01) – I-CAR Canada

This course introduces students to the MIG Brazing repair process specified by many vehicle manufacturers. In this course students will examine the theory, equipment, materials, and techniques involved in MIG brazing. The course then discusses safety considerations for the individual as well as the vehicle.

Welding
Ontario
I-CAR Canada
Training and Certification: Steel GMA Welding (ST025L01) – I-CAR Canada

This training covers GMA steel welding processes, techniques, and best practices through hands-on performance and certification testing. Students will be responsible for machine maintenance and set up and making welds on coupons. The instructor will visually inspect and destructively test the 10 required welds to determine pass or fail of the certification.

Welding
Ontario
I-CAR Canada
Steel GMA Welding Theory (ST020E02) – I-CAR Canada

This course offers students basic knowledge related to steel GMA welding theory. This course will provide an understanding of Gas Metal Arc Welding (GMAW) and the proper use of GMA welding equipment. The best techniques for making butt joint with backing, open butt, fillet, and plug welds will be provided.

Welding
Ontario
I-CAR Canada
Squeeze-Type Resistance Spot Welding Hands-On Skills Development (ST015L01) – I-CAR Canada

This course describes the history of collision repair welding processes and defines the squeeze-type resistance spot welding (STRSW) process. The student will learn about the considerations for using STRSW and identify the stages of a resistance spot weld.

Welding
Ontario
I-CAR Canada
Introduction to Squeeze-Type Resistance Spot Welding (ST010E01) – I-CAR Canada

This course provides an overview of spot welding, where it is used, and how a squeeze-type resistance spot welder makes welds. The power requirements, parts, and settings for a spot welder. The course continues with an explanation of the steps for making a weld. Finally, the weld bonding process is explained. After completing this course, students will be able to explain the spot welding process, explain the power requirements for spot welding, identify the parts of a spot welder, prepare the work piece for spot welding, perform tests to determine weld quality and list the steps required for weld bonding.

Welding
Ontario
I-CAR Canada
Rivet Bonding Hands-On Skills Development (ST005L01) – I-CAR Canada

This course introduces the student to the preparation, installation and removal of solid, blind and SPR rivets. Coupons and props are used as well as different tools and methods. Students learn to inspect rivets for proper installation and adjust techniques if needed. Finally, observing adhesive work time is a focus of this course.

Welding
Ontario
I-CAR Canada
Introduction to Rivet Bonding (ST001E01) – I-CAR Canada

This course offers the foundational knowledge of rivet repair including the types of rivets used in collision repair. This course covers the methods for repair planning, rivet removal, preparation of the flange, adhesive application and rivet installation.

Welding
Ontario
I-CAR Canada
Refinish Defect Correction (RF060V01) – I-CAR Canada

This course explains how refinishing defects cause rework within the shop and how refinishing defects affect key performance indicators. The course explains defect detection considerations and at what stages of the repair defects should be detected and how to identify defects. Identifcation of the types of defects, their characteristics, possible causes, and corrections will be considered.

Paint/Refinish
Ontario
I-CAR Canada
Color Theory Application (RF055L01) – I-CAR Canada

This course includes a discussion about the different effects light has on colors. There will be discussions about color matching objectives and the different types of paint applications, to include metallics and pearls. The students will perform a series of hands-on activities that will enable them to evaluate a matte finish, evaluate colors with a value and color movement chart. The students will plot three different colors using a color-plotting chart during the last hands-on activity.

Paint/Refinish
Ontario
I-CAR Canada
Basic Color Theory (RF047E01) – I-CAR Canada

This course is designed to provide an understanding of the characteristics of color, light, metallics, and pearls; how to evaluate color; use color matching tools; and considerations for translucent colors. When and how to tint is also covered.

Paint/Refinish
Ontario
I-CAR Canada
Understanding Refinish Defects – Part 2 (RF045E01) – I-CAR Canada

This course introduces the learner to different refinish defects as well as the causes of these defects. Graphics throughout the course demonstrate the molecules in the drying and hardening processes. The topics of waterborne coatings, flash time, reducers, hardeners and clearcoats are explained.

Paint/Refinish
Ontario
I-CAR Canada
Understanding Refinish Defects – Part 1 (RF040E01) – I-CAR Canada

This course will provide instruction on surface cleaning and preparation practices that prevent refinish defects. Student will learn about refinishing equipment and some application guidelines to prevent defects.

Paint/Refinish
Ontario
I-CAR Canada
Refinish Planning (RF035V01) – I-CAR Canada

This course is designed to provide an understanding of why it is important to create a good plan for efficient repairs and how to avoid common spraybooth bottlenecks.

Paint/Refinish
Ontario
I-CAR Canada
Sanding, Buffing, Polishing Hands-On Skills Development (RF030L01) – I-CAR Canada

This course will cover detail planning, sanding, buffing, polishing, and quality control. This is a hands-on course, giving you the opportunity to perform various repair procedures. Perform and practice defect removal such as dirt nibs, sand scratches, scratches, runs or sags, and buffing and polishing on a steel painted panel. Each student will receive one painted panel and will have the opportunity to use their own tools.

Core Skills
Ontario
I-CAR Canada
Introduction to Sanding, Buffing, and Polishing (RF025E02) – I-CAR Canada

This course is designed to provide an understanding of the tools and techniques used when dry or wet sanding, the tools and techniques used for dirt nib and overspray removal, and the buffing and polishing process using standard operating procedures.

Paint/Refinish
Ontario
I-CAR Canada
Refinishing Application and Blending (RF020E01) – I-CAR Canada

This course provides an understanding for the application and blending of basecoats. The materials for refinishing plastic parts are described. The types and purposes of clearcoats are defined.  

Paint/Refinish
Ontario
I-CAR Canada
Masking (RF015E02) – I-CAR Canada

Masking provides information to identify the tools, products, and techniques used when masking a vehicle for refinish. Topics that are discussed include the different types of masking tapes and how to use them.

Paint/Refinish
Ontario
I-CAR Canada
Preparing a Vehicle for Refinishing (RF010E01) – I-CAR Canada

This course is designed to provide an understanding of the techniques used to prepare the affected area of a vehicle for refinishing and the methods used to prepare metal substrates and non-metal substrates for repair.

Paint/Refinish
Ontario
I-CAR Canada
Priming and Blocking Repaired Areas (RF001E02) – I-CAR Canada

This1-hour course is designed to provide an understanding of the types of primers and their uses, masking for priming and featheredging substrates, how to measure and mix primers, how to set up and use a spray gun for priming, and the process for block sanding.

Paint/Refinish
Ontario
I-CAR Canada
Building Effective Vendor and Insurer Relationships (PM240E01) – I-CAR Canada

This course begins by identifying open communication as the key to avoiding conflicts with insurance companies, supply vendors, and sublet shops.
Possible reasons for conflicts with the various outside sources are identified, how to avoid these conflicts in the first place and also how to resolve the conflicts that do arise.
After completing this course, students will be able to describe how open communication is key to avoiding conflicts with outside sources, explain that relationships must be established with outside sources, identify communication tools used to work with outside sources. Students will also learn how to avoid and resolve conflicts that arise with insurance companies, parts or supply vendors, and sublet vendors"

Management/Estimating
Ontario
I-CAR Canada
Understanding Your Part in Profit and Loss (PM235E01) – I-CAR Canada

This course examines the main sections of a profit and loss statement. The importance of dividing each of the main sections into accounts and sub-accounts to detail your business will be provided. Sales and income, cost of goods sold (COGS), and overhead expenses will be discussed in detail to understand the relationships between them. Students will learn how to perform gross profits and net profits calculations.
After completing this course, students will be able to perform gross profits and net profits calculations, determine how to use a P&L statement to monitor labor gross profits, understand how to monitor parts gross profits and discuss ways of positively impacting sublet gross profits.

Management/Estimating
Ontario
I-CAR Canada
Speaking the KPI Language (PM230E01) – I-CAR Canada

This course breaks down the KPIs that one managing production needs to continuously monitor. It provides some beneficial tips and thought process tools useful during production management to help manage the things that can affect their own KPIs. It provides instructions so that when completed, the person responsible for managing production can calculate various elements of the KPIs, which can provide areas for improvement. Learning objectives for this course include discussion of alternative methods that can help reduce supplements, calculating touch time, key-to-key days, severity average, and loyal customer percentage scores. It will also teach recognizing different network programs or relationships a facility may participate in, while describing the four key elements to be concerned with during every repair. Finally, students will learn to describe procedures to help manage and balance different repairs, and describe how severity can be managed.

Management/Estimating
Ontario
I-CAR Canada
Strengthening Your In-Process Quality Controls (PM225E01) – I-CAR Canada

This course identifies common concerns and quality issues that are experienced throughout the industry. It will help those in production management to identify what the current state of their facility is and if any of these common problems are occurring. It will also emphasize the importance of having quality checks and standards documented and in place how they can really benefit the facility. After completing this course, students will be able to identify the importance of quality checks and standard operating procedures, learn how to identify current state, identify quality checks and processes to write a better estimate, discuss how quality checks and processes reduce or eliminate rework or quality defect during structural and non-structural repairs. They will also learn to identify quality checks and processes to reduce or eliminate rework or quality defects during the refinishing process.

Management/Estimating
Ontario
I-CAR Canada
Gaining Efficiencies Through Blueprinting (PM220E01) – I-CAR Canada

In Gaining Efficiencies Through Blueprinting, students will learn about the blueprinting process and the efficiencies gained through its implementation. The course emphasizes that blueprinting can be done in any size facility and for any type of repair. Industry experts share their process of blueprinting and the benefits associated with its implementation. After completing this course, students will be able to define blueprinting, explain efficiencies gained by implementing a blueprinting process, implement blueprinting in any size facility, implement blueprinting in any type of repair and describe staffing needs for blueprinting. They will also learn how to describe responses to negative reactions about the blueprinting process, compare and contrast initial estimate with blueprint and identify instances where initial estimate is still useful.

Management/Estimating
Ontario
I-CAR Canada
Improving Your Shop's Cycle Time (PM215E01) – I-CAR Canada

This course begins with a brief review of what cycle time is and how it can be broken down into shorter sub-cycle times. An assessment is made of the shop's current cycle time and where there may be time bandits lurking that are making the repair process inefficient. The course will offer strategies for eliminating various time bandits and improvement suggestions.
After completing this course, students will be able to: assess the shop's current cycle time, identify opportunities to improve cycle time in the areas of customer contact, scheduling, parts handling, organization, and eliminating waste, observe and assess the shop's repair process through process walkthroughs and identify specific cycle time improvement solutions and how to implement them.

Management/Estimating
Ontario
I-CAR Canada
Developing New Talent (PM210V01) – I-CAR Canada

This course will provide instruction on forming partnerships in the community to recruit talent. The course emphasizes the importance of relationships with local schools, career fairs and career day events. Students then discuss job shadowing and the facility's internal structure. After completing this course, learners will be able to recruit new talent from the community using industry best practices, conduct career day and career fair events, implement a job shadow program, create career paths to support the development of new talent within the collision repair facility and implement an apprenticeship program.

Management/Estimating
Ontario
I-CAR Canada
Hiring to Support Your Shop's Learning Culture (PM205E01) – I-CAR Canada

This course is designed to help those who manage production in shops to hire the candidates who will most likely possess the traits and behaviors needed to thrive in a learning culture environment. This course focuses on the importance in hiring the right people for developing and maintaining a successful learning culture. The learning objectives of the course are designed to teach how to identify desirable behaviors that contribute to a learning culture, examine the traits of Millennials, examine advertisement terms for job postings that support a learning culture and identify the types of interview questions that uncover desirable behaviors of a learning culture.

Management/Estimating
Ontario
I-CAR Canada
Implementing a Learning Culture (PM201E01) – I-CAR Canada

This course introduces students to how business performance can improve by implementing a learning culture. There is discussion on the value of knowledge as a sustainable competitive advantage for the business. The course provides a deep look at each of the roadblocks to implementing a learning culture and how to remove them. After completing this course, students will be able to improve business performance by implementing a learning culture, discuss the value of knowledge as a sustainable competitive advantage for a business, identify the main roadblocks shops need to address when implementing a learning culture, implement learning expectations in the repair facility, commit to being an expert and how to implement that in a repair facility, share knowledge and how to implement sharing in the repair facility, discuss the concept of systems thinking and create/implement a shared vision in the repair facility.

Management/Estimating
Ontario
I-CAR Canada
Refining the Team and the Business (PM145L01) – I-CAR Canada

In this course, students will learn how to develop staffing levels to determine the right number of personnel to efficiently run the business and the importance of PTO standard operating procedures (SOPs) for holidays, vacation, and sick time. The course reviews many of the training programs that are available to the collision repair industry. The learning objectives of this I-CAR course include how to perform human capital functions using human resource guidelines and business rules, identify production staffing needs using a staffing model, schedule team member vacations using a management system and calendar. Students will also learn how to verify team member training is current per shop needs using a training schedule, and properly monitor worker safety using safety guidelines.

Management/Estimating
Ontario
I-CAR Canada
Developing the Team and the Business (PM140V01) – I-CAR Canada

This course explains the value of employee mentoring and quality employee reviews for both the employee and the business. Next, the course focuses on common workflow interruption costs, shop KPIs, and communication of metrics.
After completing this course, students will be able to perform employee mentoring/coaching using various leadership models, perform team member reviews using a management system, coordinate team member training and safety-related needs, communicate shop metrics to leadership team using a management system and monitor shop KPIs using a management system.

Management/Estimating
Ontario
I-CAR Canada
Optimizing Processes, Equipment, and Compliance (PM135E01) – I-CAR Canada

This course introduces the learner to what is required to ensure that a collision repair shop is efficient, properly maintained, and how to follow good inventory practices.
After completing this course, students will be able to: explain the 5S Lean Process and how it relates to optimized workflow, inspect the building to determine maintenance issues, understand parking lot, building, and vehicle security measures, know the importance of equipment maintenance and maintenance schedules, understand regulatory compliance issues and listing steps required to ensure the shop stays in compliance and know the importance of determining proper inventory levels and storage areas

Management/Estimating
Ontario
I-CAR Canada
Quality Is Your Business (PM130E01) – I-CAR Canada

This course presents the importance of the Production Manager role in verifying that technicians complete quality control checklists using SOPs, and that key procedures are followed.
After completing this course, students will be able to verify technicians complete quality control checklists using shop SOPs, match parts invoices to the repair order invoice, verify thatcustomer requests are completed, compare all repair orders, sublet work, and supplements, discuss the importance of quality checks after the repair and examine overall repair quality using shop SOPs.

Management/Estimating
Ontario
I-CAR Canada
Problem Solving for Workflow Changes (PM125V01) – I-CAR Canada

This course introduces students to common types of workflow disruptions. The instructor will present how to manage a proper workflow when problems arise and how to evaluate the need for workflow changes. Next, the instructor will discuss making workflow changes according to staffing availability. Students will learn how to adjust for sublet work and supplements, as well as what to do regarding waiting for parts and working through equipment maintenance.
After completing this course, students will be able to: assess workflow problems and evaluate work-in-process for potential solutions, determine technician workload through work-in-process analysis for developing staffing solutions, determine staffing needs based on workflow problems and how to reassign technician work based on skill, OEM training, and/or availability. They will also learn to manage workflow adjustments with outside vendors to ensure a smooth repair process, demonstrate how to adjust delivery dates and adjust technician workload based on supplement changes to the repair and demonstrate how to revise a repair schedule based on a parts order delay.

Management/Estimating
Ontario
I-CAR Canada
Synchronizing Workflow through Team Communication (PM120L01) – I-CAR Canada

This course is designed to show the importance of communication with all customers and departments using a computerized management system. The instructor will demonstrate the tools a production manager will use, as well as how to conduct review and release meetings with the technicians. After completing this course, students will be able to recognize tools needed to conduct review and release meetings with the technicians, understand the value of using and updating a computer management system, identify the communication methods needed to properly share information with the team, know the principles of conducting cycle time, quality, and work-in-process reviews and implement awareness skills and identify roadblocks in production.

Management/Estimating
Ontario
I-CAR Canada
Workflow Essentials (PM115E01) – I-CAR Canada

This course provides an understanding of supplements and how they affect costs and key performance indicators (KPIs). Students learn how to evaluate the work in process with an introduction to the tools used by a production manager. The course introduces students to the concept of determining what the capacity of their shop is by looking at the big picture first. After completing this course, students will be able to understand how supplements affect production, costs, and staff by identifying missing items, time involved, and repair or replace decisions for each job. Students will also learn to survey the shop floor using quality control, roadblock, and parts status techniques taught in this course, determine the facility capacity by using the big picture approach, identify the right technicians for the jobs to increase efficiency, understand how to analyze paint shop and estimating capacity for the facility, match the equipment needs to the jobs in process and apply the proper staff at the right times while encouraging a learning-centric culture

Management/Estimating
Ontario
I-CAR Canada
Matching the Repair to the Team (PM110V01) – I-CAR Canada

This course begins with a look at the industry standard capabilities each technician or team in a repair facility has. The instructor will explore the importance of using a computer management system to determine current workload and doing spot checks to keep track of a technician's skill set. Students will learn how to assign a job and keep the job updated using a tracking system. After completing this course, students will be able to identify staff capabilities and workload using a computer management system, explain how to assign a job to an available technician or team using a computer management system, perform estimate and vehicle review with assigned technician using shop SOPs, communicate current job status using a computer management system and identify available workflow availability by the technician/team using a computer management system

Management/Estimating
Ontario
I-CAR Canada
Before the Repair Starts (PM105E01) – I-CAR Canada

This course features a demonstration of a job file review process in accordance with industry practices and shop standard operating procedures (SOPs). Students will learn to identify the documentation that makes up a typical job file and examine how the staff of a collision repair facility uses these documents. After completing this course, students will be able to demonstrate job file review processes, explain insurance needs (including DRP and non-DRP), identify express jobs using a checklist of express-related items, and demonstrate mapping a customer vehicle.

Management/Estimating
Ontario
I-CAR Canada
Learning Culture Overview (PM101E01) – I-CAR Canada

This course will show how repair facilities that embrace a learning culture improve on key performance indicators (KPIs). The course will define what a learning culture is and address its key principles. Students will see how a learning culture can maximize everything a repair facility does while helping to minimize liability issues and customer complaints.
After completing this course, students will be able to understand the importance of I-CAR study observations, describe an industrial age mind-set and how to identify it, apply the principles of knowledge management, understand the definition of a learning culture, discuss the key principles of a learning culture, and discuss the benefits of a learning culture.

Management/Estimating
Ontario
I-CAR Canada
Body Filler (NS160E01) – I-CAR Canada

This course is designed to provide an understanding of how to use and apply body filler and the methods used for straightening repair damage.

Core Skills
Ontario
I-CAR Canada
Panel Installation Using Hem Flange Hands-On Skills Development (NS155L01) – I-CAR Canada

This course is a hands-on skills development course that allows the students to practice on props. Students will be required to answer questions and participate in general discussions reviewing materials learned in prerequisite courses. The students will then take turns removing the door skin from an actual vehicle door while continuing with discussions of the various tools available and techniques for removing the skin. Students will install a door skin on a prop, hem a quarter panel prop, apply foam, practice applying seam sealer and apply corrosion protection materials.

Core Skills
Ontario
I-CAR Canada
Hem Flange Panel Replacement (NS150E01) – I-CAR Canada

This course teaches students the locations of where a hem flange can be used in a repair. Students will learn about repair planning, panel removal and panel installation considerations. Methods and tools of the removal and installation are presented. Students will also gain insight into panels that may not work for the repair. Finally, different seam sealers and the need to initialize or calibrate disassembled systems are observed.

Core Skills
Ontario
I-CAR Canada
Aluminum Panel Dent Removal Hands-On Skills Development (NS145L01) – I-CAR Canada

This course will allow students to use various repair techniques to further develop their skills in aluminum panel repair. Students will remove a series of dents using various techniques and tools such as glue-on tabs, hammer-on and hammer-off dolly, picks, use of heat, weld-on studs to include tuning the welder. A hem flange without the use of adhesive will also be performed to complete the course. The complexity of the dents will gradually progress through each activity.

Core Skills
Ontario
I-CAR Canada
Steel Panel Dent Removal Hands-On Skills Development 2 (NS140L01) – I-CAR Canada

This course will allow students to use various repair techniques to further develop their skills in panel repair. Students will remove a series of dents using various techniques and tools such as glue-on tabs, hammer-on and hammer-off dolly, picks, spoons, slapping files and heat shrinking tools. The complexity of the dents will gradually progress through each activity.

Core Skills
Ontario
I-CAR Canada
Steel Panel Repair 2 (NS135E01) – I-CAR Canada

This course is designed to provide an understanding of how to use spoons to remove a dent, how to heat shrink a stretched panel, and how to use other least-invasive repair methods.

Core Skills
Ontario
I-CAR Canada
Steel Panel Dent Removal Hands-On Skills Development 1 (NS130L01) – I-CAR Canada

This hands-on course will allow the students to perform and practice removing dents using a hammer and dolly, pick, and weld-on studs. Students will also use a file or sanding block to identify high and low spots and perform filler work. A steel panel representative of a vehicle panel with a body line will be used for the exercises.

Core Skills
Ontario
I-CAR Canada
Aluminum Panel Repair (NS125E01) – I-CAR Canada

This course describes the characteristics of aluminum panels as well as the repair considerations for these panels. Students will learn the techniques used for panel straightening, making a hem flange and surface preparation.

Aluminum
Ontario
I-CAR Canada
Steel Panel Repair 1 (NS120E01) – I-CAR Canada

This course is designed to provide an understanding of steel panel characteristics and repair options, basic metal working and damage repair procedures, and weld-on dent removal tools and procedures.

Core Skills
Ontario
I-CAR Canada
Composite Repair Hands-On Skills Development (NS115E01) – I-CAR Canada

This course allows students hands-on practice in completing repairs to a composite panel using hand tools, reinforcing material, and two-part adhesives. Students will prepare the SMC props, inflict the damage to the panel, and then create three different reinforcement backings. Students will do cosmetic repair to the front side of the panel and will receive support and feedback from the instructor in every step of the process as they obtain quality control checks before they move to the next stage of the repair. Each student will receive a Sample SOP Sheet as a takeaway.

Core Skills
Ontario
I-CAR Canada
Composite Repair Overview (NS110E02) – I-CAR Canada

This course examines the different types of composite material used in vehicle construction. The course explains recommended safety precautions for working with composites and shows how to perform both single- and two-sided repair on fiber-reinforced plastic. The different types of carbon fiber used in vehicle construction are discussed and repair considerations are listed for each.

Core Skills
Ontario
I-CAR Canada
Plastic Repair Hands-On Skills Development (NS105L01) – I-CAR Canada

The hands-on course builds on prior online learning about repairing plastic. The instructor will monitor key performance indicators so the non-structural technician can properly identify and repair damaged plastic automotive parts. The students will perform four activities on plastic bumper cover pieces including two-sided adhesive repair, adhesive tab repair with pinning, airless welding repair and nitrogen/hot air welding repair.
Students will demonstrate their proficiency at important stages of the repair that instructors will verify with their signature. At the end of the course, students will leave with enhanced real-world experience as well as useful handouts that include standard operating procedures for each plastic repair activity they performed.

Core Skills
Ontario
I-CAR Canada
Introduction to Two-Sided Plastic Repair (NS100E01) – I-CAR Canada

This course helps students identify a two-sided repair and lists the steps required to prepare a damaged area for the repair process. How to repair a damage by creating a repair taper and applying adhesive and reinforcement material is also covered. Additionally, steps for repairing damaged tabs to bumper covers is explained in addition to how to work with plastic welding equipment, such as hot air welders and airless welders.
After completing this course, student will be able to explain the spot welding process, explain the power requirements for spot welding, identify the parts of a spot welder, prepare the work piece for spot welding, perform tests to determine weld quality and list the steps required for weld bonding.

Core Skills
Ontario
I-CAR Canada
Introduction to Plastics and Single-Sided Repairs (NS095E01) – I-CAR Canada

This one-hour course provides an overview of the different types of plastics used for vehicle construction and their physically identifiable characteristics. This course examines the different types of repair methods and materials used for plastic and allows the student to identify the required steps to prepare a part for application of filler and adhesive.

Core Skills
Ontario
I-CAR Canada
Adhesive Bonding (NS090E02) – I-CAR Canada

This course is designed to provide an understanding of the types and characteristics of adhesive bonding compounds. The course will address typical locations where compounds are used, preparation and application procedures, two-part adhesive removal techniques, and part attachment methods.

Core Skills
Ontario
I-CAR Canada
Noise, Vibration, and Harshness (NVH) Materials (NS085E02) – I-CAR Canada

This course is designed to provide an understanding of the types, characteristics, locations, preparation, and application of anti-flutter foam, as well as the types, characteristics, and uses of rigid foam and sound dampening material.

Core Skills
Ontario
I-CAR Canada
Seam Sealer (NS080E02) – I-CAR Canada

This course is designed to provide students with an understanding of the purpose, as well as, types of seam sealers and seam sealer/ undercoating application.

Core Skills
Ontario
I-CAR Canada
Corrosion Protection (NS075E02) – I-CAR Canada

This course is designed to provide students with an understanding of the causes of corrosion, OEM corrosion protection methods, restoring corrosion protection during repairs, part preparation, joining surfaces, primers, chip-resistant coatings, and anti-corrosion compound.

Core Skills
Ontario
I-CAR Canada
Panel Removal and Preparation for Installation (NS070E02) – I-CAR Canada

This course is designed to provide an understanding of general panel removal procedures, weld and weld-bonded removal, rivet and clinch removal, general panel preparation methods, and general panel attachment methods. The student will also learn about planning a roof panel repair, removing and installing weld-bonded roof panels, and removing and installing bonded-on roof panels.

Core Skills
Ontario
I-CAR Canada
In-Process Quality Control Checks (NS065E02) – I-CAR Canada

This course is designed to provide an understanding of quality control and the inspection items for structural areas, seam sealers, welds and fasteners, exterior panels, body filler and adhesive bonding, sublet and mechanical work, and finish and corrosion protection.

Core Skills
Ontario
I-CAR Canada
Electronic Braking and Stability Control Systems Overview (NS060E02) – I-CAR Canada

This course is designed to provide an understanding of anti-lock braking system (ABS) operation and damage analysis, as well as the function and operation of the traction control system (TCS) and stability control system (SCS).

Core Skills
Ontario
I-CAR Canada
Brakes System Overview (NS055E01) – I-CAR Canada

This course provides information on the basic types of brake systems and their associated parts. Students will identify the operation of the brake system. Finally, students will identify key areas of inspection for the brake system including master cylinders, disk brakes, and drum brakes.

Core Skills
Ontario
I-CAR Canada
Engine Cooling and A/C Systems Overview (NS050E02) – I-CAR Canada

This course explains basic operation and part identification of both the engine cooling system and the A/C system. Students will be able to identify parts and to which system they belong. Students will also understand basic system inspection and part damage analysis for both systems.

Core Skills
Ontario
I-CAR Canada
Restraint System Overview (NS045E02) – I-CAR Canada

This course covers seat belt operation, airbag operation and restraint system replacement. Seatbelt operation covers the function of retractors and restraints. Airbag operation covers various airbags that a vehicle can be equipped with such as dual stage airbags as well as the direction of impact. Students will also learn damage analysis and the considerations for a restraint system replacement.

Core Skills
Ontario
I-CAR Canada
Suspension System Overview (NS040E01) – I-CAR Canada

This courseis designed to provide an understanding of front and rear suspension system parts and operation, ride height, and ride damper control parts and operation.

Core Skills
Ontario
I-CAR Canada
Steering System Overview (NS035E01) – I-CAR Canada

This course is designed to provide an understanding of the operation of the steering systems including rack and pinion, parallelogram, and power steering systems and the parts that make up these systems.

Core Skills
Ontario
I-CAR Canada
Movable Glass Removal and Installation (NS030E01) – I-CAR Canada

This course is designed to provide an understanding of the types of movable glass and considerations for removal and replacement.

Core Skills
Ontario
I-CAR Canada
Bolt-On Panels/Assemblies Removal and Installation (NS025E01) – I-CAR Canada

This course is designed to provide an understanding of repair considerations for bolt-on body panels, the lighting assembly, and headlamp alignment.

Core Skills
Ontario
I-CAR Canada
Parts and Hardware Storage and Organization (NS015E02) – I-CAR Canada

This course is designed to provide an understanding of the best practices used to store and organize parts and hardware through the use of parts carts and storage bins.

Core Skills
Ontario
I-CAR Canada
Planning the Repair (NS010V01) – I-CAR Canada

This course is designed to provide an understanding of what to look for beyond the body damage when planning the repair. The student will learn what needs to be included when identifying the vehicle and when performing the vehicle inspection.

Core Skills
Ontario
I-CAR Canada
Blueprinting for the Non-Structural Technician NS005E01) – I-CAR Canada

This course will identify the major components of a blueprinting process. The student is introduced to what hidden damage is and the locations damage can be found. The basic steps to find hidden damage including the use of tools, mapping, and parts organization are covered. This course additionally models how the estimator and technician work together to identify and mark damage.

Core Skills
Ontario
I-CAR Canada
Understanding the Estimate and Identifying Additional Damage (NS001E01) – I-CAR Canada

This course provides information for improving technician understanding of the estimating process and how an estimate is written.

Core Skills
Ontario
I-CAR Canada
Nissan LEAF Technologies and Repair Considerations (NI007E01) – I-CAR Canada

Nissan LEAF® Technologies and Repair Considerations is a one-hour course focusing on the new 2018 Nissan LEAF's features and technologies such as ProPilot Assist, e-Pedal, and other intelligent driving features. Calibration procedures for ADAS systems and repair considerations for the body structure, high voltage systems, heating and A/C, electronic cooling systems, and steering and suspension will also be discussed.

Core Skills
Ontario
I-CAR Canada
Nissan GT-R Diagnostics (NI006E01) – I-CAR Canada

Nissan GT-R® – Diagnostics is a 1/2 hour online course that shows the driver-assistance and safety features offered on the GT-R and what must be done during repairs. After completing this course, students will be able to identify driver assistance systems, and other safety systems, while being able to explain diagnostic scan considerations, rearview camera operation and adjustments, park assist system considerations, steering angle sensor reset, yaw rate sensor calibration requirements, and SRS wiring harness considerations.

Core Skills
Ontario
I-CAR Canada
Nissan GT-R Repair Considerations (NI005E01) – I-CAR Canada

Nissan GT-R Repair Considerations identifies the various repair procedures identified by Nissan for the GT-R. There are instructions on damage analysis, structural repair procedures, aluminum and carbon fiber-specific considerations, Celette bench requirements, and painting considerations.

Core Skills
Ontario
I-CAR Canada
Nissan GT-R (NI004E01) – I-CAR Canada

Nissan GT-R® is a 1/2 hour online course that serves as an introduction to the Nissan GT-R. The course explains the GT-R heritage, vehicle construction, special materials, and the importance of the GT-R Certified Collision Repair Network. After completing this course, students will be able to explain the history of the Nissan GT-R, identify GT-R models and features, dxplain the mixed material construction of the GT-R, and the importance of material identification. Students will also be able to identify body construction considerations, list the requirements for the Nissan GT-R Certified Collision Repair Network, and explain the importance of using vehicle maker service information.

Core Skills
Ontario
I-CAR Canada
INFINITI Repair Considerations (NI003E01) – I-CAR Canada

After completing this course, students will be able to understand the INFINITI brand vehicles line-up, and their unique repair characteristics/ considerations to prevent consumer comeback and improve satisfaction. They will also learn to understand INFINITI vehicle structures and materials, and the repair considerations in order to ppreciate the Certified Network Program and its importance.

Core Skills
Ontario
I-CAR Canada
Nissan Repair Considerations (NI002E01) – I-CAR Canada

After completing this course, students will be able to understand the Nissan brand vehicles line-up and explain unique considerations for repair of Titan®, GT-R®, and LEAF. Students will also learn to understand unique repair characteristics/ considerations to prevent consumer comeback and improve satisfaction. They will also understand Nissan vehicle structures and materials, and the repair considerations in order to appreciate the Certified Network Program and its importance.

Core Skills
Ontario
I-CAR Canada
Safety Shield Technologies (NI001E01) – I-CAR Canada

After completing this course, students will be able to understand the elements that make up Safety Shield Technologies, as well as the unique characteristics of the different collision prevention systems. Students will also develop familiarity with the supplemental restraint systems including inspection, part replacement and additional restraint systems.

Core Skills
Ontario
I-CAR Canada
Full-Frame Replacement (MK215E01) – I-CAR Canada

This course outlines the important preparation, planning, and organization necessary for repair. Upon completion of the course, students will be able to properly sequence the process steps in full-frame replacement.

Core Skills
Ontario
I-CAR Canada
Hybrid, Electric, and Alternative Fuel Vehicle Service (MK210E01) – I-CAR Canada

This course teaches students the safety precautions when working with compressed natural gas (CNG) and liquid propane gas (LPG) vehicles. This course presents safety parameters including personnel safety, vehicle system, part safety and shop safety. Several procedural examples are given for alternative fuel vehicles including inspection and part replacement.

Core Skills
Ontario
I-CAR Canada
Control Module Programming Overview (MK195V01) – I-CAR Canada

This course examines module programming. The course continues to introduce the society of automotive engineers (SAE) J2534-1 and J2534-2 communication. The student will examine the difference between programming and coding. Finally the course provides tips for successful programming.

Core Skills
Ontario
I-CAR Canada
Initialization and Calibration of Electronic Systems (MK190V01) – I-CAR Canada

This course is intended to identify the type of information that scans and initializations provide, and when initializations and calibrations are needed.

Core Skills
Ontario
I-CAR Canada
Wiring and Connector Service and Repairs (MK185E02) – I-CAR Canada

This course provides information on how to make wiring and connector repairs. This course examines the criteria to determine if a wire can or can not be repaired.

Core Skills
Ontario
I-CAR Canada
Troubleshooting Basic Electrical Circuits (MK180E01) – I-CAR Canada

This course will help to identify the fundamentals of electrical troubleshooting. The course examines the different types of troubleshooting repair documents available, the I-CAR 5-step troubleshooting process, and the most common types of faults.

Core Skills
Ontario
I-CAR Canada
ADAS and Convenience Systems Overview and Service (MK175E01) – I-CAR Canada

This course teaches students about the many comfort and convenience systems including their purpose, operations, considerations and parts. The systems explained in this course are related to: locks and entry, power sliding doors, glass and mirrors, wipers, navigation/infotainment, lighting, safety detection and the warning system.

Core Skills
Ontario
I-CAR Canada
Climate Control Overview, Troubleshooting and Service (MK070E01) – I-CAR Canada

This course is designed to provide an understanding of how a climate control system operates, the parts that make up the system, system damage analysis, troubleshooting, and service procedures.

Core Skills
Ontario
I-CAR Canada
Heating and Cooling System Operation and Damage Analysis (MK065E02) – I-CAR Canada

This course is designed to provide an understanding of how a cooling system operates, the parts that make up a cooling system, and how the parts should be inspected for damage. Students will cover the purpose of, and inspection items for the oil coolers, thermostats and electrical sensors, heater core and hoses, and engine coolant.

Core Skills
Ontario
I-CAR Canada
Air Conditoning Systems Operation and Damage Analysis (MK055E01) – I-CAR Canada

This course is designed to provide an understanding of basic A/C system parts and operation, accumulator and receiver/drier A/C system operation and damage analysis, and the types of refrigerant and oils that are used in A/C systems.

Core Skills
Ontario
I-CAR Canada
Circuit Measurements with a Digital Volt Ohm Meter (DVOM) (MK035E01) – I-CAR Canada

This course is designed to help identify the characteristics of the Digital Volt Ohm Meter (DVOM); how to measure voltage, resistance, and current with a DVOM.

Core Skills
Ontario
I-CAR Canada
Electrical Theory (MK030E02) – I-CAR Canada

This course provides instruction on identifying basic electrical theory concepts, including electricity, electrical current flow, resistance, and Ohm's Law. The course also discusses the different elements of an electrical circuit, the types of circuits and electrical circuit theory.

Core Skills
Ontario
I-CAR Canada
Electrical Damage Inspection (MK025E02) – I-CAR Canada

This course will explain ways to identify electrical damage analysis considerations and common areas of inspection and provide information on how to identify types of hidden electrical damage.

Core Skills
Ontario
I-CAR Canada
Electronic System Diagnostics and Repair (MK020V01) – I-CAR Canada

This course is designed to help identify strategy-based diagnostics, ways to troubleshoot a problem with a DTC and without a DTC. Different ECU troubleshooting tips will be examined.

Core Skills
Ontario
I-CAR Canada
Understanding Vehicle Communication Networks (MK015E01) – I-CAR Canada

This course Introduces the student to the beginning of vehicle networks and how they have improved today's vehicle communications. The course continues to examine the main parts that make up a communication network. Finally, the types of scan codes are identified and how these code relationships are used for evaluating faults. After completing this course, you will be able to evaluate characteristics of basic vehicle communications networks, electronic control modules, controller area networks, multiple data bus systems, types of scan codes, code relationships for evaluating faults, and an introduction to Diagnostics and Tools.

Core Skills
Ontario
I-CAR Canada
Planning Mechanical Repairs (MK010V01) – I-CAR Canada

This course will provide steps for performing a vehicle inspection and vehicle health scan and what to look for when identifying areas of concern.

Core Skills
Ontario
I-CAR Canada
Removing Panels and Assemblies for Mechanical Access (MK005E01) – I-CAR Canada

This course covers how the collision repair process often requires removal of undamaged panels or assemblies to gain access to a damaged component in need of repair. This course will review how mechanical repairs may require vehicle disassembly in order to access other mechanical assemblies and will review common parts that are removed to access the parts behind them.

Core Skills
Ontario
I-CAR Canada
Trim Removal and Installation (MK001E01) – I-CAR Canada

This course provides tips and suggestions for hardware organization that will ensure efficient removal and installation of interior trim pieces and safety precautions that should be taken before vehicle trim.

Core Skills
Ontario
I-CAR Canada
Acura NSX Damage Analysis (HNC04E01) – I-CAR Canada

This 1 hour course explains non-structural repair network facility requirements and damage analysis considerations. 
This course is intended for U.S. models only.

OEM Procedures
Ontario
I-CAR Canada
Acura NSX Plastic Repair and Refinishing (HNC03E01) – I-CAR Canada

This 1 hour course is designed to provide a basic understanding of the various plastic materials, and the refinishing considerations for plastic parts on the second generation Acura NSX. Information about the available Andaro finish technology is also presented. This course explains  considerations for Acura NSX plastic repair and finish. It also explains one-sided plastic repairs on the Acura NSX. 
 
This course is intended for U.S. models only.
 
The Honda and Acura vehicle-specific courses have been designed, developed by, and are maintained by American Honda Motor Company, Inc. (AHM). AHM has partnered with I-CAR to deliver training to the collision repair industry across the United States. Honda-developed training courses delivered by I-CAR do not earn I-CAR credit hours. 

OEM Procedures
Ontario
I-CAR Canada
Acura NSX Aluminum Repair and Refinishing (HNC02E01) – I-CAR Canada

This 1 hour course is designed to provide a basic understanding of the aluminum repairs and refinishing allowed on the second generation Acura NSX by shops in the NSX Non-Structural Repair Network. This course explains repair requirements, panel straightening, galvanic corrosion concerns, surface preparation, as well as specific repair and refinishing considerations. 
 
This course is intended for U.S. models only.
 
The Honda and Acura vehicle-specific courses have been designed, developed by, and are maintained by American Honda Motor Company, Inc. (AHM). AHM has partnered with I-CAR to deliver training to the collision repair industry across the United States. Honda-developed training courses delivered by I-CAR do not earn I-CAR credit hours. 

OEM Procedures
Ontario
I-CAR Canada
Acura NSX Construction and Considerations (HNU01E01) – I-CAR Canada

This 1 hour course is designed to provide a basic understanding of the construction and materials used on the second generation Acura NSX and considerations regarding making repairs. In this course the Acura NSX construction and design are explained. It also includes an explanation of construction material, general vehicle, and measuring considerations. Joining methods used on the Acura NSX are also described. This course is intended for U.S. models only. The Honda and Acura vehicle-specific courses have been designed, developed by, and are maintained by American Honda Motor Company, Inc. (AHM). AHM has partnered with I-CAR to deliver training to the collision repair industry across the United States. Honda-developed training courses delivered by I-CAR do not earn I-CAR credit hours. 

OEM Procedures
Ontario
I-CAR Canada
Hybrid Vehicle Identification and Damage Analysis (GE050E02) – I-CAR Canada

This course explains the different types and parts of hybrid vehicles, hybrid vehicle identification and safety procedures when working with hybrid vehicles.

Management/Estimating
Ontario
I-CAR Canada
Communication in Today's Collision Repair Industry (GE045V01) – I-CAR Canada

This course is designed to provide an understanding of the communication cycle, including verbal, nonverbal, listening, and written communication skills. Workflow communication is also addressed including the need to start the day off right with the customer and co-workers using positive, appropriate communication.

Management/Estimating
Ontario
I-CAR Canada
Hazardous Airborne Pollutants (GE040E02) – I-CAR Canada

This course will identify environmental compliance requirements for hazardous airborne pollutants. You will learn to identify hazardous airborne pollutants, regulations for hazardous airborne pollutants, how to develop an in-house program to manage compliance, and how to reduce hazardous airborne pollutants in your facility. Refinishing techniques related to hazardous airborne pollutant reduction will also be discussed. 

Health & Safety
Ontario
I-CAR Canada
Hazardous Waste Disposal (GE035E02) – I-CAR Canada

This course examines the appropriate training and identification regarding hazardous waste. This course explains how the U.S. Environmental Protection Agency (EPA) determines when a substance becomes a waste and the different EPA guidelines that quantify the classes of generated waste. Instruction is provided on the proper clean-up and disposal of leaks and spills of potentially hazardous materials including recycling and emergency spill kits.

Health & Safety
Ontario
I-CAR Canada
Safety Data Sheets and Labels (GE030E02) – I-CAR Canada

This course explains why hazardous materials regulations were developed and covers the information found in a safety data sheet (SDS). Students will learn how to interpret SDS information and how to apply it. Students will also learn to identify and explain the different types of labels, recognize the specified elements of supplier labels, and know the difference between supplier, workplace, and "other means of identification" labels.

Health & Safety
Ontario
I-CAR Canada
Vehicle Protection During the Repair Process (GE025E02) – I-CAR Canada

This course will help identify steps to promote vehicle safety during the initial inspection. Learn to identify steps for safe vehicle check-in, towing, and moving. Steps to promote production shop safety are provided. Learn to identify production shop safety steps related to teardown, alternate fuel vehicles, parts storage, frame rack, major mechanical, body repairs, welding and heating, and refinishing.

Core Skills
Ontario
I-CAR Canada
Workplace Safety (GE020E02) – I-CAR Canada

This course will help you identify safety protocols when working at a repair facility. You will learn work and tool safety, storage regulations, repair facility maintenance and emergency handling protocols, and workplace education requirements.

Health & Safety
Ontario
I-CAR Canada
Working Safely Around Hazardous Materials (GE015E02) – I-CAR Canada

This course discusses the ways workers may be exposed to hazardous materials and their effects on the body. You will learn to identify hazardous material exposure situations and hazardous material categories. Learners will receive instruction on how to identify protective clothing, eye protection, hearing protection, and respiratory protection recommended for use around hazardous materials.

Health & Safety
Ontario
I-CAR Canada
Vehicle Construction Material Types (GE010E02) – I-CAR Canada

This course introduces how vehicle makers use a variety of materials to transfer collision energy around the passenger compartment and how to identify the different material types

Core Skills
Ontario
I-CAR Canada
Understanding Cycle Time (GE001L01) – I-CAR Canada

This course explains what cycle time is and how reducing it can benefit the collision repair facility. This course discusses the basics of measuring cycle time, identifies the waste that hurts cycle time, and lists lean processes and SOPs that can be used to reduce cycle time. The importance of proper upfront damage analysis (i.e. blueprinting) can be used to reduce problems that commonly occur toward the back end of the repair process. Finally, cycle time issues that commonly occur in different departments of the repair facility are examined.

Management/Estimating
Ontario
I-CAR Canada
2018 Ford Expedition and Lincoln Navigator Aluminum Body and Structural Repair (FO007E01) – I-CAR Canada

This course is a one-hour course created by Ford Motor Company that provides the overview of the auto body repair of the 2018 Ford Expedition/Lincoln Navigator.  It will enable a technician to understand the procedures for the repair and/or replacement of body and frame components.
After completing this course, you will be able to recognize the advantages of aluminum body panels; recognize the recommended Ford Motor Company aluminum repair procedures; identify the similarities and differences between the Ford F-150 and the Expedition/Navigator; understand the Expedition/Navigator body repair options and understand the Expedition/Navigator frame repair options.

OEM Procedures
Ontario
I-CAR Canada
Managing Quality Control (ES050V01) – I-CAR Canada

This course is designed to provide an understanding of the inspection process, including the initial pre-repair inspections, in-process quality controls, and post-repair inspections.
 

Management/Estimating
Ontario
I-CAR Canada
The Art and Science of Estimator Interactions (ES045L01) – I-CAR Canada

This course is an exploration of the estimator role. Participants will discuss the practical applications of the estimator's workflow as well the soft skills required for effective communication with co-workers, customers and the insurance company representatives.

Management/Estimating
Ontario
I-CAR Canada
Post Repair Process (ES035E01) – I-CAR Canada

This course is a course where students will learn about the overall items and completed tasks needed for a vehicle delivery including the paperwork, inspection, a customer walk-around, payments and the CSI survey.

Management/Estimating
Ontario
I-CAR Canada
Coordinate the Repair Process (ES030L01) – I-CAR Canada

This course will help estimators and managers explore and then improve the steps in managing vehicle repair within the facility. Each step in the repair process will be explored through a problem-solving perspective. In each module, groups will work to view a scenario and offer possible problems and potential solutions to those problems.

Management/Estimating
Ontario
I-CAR Canada
Schedule the Repair (ES020E01) – I-CAR Canada

This course is designed to provide an understanding of how to schedule a repair considering current work in process and load leveling and the importance of the initial parts order, staging, and communication.

Management/Estimating
Ontario
I-CAR Canada
Blueprinting for the Estimator (ES015E01) – I-CAR Canada

This course is designed to provide an understanding of the differences between traditional estimating and blueprinting, the blueprinting process, the benefits of blueprinting, and the efficiencies gained by using a blueprinting process.

Management/Estimating
Ontario
I-CAR Canada
Vehicle Check-In Process (ES001E02) – I-CAR Canada

This course is designed to provide an understanding of how a vehicle arrives at a repair shop, what is documented during a vehicle walk around and inspection, and the importance of communication with the customer throughout this entire process.

Management/Estimating
Ontario
I-CAR Canada
Presentation Skills Series: Engage (ED005E01) – I-CAR Canada

Presentation Skills Series: Engage is the third in the three-part series designed for Career and Technical college instructors. In this online course, instructors will answer the question, "How will I instruct?" They will view I-CAR's Elisabeth Sobczak instructional videos on how to prepare for class, use effective communication, and manage the classroom. The course highlights various classroom layouts for optimal learning. Instructors will identify the components of emotional intelligence and how to address challenging behavior. In addition, they will be able to download a Sample Classroom Agreement pdf for use in classroom management.  

Management/Estimating
Ontario
I-CAR Canada
Presentation Skills Series: Connect (ED004E01) – I-CAR Canada

Presentation Skills Series: Connect is the second in the three-part series designed for Career and Technical College instructors. In this online course, instructors will connect with I-CAR's Mission and Vision statements, as well as I-CAR's Core Beliefs and Values. They will be able to download a printable version for their own use. In addition, instructors will view I-CAR's Elisabeth Sobczak sharing presentation best practices in engaging video clips. True connection with a student involves tapping into student motivation. Instructors will explore the five influences to help spark student motivation. 

Management/Estimating
Ontario
I-CAR Canada
Presentation Skills Series: Reflect (ED003E01) – I-CAR Canada

Presentation Skills Series: Reflect is the first in the three-part series designed for Career and Technical College instructors. In this online course, instructors will reflect on with I-CAR's Mission and Vision statements, as well as I-CAR's Core Beliefs and Values.

Management/Estimating
Ontario
I-CAR Canada
Writing the Estimate (EA200E01) – I-CAR Canada

This course is designed to provide an understanding of the items included on an estimate and the steps required to write an estimate.

Management/Estimating
Ontario
I-CAR Canada
Estimating Guide Fundamentals (EA140E01) – I-CAR Canada

This course is designed to provide an understanding of how to use P-pages to write an estimate and how to use P-pages to include refinishing in the estimate.

Management/Estimating
Ontario
I-CAR Canada
Basic Estimate Writing (EA135E01) – I-CAR Canada

This course is designed to provide an understanding of the function of a damage report, types of damage reports, customer and vehicle information, items on an estimate, subtotals, and other charges.

Management/Estimating
Ontario
I-CAR Canada
Refinishing Overview (EA130E02) – I-CAR Canada

This course will provide information about one of the final stages of the collision repair process – refinishing. The different types of OEM finishes are examined including blending and plastic refinish. Coatings, such as sealers and protectants are presented. Finally, the characteristics of the different refinish rooms are described in this course.

Paint/Refinish
Ontario
I-CAR Canada
Basic Electronics for Estimators (EA125E01) – I-CAR Canada

This course is designed to provide an understanding of electrical systems, damage identification, and repair considerations. 

Management/Estimating
Ontario
I-CAR Canada
Recycled Parts Considerations (EA120E01) – I-CAR Canada

This course is designed to provide an understanding of the benefits of using recycled parts and making informed business decisions regarding the use of recycled parts. The course will address parts removal and ordering considerations, inspection of received parts, and installing recycled panels and assemblies.

Recycling
Ontario
I-CAR Canada
Damage Analysis of Restraint Systems (EA115E02) – I-CAR Canada

This course is designed to provide an understanding of the inspection considerations for restraint systems including:
Seat belt systems and pre-tensioners; Roll bars; Front driver, passenger, and side airbags; Impact and safing sensors and wiring; And the restraints control module.

Management/Estimating
Ontario
I-CAR Canada
Restraint Systems Operation (EA110E01) – I-CAR Canada

This course is designed to provide an understanding of how the various types of restraint systems work together to protect the vehicle occupants, and how the airbag system control modules and sensors work together to properly deploy the airbags.
After completing this course, you will be able to:
•    Recall how the various types of restraint systems work together to protect the vehicle occupants.
•    Identify the different types of restraint systems used to protect vehicle occupants.
•    Identify the characteristics of the seat belt system.
•    Identify seat belt pre-tensioner operation.
•    Identify the functionality and operation of the roll bars.
•    Recall how the airbag system control modules and sensors work together to properly deploy the airbags.
•    Identify the operation of the airbag system.
•    Identify the operation of the impact and safing sensors, restraint control module, driver SRS, and passenger SRS.

Non-Structural Repair
Ontario
I-CAR Canada
Analyzing Fire Damage (EA105E01) – I-CAR Canada

This course is designed to provide an understanding of how to determine the cause, starting location, and temperature of a fire. The course will provide an understanding of the repair considerations for various types of fire damage and the effects of heat on vehicle parts.

Management/Estimating
Ontario
I-CAR Canada
Analyzing Flood Damage (EA100E01) – I-CAR Canada

This course is designed to provide an understanding of flood damage indicators. Key inspection areas are also outlined in the course.

Management/Estimating
Ontario
I-CAR Canada
Damage Analysis of Stationary Glass (EA095E02) – I-CAR Canada

This course is designed to provide an understanding of the role of stationary glass and stationary glass repair vs. replace considerations.

Management/Estimating
Ontario
I-CAR Canada
Damage Analysis of Steering and Suspension Systems (EA090E01) – I-CAR Canada

This course is designed to provide an understanding of damage analysis and inspection of suspension systems and steering systems. 

Management/Estimating
Ontario
I-CAR Canada
Steering and Suspension Operation (EA085E01) – I-CAR Canada

This course is designed to provide an understanding of common steering system parts and operation, suspension system parts and operation, and ride control parts and operation.

Management/Estimating
Ontario
I-CAR Canada
Damage Analysis of Convenience Systems (EA080E01) – I-CAR Canada

This course is designed to provide an understanding of the parts, operation, and damage analysis inspection items of the various driver and passenger convenience systems.

Management/Estimating
Ontario
I-CAR Canada
Damage Analysis of Lighting and Vision Assist (EA075E02) – I-CAR Canada

This course is designed to provide an understanding of the operation of and damage analysis considerations for the adaptive front lighting system, high beam assist system, and the night view assist system. 

Management/Estimating
Ontario
I-CAR Canada
Damage Analysis of Driving Assist Systems (EA070E01) – I-CAR Canada

This course is designed to provide an understanding of how driver assist systems operate, items to inspect during damage analysis, and part replacement considerations.

Management/Estimating
Ontario
I-CAR Canada
Damaage Analysis of Electronic Brake Systems (EA065E01) – I-CAR Canada

This course will provide an understanding of anti-lock brake system (ABS) operation. Parts that make up an ABS and methods for inspecting an ABS braking system are identified.

Management/Estimating
Ontario
I-CAR Canada
Damage Analysis of Brake Systems (EA060E01) – I-CAR Canada

This course is designed to provide an understanding of basic brake system parts, operation, and areas of inspection for damage analysis.
 

Management/Estimating
Ontario
I-CAR Canada
Damage Analysis of Drivetrains (EA055E01) – I-CAR Canada

This course is designed to provide an understanding of the drivetrain, items to inspect during damage analysis, and repair and replace considerations for each of these items.
 

Management/Estimating
Ontario
I-CAR Canada
Interior Trim and Convertible Top Damage Analysis (EA045E02) – I-CAR Canada

This course is designed to provide an understanding of the types of interior trim and convertible tops. Interior trim and convertible top damage analysis and repair options will be addressed.

Management/Estimating
Ontario
I-CAR Canada
Damage Analysis of Full-Frame Vehicles (EA040E01) – I-CAR Canada

This course is designed to provide an understanding of how full-frame vehicles are constructed and how they manage collision energy. The course discusses how to identify full-frame vehicle damage and the considerations for partial replacement.

Management/Estimating
Ontario
I-CAR Canada
Structural Damage Analysis – Structures (EA035E01) – I-CAR Canada

This course is designed to provide an understanding of how vehicle structures absorb collision forces, how to identify the measuring techniques used during the damage analysis process, and how to identify key issues of part repairability.

Management/Estimating
Ontario
I-CAR Canada
Capturing Quality Photos (EA030L01) – I-CAR Canada

This course will help improve the students' photography techniques. Students will photograph images on actual vehicles in a shop environment. They will participate in seven activities to provide hands-on practice using their own equipment including a camera, tablet, or smartphone. Students will develop techniques to maximize lighting, angles, and distance in their collision repair photography.
 

Management/Estimating
Ontario
I-CAR Canada
Analyzing Damage from Natural Causes (EA025E01) – I-CAR Canada

This course is designed to provide an understanding of damage and repair options for hail, wind, lightning, and infestation.

Management/Estimating
Ontario
I-CAR Canada
Analyzing Theft Damage (EA020E01) – I-CAR Canada

This course is designed to provide an understanding of items commonly stolen during a theft, methods used to steal OEM and aftermarket parts, practices for inspecting a recovered stolen vehicle, how to recognize types of damage related to theft, and how to recognize possible indicators of fraud.

Management/Estimating
Ontario
I-CAR Canada
Analyzing Vandalism Damage (EA015E01) – I-CAR Canada

This course is designed to provide an understanding of the types of damage that can occur to the finish, interior, and mechanical components, as well as the processes for initial inspection after theft recovery and fluid contamination determination.

Management/Estimating
Ontario
I-CAR Canada
Damage Analysis of Unitized Structures – Rear (EA010E01) – I-CAR Canada

This course is designed to provide an understanding of repair and replace considerations for rear exterior items, and the rear of the unitized structure.

Management/Estimating
Ontario
I-CAR Canada
Damage Analysis of Unitized Structures – Center (EA005E02) – I-CAR Canada

This course is designed to provide an understanding of the structural damage analysis methods and repair and replace considerations for the center section of a unitized structure.

Management/Estimating
Ontario
I-CAR Canada
Damage Analysis of Unitized Structures – Front (EA001E02) – I-CAR Canada

This course is designed to provide an understanding of the inspection items for the front exterior body panels and repair and replacement considerations for the parts of the front unitized structure.

Management/Estimating
Ontario
I-CAR Canada
Understanding Cycle Time as an Appraiser (AP055E02) – I-CAR Canada

This course presents a basic definition of cycle time, how cycle time is measured and benefits of reducing cycle time. It will present APDAs with a basic understanding of blueprinting, and 100% teardown, both of which can be beneficial for improving cycle time. The course concludes with information about supplements and their effect on cycle time.

Core Skills
Ontario
I-CAR Canada
Processing Vehicle Salvage (AP050E01) – I-CAR Canada

This course is designed to provide an understanding of how to determine the value of a salvage vehicle, how to complete the salvage process, and the options for disposing of a salvage vehicle.

Core Skills
Ontario
I-CAR Canada
Completing the Total Loss Process (AP045V01) – I-CAR Canada

This course provides an understanding of how to determine Actual Cash Value (ACV) and the steps to finalize a total loss statement. The Student will learn what information is needed on a condition report, how to communicate the vehicle valuation process to the customer, how to review the ACV report for accuracy, and the steps required to finalize the total loss settlement.

Core Skills
Ontario
I-CAR Canada
Quality Control for the APDA (AP040V01) – I-CAR Canada

This course is designed to provide an understanding of the relationship between the repair shop and insurer and how that relationship ties to customer satisfaction. Topics covered include when to perform quality inspections, the importance of performing quality inspections, and the items to check when inspecting structural repairs, exterior panels, and the refinish.

Core Skills
Ontario
I-CAR Canada
Determining Overall Vehicle Repairability (AP035E01) – I-CAR Canada

This course is designed to provide an understanding of the process for determining overall vehicle repairability, including determining the condition of the vehicle and actual cash value.

Core Skills
Ontario
I-CAR Canada
Writing a Repair Supplement (AP025V01) – I-CAR Canada

This course provides an understanding of supplements, including defining supplements, identifying what to look for during supplement inspections, and understanding the steps to follow when processing and completing a supplement.

Core Skills
Ontario
I-CAR Canada
Auto Physical Damage Appraiser (APDA) Administration (AP015E02) – I-CAR Canada

This course is designed to provide an understanding of APDA administrative duties, such as downloading assignments and planning routes, creating and maintaining estimating profiles, addressing customer concerns, and maintaining equipment.

Core Skills
Ontario
I-CAR Canada
Performing Initial Vehicle Inspection (AP001E02) – I-CAR Canada

This course is designed to provide an understanding of the preparation requirements for initial customer consultation and vehicle inspection, as well as an outline of the steps to perform during an initial vehicle inspection.

Core Skills
Ontario
HOLLAND COLLEGE
Automotive Technology – HOLLAND COLLEGE

The Automotive Technology program provides a comprehensive introduction to the mechanical and technological skills you'll need to work as an automotive service technician. The program gives you a solid grounding in mechanical systems, computers, networks, electronics, and non-mechanical systems you'll encounter on the job. You will take what you learn in the classroom and apply it in Holland College's Automotive Technology shop, and on-the-job training will give you the opportunity to apply your skills in the workplace.

Core Skills
Prince Edward Island
GEORGIAN COLLEGE
Automotive Business – GEORGIAN COLLEGE

In this program, students are prepared for professional and essential support positions in the automotive industry by providing general business and specialized automotive education. Through eight months of co-op work experience and opportunities to network with industry professionals, students explore the automotive industry and learn from industry experts. Upon completion of the program students have the skills, knowledge, and experience to build a career across a broad range of sectors in the automotive industry.

Management/Estimating
Ontario
GEORGIAN COLLEGE
Bachelor of Business Administration (Automotive Management) – GEORGIAN COLLEGE

This program provides students with a degree-level education in business management with an applied focus for the automotive industry. Students learn current issues, trends and technologies that prepare them in adopting proactive approaches in identifying and responding to changes in the automotive industry. Instruction, lecture and discussion delivery promotes critical thinking and problem solving skills and classes will often include a guest speaker series with industry representatives in attendance. Labs are a substantial part of the program and the student run Auto Show is the largest lab of its kind in Canada. A strategically sequential co-op structure serves to maximize the link between theory and practice.

Management/Estimating
Ontario
GEORGIAN COLLEGE
Welding Techniques – GEORGIAN COLLEGE

In this program, students are provided with the theoretical and practical training to perform most basic welding techniques. At the completion of the program, students are eligible to test for welding tickets based on their level of expertise. Students develop skills and knowledge in Shielded Metal Arc Welding, Gas metal Arc Welding, Flux Core Arc Welding, Metal Core Arc Welding, Gas Tungsten Arc Welding, Oxy-fuel fusion & Braze Welding, Oxy-fuel and Plasma Cutting, fabrication and layout techniques, heath and safety, metallurgy, blueprint reading and sketching, applied math, communications and introduction to computers.

Welding
Ontario
FLEMING COLLEGE
Welding Techniques – FLEMING COLLEGE

The two-semester Welding Techniques program will provide graduates with entry level employable skills for the welding field. Curriculum in the program has been aligned to the basic requirements for Level One Apprenticeship for Welding Fabrication. Labour market demand for skilled welders is high. The Welding Techniques program will introduce you to numerous welding processes and you will gain extensive hands-on experience on the most common processes used within the industry. These processes include: SMAW (shielded metal arc welding) and GMAW (gas metal arc welding)
You will also be exposed to specialized processes, such as FCAW (flux core arc welding) andGTAW (gas tungsten arc welding).

Welding
Ontario
FLAT LINE
N/A – FLAT LINE

Car-O-Liner 3D measuring training covers the many functions and capabilities of the Car-O-Liner Vision measuring system: lower and upper body measurements; point-to-point measurements; and absolute and comparative measuring. We also discuss the use of EVO (our Universal Jig System) which is built in to our Vision 2X3 software, and give the technician step-by-step instructions on how to build the jigs and where to place them on the vehicle. This training can be done on-site in your shop or at our training facility in Richmond Hill, Ont. Car-o-liner welding courses are also offered. Betag training courses are provided by Betag Innovation and hosted on site at the Flatline Richmond Hill Training Center. Please visit our website for course training dates

Welding
Ontario
FIX NETWORK
Fix Network Training Centres – FIX NETWORK

As the industry evolves so do our programs and course content, we have partnered with the top manufactures, training organizations, and collision business training companies in the industry to ensure that the latest education is always available.

Core Skills
Ontario, Quebec, Alberta
FANSHAWE COLLEGE
Auto Body Repair Techniques – FANSHAWE COLLEGE

Courses provide technical training on the practical skills used by entry-level auto body repairers: welding, refinishing, metalworking and body repair. While in the program, you will have numerous opportunities to perfect your craftsmanship in our state-of-the-art auto body repair shop and develop a strong foundational understanding of the technologies and techniques used in the field.

Core Skills
Ontario
ELV SELECT
ELV Select Training – ELV SELECT

ELV Select offers complete vehicle decommissioning and depollution training to comply with ministry of environment standards and procedures. Additionally, end users will be able to employ best practises to remain as efficient as possible. This training is recommended to be done in person, but is also offered online.

Recycling
Ontario
Elite Bodyshop Solutions
Operations Monthly LIVE – Elite Bodyshop Solutions

Get high-impact operations and management training with tools and support for real world application. OML includes: a 1-hr LIVE monthly training, a library to organize all past and future training, downloadable tools and support documents for application, an exclusive online community of members to learn with and from, and access to Dave Luehr and the Elite mentors to get questions answered. Past topics have included blueprinting, theory of constraints, quality control, SOP's and much more.

Core Skills
Nolensville, TN 37135
CWB Group
Automotive Repair Technician Welding – Bronze – CWB Group

This bundle covers topics related to advanced welding techniques and procedures for Silicon-Bronze and Resistance welding, as well as techniques for controlling Distortion.

Welding
Ontario
CWB Group
Automotive Repair Technician Welding – Aluminum – CWB Group

Participants will build off of the understandings of key welding topics from Automotive bundle 1 as they relate to automotive welding repair.

Welding
Ontario
CWB Group
Automotive Repair Technician Welding – Steel – CWB Group

Participants will develop an understanding of key welding topics as they relate to automotive welding repair.

Welding
Ontario
CONFEDERATION COLLEGE
Welding Techniques – CONFEDERATION COLLEGE

Confederation College's Welding Techniques certificate program gives you the knowledge and hands-on experience you need to get a start in this exciting and in-demand field. Using our conventional and state-of-the-art welding power sources, you'll get practical experience in various welding techniques. You'll also get the shop instruction required to work towards your four position Canadian Welding Bureau (CWB) certification – flat, horizontal, vertical, and overhead – that most employers use as the standard for employment. Courses include basic arc welding, blueprint reading, pipe to plate, T-joints, basic metallurgy, pressure plate, and advanced welding.

Core Skills
Ontario
CONFEDERATION COLLEGE
Motive Power Techniques – Automotive – CONFEDERATION COLLEGE

This program covers all the basics of maintaining and repairing vehicle systems, such as electrical/electronics, fuels, brakes, gear trains, steering and suspension on motor vehicles and light trucks.

Core Skills
Ontario
CONFEDERATION COLLEGE
Mechanical Techniques – CONFEDERATION COLLEGE

This program combines in-class learning with practical demonstrations and hands-on instruction. You start building in the first semester, taking your new skills and using them to design and create assigned projects. Topics include mechanical practices, machine shop, welding practices, engineering graphics and industrial design. Not only will you start developing skills in all areas of trades, you'll quickly learn what area of skilled trades appeals to you most.

Core Skills
Ontario
CONFEDERATION COLLEGE
Automotive Service Technician Apprenticeship – CONFEDERATION COLLEGE

This apprenticeship program covers work practices, engine systems, electrical, electronic, emissions and fuels, drivetrain systems and suspensions, steering and brake systems, air conditioning systems.

Apprenticeship
Ontario
CONESTOGA COLLEGE
Motive Power Technician – Automotive Service – CONESTOGA COLLEGE

This training provides a strong technical base and also focuses on motive power business, shop management and parts management. The program is structured to provide the theoretical and work-related experience that registered apprentices normally acquire in the first two years in the workplace.

Core Skills
Ontario
CONESTOGA COLLEGE
Motive Power Fundamentals – Automotive Repair – CONESTOGA COLLEGE

Through a combination of hands-on activities and theory-based classes, graduates from the Motive Power Fundamentals – Automotive Repair certificate program are well-positioned to enter and be successful working in this trade area. Throughout the duration of your program, you will develop a strong foundation of technical skills needed for the automotive field. You will develop safe working practices in the use of tools, machinery, and equipment and will apply fundamental communication, documentation, information technology, and computer skills to support a motive power-related work environment. To round out your training, you will be introduced to the basics of running a motive power business and relevant legal issues.

Core Skills
Ontario
CONESTOGA COLLEGE
Automotive Service Technician – Apprenticeship – CONESTOGA COLLEGE

This program, consists of three components and is designed to provide theoretical knowledge of all aspects of automotive repair, as well as practical training.

Apprenticeship
Ontario
COLOR COMPASS UNIVERSITY
Color Compass University – COLOR COMPASS UNIVERSITY

There are four Color Compass University training centres throughout western Canada, with locations in Edmonton, Calgary, Winnipeg, and Greater Vancouver. Each location is filled with the latest in cutting-edge repair and refinish equipment, as well as interactive classrooms and presentation areas that can facilitate workshops and meetings as large as 30 people.

Management/Estimating
British Columbia
COLLEGE OF THE ROCKIES
Automotive Service Technician – Foundation – COLLEGE OF THE ROCKIES

This training core offered by College of the Rockies teaches Automotive Service Technicians inspect, diagnose, repair, and service systems in cars, buses, motorcycles, and light and commercial transport trucks.

Core Skills
British Columbia
COLLEGE OF THE ROCKIES
Automotive Service Technician – Apprenticeship – COLLEGE OF THE ROCKIES

If you enjoy working on cars and pickups and are not afraid of technology, then a career in the automotive service industry may be for you. Automotive Service Technician students inspect, diagnose, repair, and service systems in cars, buses, motorcycles, and light and commercial transport trucks and keep pace with the fast changing world of automotive technology.

Apprenticeship
British Columbia
COLLEGE OF THE NORTH ATLANTIC
Welder Metal Fabricator – COLLEGE OF THE NORTH ATLANTIC

This Red Seal program contains components of the Welder, Metal Fabricator and Non-Destructive Testing Technician programs. At the end of the two years you will have two entry level certificates. Some of the duties include: developing patterns or follow directions in given layouts; making and examining blueprints and work orders; cleaning and check for defects and shape component parts; performing welds on various metals using different processes in accordance to codes and standards; layout, cut and fabricate structural steel; studying engineering drawings and blueprints; planning the sequence of tasks required to efficiently cut metal, and much more.

Welding
Newfoundland
COLLEGE OF THE NORTH ATLANTIC
Welder – COLLEGE OF THE NORTH ATLANTIC

This program offers training in joining and severing metals in beams, girders, vessels, piping and other metal components. Some of the duties include, developing patterns in given layouts; blueprints and work orders; cleaning and checking for defects and shape component parts; examining blueprints and work orders and performing welds on various metals.

Welding
Newfoundland
COLLEGE OF THE NORTH ATLANTIC
Automotive Service Technician – COLLEGE OF THE NORTH ATLANTIC

In this Automotive Service Technician program, students will get training in adjusting, testing and repairing engines, steering systems, braking systems, drive trains, vehicle suspensions, electrical systems and air conditioning systems, and how to perform wheel alignments.

Core Skills
Newfoundland
COLLEGE OF THE NORTH ATLANTIC
Auto Body and Collision Technician – COLLEGE OF THE NORTH ATLANTIC

This Red Seal program is designed to assist students in developing the basic skills to enter the labor force as an apprentice mechanic in auto body and collision. Some of the duties include, repair and replace vehicle structures and body parts; remove and install interior and exterior finishes; hammer out dents, buckles and other defects; operate soldering equipment and plastic filler; remove damaged fenders, panels and grills; weld replacement parts; straighten frames and underbodies; file, grind, mask and tape body surfaces in preparation for painting.

Core Skills
Newfoundland
COLLEGE OF NEW CALEDONIA
Apprentice Welding – COLLEGE OF NEW CALEDONIA

The welding apprenticeship program will train you to become a skilled welder, leading towards Red Seal certification (after successful program and work based training hours completion). CNC offers all three levels of technical training.

Welding
British Columbia
COLLEGE OF NEW CALEDONIA
Welding Foundation Program – COLLEGE OF NEW CALEDONIA

As a graduate of the College of New Caledonia's program, you'll be qualified for a variety of jobs in the construction and metal working industries. You'll also be prepared to successfully complete employers' skill assessments.

Welding
British Columbia
COLLEGE OF NEW CALEDONIA
Automotive Refinishing Prep Technician – COLLEGE OF NEW CALEDONIA

You will have practical, hands-on learning on real vehicles using traditional and state-of-the-art technology. You will also spend time in the classroom learning the theories and details that will set you apart from others and give you a strong foundation in the field.

Core Skills
British Columbia
COLLEGE OF NEW CALEDONIA
Motor Vehicle Body Repairer – COLLEGE OF NEW CALEDONIA

This foundation program will provide entry level practical skills and academic knowledge to prepare you to begin your apprenticeship pathway as a Motor Vehicle Body Repairer. If you are mechanically inclined, a critical thinker, good at task planning and organization, you may want to consider a career in motor vehicle body repair.

Core Skills
British Columbia
COLLEGE OF NEW CALEDONIA
Automotive Service Technician Diploma – COLLEGE OF NEW CALEDONIA

Become an automotive service technician with this two-year program. As an Automotive Service technician, you will perform preventative maintenance, diagnose problems and repair vehicle systems.

Core Skills
British Columbia
COLLEGE OF NEW CALEDONIA
Automotive Service Technician Foundation – COLLEGE OF NEW CALEDONIA

The Automotive Service Technician program will train you to become a skilled technician. You'll develop your preventative maintenance and repair skills, build your understanding of steering and other vital systems, and learn to fulfill other industry needs. Not only is this program a great introduction to the automotive repair and service industry, but it will also create opportunities for apprenticeship positions in dealerships, specialty repair shops, parts departments and even as a service writer.

Core Skills
British Columbia
COLLEGE OF NEW CALEDONIA
Automotive Collision and Refinishing Foundation – COLLEGE OF NEW CALEDONIA

This program will provide students with the skills and knowledge to assist them in finding employment opportunities within their desired automotive collision and refinishing trade. Employment in the trade is required to continue in the apprenticeship program in addition to completing the additional required levels of technical training at an accredited institution. This program is delivered by face to face (in person) instruction in both classroom and shop settings.

Core Skills
British Columbia
COLLEGE OF NEW CALEDONIA
Autobody (Motor Vehicle Body Repair) – COLLEGE OF NEW CALEDONIA

Vehicle repair technicians review damage reports and hammer out dents, buckles and defects; remove damaged fenders, panels and grilles; straighten bent frames; and repair and replace exterior and interior components.

Core Skills
British Columbia
COLLEGE OF NEW CALEDONIA
Apprentice Motor Vehicle Body Repairer – COLLEGE OF NEW CALEDONIA

Apprentices must have their employer register them with Industry Training Authority (ITA) and fill out the apprenticeship application online. All apprenticeship training requires in-person shop sessions. All shop sessions will be provided with physical distancing and all necessary safety measures.

Apprenticeship
British Columbia
COLLEGE OF NEW CALEDONIA
Automotive Service Technician Foundation Program – COLLEGE OF NEW CALEDONIA

Jump start your automotive career with this 30-week Automotive Service Technician program. As an Automotive Service Technician, you will be an essential component in maintaining the health of motor vehicles. This includes investigating, diagnosing, and repairing issues related to the mechanical systems in vehicles, often undertaking complex computer diagnostics to resolve issues.

Core Skills
British Columbia
COLLEGE OF NEW CALEDONIA
Apprentice Automotive Service Technician – COLLEGE OF NEW CALEDONIA

Do you love working with cars and trucks? Turn it into your career with this Automotive Service Technician Apprentice Program. The Automotive Service Technician apprenticeship program will train you to become a skilled automotive mechanic, leading towards Red Seal certification (after successful program and work-based training hours completion). CNC offers all four levels of technical training

Apprenticeship
British Columbia
COLLEGE COMMUNAUTAIRE DU NB – CAMPUS DE BATHURST
Welding – COLLEGE COMMUNAUTAIRE DU NB – CAMPUS DE BATHURST

This program prepares the student for a job in the field of welding. The student will be able to apply the various welding techniques used in industry: to oxy-fuel, to arc with coated electrode and to arc in inert atmosphere with fusible electrode. The student will use the techniques of preparation and finishing of materials.

Welding
New Brunswick
COLLEGE COMMUNAUTAIRE DU NB – CAMPUS DE BATHURST
Automotive Mechanics – COLLEGE COMMUNAUTAIRE DU NB – CAMPUS DE BATHURST

This program prepares the student for employment in the field of maintenance and repair of automobiles and vans. There, the student will be able to diagnose problems, check the equipment, understand the cause of a failure, carry out repairs to components, fit new parts and make the necessary adjustments.

Core Skills
New Brunswick
COLLEGE COMMUNAUTAIRE DU NB – CAMPUS DE BATHURST
Dent Repair and Body Painting – COLLEGE COMMUNAUTAIRE DU NB – CAMPUS DE BATHURST

This program prepares the student for a position in the repair, dent removal and painting of automobile and light truck bodies. There they will use hand and power tools to straighten, sand, polish, remove and replace body panels and frame parts. They will be able to use welding equipment, apply body sealant and repair fiberglass.

Non-Structural Repair
New Brunswick
COLLEGE BOREAL
Welding Techniques – COLLEGE BOREAL

This program prepares the student to work in the steel manufacturing and welding industry, as well as in construction, mining, forestry, and specialized trades. Upon completion of the program, the student can obtain certificates from the Canadian Welding Bureau.

Welding
Ontario
COLLEGE BOREAL
Motive Power Technician – Truck & Coach – COLLEGE BOREAL

Gain the necessary skills based on industry practices to perform truck and coach repair work for various companies while respecting Ontario codes and regulations. The program integrates repair techniques and skills based on concepts learned in the classroom.

Core Skills
Ontario
COAST MOUNTAIN COLLEGE
Welding Foundation – COAST MOUNTAIN COLLEGE

A welder is a person who has training in and is capable of welding ferrous and non-ferrous metals in all positions, on both plates and/or pipe, using various welding processes. Certified welders qualify for test with CSA, BCSA, and for ASME procedures in British Columbia.

Welding
British Columbia
COAST MOUNTAIN COLLEGE
Automotive Service Technician Foundation – COAST MOUNTAIN COLLEGE

This training gives students the technical skills and knowledge to repair, adjust and replace mechanical parts in automobiles and light trucks. Program covers all the theory and practical components necessary for the first-year Automotive Service Technician Certificate, and provides a complement of valuable industry skills.

Core Skills
British Columbia
COAST MOUNTAIN COLLEGE
Automotive Service Technician Apprenticeship – COAST MOUNTAIN COLLEGE

Automotive Service Technicians repair, adjust and replace mechanical and electrical parts in automobiles and light trucks. They repair damaged components and perform preventative maintenance, inspect completed work and test that the vehicle's performance meets required standards.

Apprenticeship
British Columbia
CHIEF UNIVERSITY/CHIEF AUTOMOTIVE TECHNOLOGIES
Unitized Body Analysis & Repair Planning – CHIEF UNIVERSITY/CHIEF AUTOMOTIVE TECHNOLOGIES

This 2-day interactive class focuses on building and expanding upon foundational knowledge for entry level and experienced structural repair technicians so they better understand unibody vehicle damage analysis and repair planning. Technicians will learn the fundamental principles of collision theory, measuring, analyzing damage, repair planning, and setting up a unibody vehicles to maximize both repair quality and profitability. // The course is a prerequisite to the "Advanced Unitized Body Repair" technician's class. Course I-CAR number is CHEM-00008.

Structural Repair
Indiana
CHIEF UNIVERSITY/CHIEF AUTOMOTIVE TECHNOLOGIES
Full Frame Analysis & Repair Planning – CHIEF UNIVERSITY/CHIEF AUTOMOTIVE TECHNOLOGIES

This 2-day leading-edge course focuses on advanced steels and other substrates being used by vehicle manufacturers in the design of their vehicles. This course includes material identification and characteristics, structural designs, and proper repair methods and procedures. Course I-CAR number is CHEM-00004. The course is a prerequisite to Chief's advanced full frame repair technicians class.

Structural Repair
Indiana
CHIEF UNIVERSITY/CHIEF AUTOMOTIVE TECHNOLOGIES
Design-Based Repair – CHIEF UNIVERSITY/CHIEF AUTOMOTIVE TECHNOLOGIES

Requirement: All participants MUST complete the (1) Structural Damage Analysis (SDA) course and then the (2) Advanced Frame Analysis (ASA) course before enrolling in this course. // This 2-day interactive class focuses on entry level and experienced structural repair technicians in damage analysis and repair of full frame vehicle. Technicians will learn the fundamental principles of Collision Theory, measuring, analyzing damage, repair planning, and setup for full frame vehicles to maximize both repair quality and profitability.

Structural Repair
Indiana
CHIEF UNIVERSITY/CHIEF AUTOMOTIVE TECHNOLOGIES
Aluminum Damage Analysis and Repair Technology – CHIEF UNIVERSITY/CHIEF AUTOMOTIVE TECHNOLOGIES

This 1-day interactive course builds and expands foundational knowledge for those who are entry-level through experienced adjusters, appraisers, and technicians. You will be exposed to and learn about the principles of aluminum as a substrate, forming methods, different alloys, temper designations, damage analysis, approaches to repair, aluminum welding basics, and OEM recommendations. Course I-CAR number is CHEM-00013.

Aluminum
Indiana
CHIEF UNIVERSITY/CHIEF AUTOMOTIVE TECHNOLOGIES
Heavy Duty Truck Collision Repair – CHIEF UNIVERSITY/CHIEF AUTOMOTIVE TECHNOLOGIES

In this course, you will learn: how to perform a thorough visual inspection of structural damage; where and how damages exist based on collision dynamics and structural design; the measuring principles and techniques used with self-centering and electronic measuring systems; how to perform a complete damage analysis using Chief's Damage Simulator; the repair principles and techniques required to effectively remove damages and wheel alignment basics with Wheel Alignment by RAV America.

Management/Estimating
Indiana
CHIEF UNIVERSITY/CHIEF AUTOMOTIVE TECHNOLOGIES
Structural Damage Analysis – CHIEF UNIVERSITY/CHIEF AUTOMOTIVE TECHNOLOGIES

This comprehensive course features 24-hours of instruction on collision theory, structural damage analysis skills and an understanding of correction procedures. It is designed for the body shop estimator or insurance appraiser. Course I-CAR number is CHEM-00003.

Measurement/Alignment
Indiana
CHIEF UNIVERSITY/CHIEF AUTOMOTIVE TECHNOLOGIES
Advanced Steering & Suspension Analysis – CHIEF UNIVERSITY/CHIEF AUTOMOTIVE TECHNOLOGIES

This 2-day (16 hour) course focuses on steering and suspension as it relates to collision damage. This course addresses an overview of steering and suspension systems, quick checks, how measuring plays a role in determining potential damage, and troubleshooting techniques. Course I-CAR number is CHEM-00007.

Measurement/Alignment
Indiana
CHIEF UNIVERSITY/CHIEF AUTOMOTIVE TECHNOLOGIES
Advanced Frame Analysis – CHIEF UNIVERSITY/CHIEF AUTOMOTIVE TECHNOLOGIES

This advanced course featuring 16-hours of instruction revisits collision theory and the role it plays in collision damage analysis and repair, but the main focus of this course is structural damage analysis, structural correction and alignment techniques, and repair procedures for experienced body shop technician, estimator or insurance appraiser. Course I-CAR number is CHEM-00002.

Management/Estimating
Indiana
CHIEF UNIVERSITY/CHIEF AUTOMOTIVE TECHNOLOGIES
Computerized Measuring Training – CHIEF UNIVERSITY/CHIEF AUTOMOTIVE TECHNOLOGIES

This 2-day (16-hour) interactive class trains technicians on the most efficient processes for computerized measuring. Technicians learn to operate Chief's Computerized Measuring Technologies to identify structural misalignment and maximize both repair quality and profitability. Course I-CAR number is CHEM-00005.

Structural Repair
Indiana
CHC PAINT AND BODY SUPPLIES
PPG Management Training, PPG Tech Training – CHC PAINT AND BODY SUPPLIES

I-CAR Approved MVP Business Development Series courses are grouped into the five functional areas of collision center business operations: Administration Courses, production courses, leadership courses, sales & marketing, and financial management. Courses are scheduled throughout the year at the Toronto PPG Business Development Centre at 2301 Royal Windsor Dr, UNIT 6, Mississauga, Ont.

Management/Estimating
Ontario
CENTENNIAL COLLEGE
Automotive – Motive Power Technician (Optional Co-op) – CENTENNIAL COLLEGE

With an emphasis on motor vehicle technology, this program prepares you for work within the transportation industry. Through various theoretical and practical courses, students acquire trade-relevant skills and knowledge that helps them undertake positions in a variety of employment opportunities.

Core Skills
Ontario
CENTENNIAL COLLEGE
Automotive Service Technician Toyota (MAP 32) – CENTENNIAL COLLEGE

The Automotive Service Technician Toyota (MAP 32) program has been designed for existing or new Toyota/Lexus dealer apprentices. During your time in the program, you'll alternate between in-school lessons and apprenticeship work terms at your Toyota/Lexus dealer every four weeks — for a total of 32 weeks of schooling and 32 weeks of work placement.

Apprenticeship
Ontario
CENTENNIAL COLLEGE
Automotive Service Technician Honda AHAP (MAP 32) – CENTENNIAL COLLEGE

The offering is for new or existing Acura or Honda dealer apprentices, and is specifically designed to give your career the turbocharge it needs. Not only will this program provide the educational component required for your apprenticeship, but it will also give students specific training on Acura and Honda diagnosis and repair that will set you apart as a specialist.

Apprenticeship
Ontario
CENTENNIAL COLLEGE
Automotive Service Technician General Motors of Canada ASEP (MAP 32) – CENTENNIAL COLLEGE

Divided between in-class lessons and on-the-job experience, this transportation program will offer the best of both worlds as you'll alternate between the College and your employer for a total of 64 weeks (32 weeks with each). A large portion of your in-class training will involve vehicle electrical and electronic systems diagnosis and repair.

Apprenticeship
Ontario
CENTENNIAL COLLEGE
Automotive Service Technician Ford Asset (MAP 32) – CENTENNIAL COLLEGE

The focus of the Automotive Service Technician Ford Asset (MAP 32) program is on teaching Ford's latest technology, with specific emphasis on electronics and the diagnosing of vehicle-management systems. You will alternate between the College and your employer every four weeks for a total of 64 weeks (32 weeks with each).

Apprenticeship
Ontario
CENTENNIAL COLLEGE
Automotive Service Technician Co-op partnered with TADA and FCA – CENTENNIAL COLLEGE

While the primary focus of the program is Automotive Diagnosis and Repair, other aspects of automotive dealership operations are included. As a student in this program, you will spend your first eight months in class learning your craft at our impressive training facilities at Ashtonbee Campus. Over the next eight months, you will apply what you have learned through a paid work placement as a registered apprentice at a TADA or FCA partnered dealership. Students will spend the final eight months back at school preparing for a successful career in the automotive industry.

Core Skills
Ontario
CENTENNIAL COLLEGE
Automotive Service Technician – Apprenticeship Training – CENTENNIAL COLLEGE

The automotive service technician apprenticeship offers the general working knowledge of all of a vehicle's systems. Among the systems covered in this program will be engines, electrical/electronics, fuels, transmissions, drivelines, steering, suspension and brakes.

Apprenticeship
Ontario
CENTENNIAL COLLEGE
Auto Body Collision and Damage Repairer – CENTENNIAL COLLEGE

This program focuses on techniques and materials for all aspects of auto body repair. It covers components, frames, panels, grills, holes, dents and other surface repairs.

Apprenticeship
Ontario
CENTENNIAL COLLEGE
Automotive Service Technician Pre-Apprenticeship – CENTENNIAL COLLEGE

The Automotive Service Technician Pre-Apprenticeship is a tuition-free transportation program that's funded by the Government of Ontario and designed as a transition step to finding an apprenticeship. Earn Level 1 automotive service technician training, receive assistance in finding a short work placement and get on-the-job experience.

Core Skills
Ontario
CENTENNIAL COLLEGE
Automotive Service Technician Canadian Tire (MAP 32) – CENTENNIAL COLLEGE

Facilitated by the School of Transportation, the Canadian Tire Automotive Service Technician program combines in-depth classroom and hands-on lab training with a four-week, on-the-job work placement experience.

Core Skills
Ontario
CENTENNIAL COLLEGE
Automotive Service Technician – CENTENNIAL COLLEGE

The automotive service technician program offers students the general working knowledge of all of a vehicle's various systems. Among the systems covered in this program will be engines, electrical/electronics, fuels, transmissions, drivelines, steering, suspension and brakes.

Core Skills
Ontario
CENTENNIAL COLLEGE
Auto Body Repair Techniques – CENTENNIAL COLLEGE

This offering is based on the Level 1 apprenticeship curriculum, with some valuable additions. In Auto Body Repair Techniques courses, students acquire theoretical knowledge and practical skills that ensure they have a competitive edge in the autobody repair field.

Core Skills
Ontario
CAR-PART.COM
General Training – CAR-PART.COM

Car-Part.com offers live training via phone and live chat, webinars, and tutorials to auto recyclers, repairers and insurers. Additionally, auto recyclers are offered round tables. In person training may resume as COVID restrictions and comfort levels permit.

Recycling
Kentucky
CAR-O-LINER
CLEM-00002 Bench, Measuring Systems & Pulling System Training – CAR-O-LINER

Designed for advanced technicians who have been working with Car-O-Liner equipment. This course meets the US I-CAR Structural ProLevel 2 course requirement equivalent for Introduction to Three-Dimensional Measuring–ST055E01.

Welding
Michigan
CAR-O-LINER
CLEM-00007 Basic Electronic Measuring – CAR-O-LINER

Designed for entry-level technicians who recently began working with Car-O-Liner equipment. Typically, this training occurs within 90 days of installation; or for new employees needing training on the Car-O-Liner equipment. This course meets the US I-CAR Structural ProLevel 2 course requirement equivalent for Introduction to Three-Dimensional Measuring–ST055E01.

Welding
Michigan
CAR-O-LINER
CLEM-00012 Basic Resistance Welder Installation – CAR-O-LINER

Designed for entry-level to advanced technicians using a Car-O-liner resistance spot welder. This course meets the US I-CAR Structural ProLevel 2 course requirement equivalent for Introduction to Squeeze-Type Resistance Spot Welding – ST010E01 or Squeeze-Type Resistance Spot Welding Hands-On Skills Development–ST015L01.

Welding
Michigan
CAR-O-LINER
CLEM-00008 Basic Frame Bench – CAR-O-LINER

Designed for entry-level technicians who recently began working with Car-O-Liner equipment. Typically, this training occurs within 90 days of installation; or for new employees needing training on the Car-O-Liner equipment. This course qualifies as an Annual Training Alliance Course for I-CAR US.

Welding
Michigan
CAR-O-LINER
CLEM-00009 Speed Frame Bench – CAR-O-LINER

Designed for entry-level technicians who recenly began working with Car-O-Liner equipment. Typically, this training occurs within 90 days of installation; or for new employees needing training on the Car-O-Liner equipment. This course qualifies as an Annual Training Alliance Course for I-CAR US.

Welding
Michigan
CAR-O-LINER
CLEM-00013 CR200 Dent Repair for Aluminum & Steel – CAR-O-LINER

Designed for technicians, entry-level to advanced, using the Car-O-liner CR200 Aluminum and Steel Dent Repair Station. This course qualifies as an Annual Training Alliance Course for I-CAR US.

Welding
Michigan
CAR-O-LINER
Mig Mag Welding – CAR-O-LINER

Designed for technicians, entry -level to advanced, using a Car-O-liner MIG/MAG welder. This class is an introduction to the Car-O-Liner MIG/MAG welder and focuses on how to accurately and safely operate the MIG/MAG welder and its components. The course includes instruction and hands-on exercises using the MIG/MAG welder as it relates to collision repairs. Upon completion of the training, the technician will be able to properly and safely operate the Car-O-Liner MIG/MAG welder and components.

Welding
Michigan
CANADORE COLLEGE
Automotive Service Technician Apprenticeship – CANADORE COLLEGE

Gain the skills and training needed to challenge the Certification of Qualification exam. Earn while you learn. This program is run in a day release format to allow the apprentice to continue to work in the trade while learning one day per week. This training is a stepping stone to several other trades.

Core Skills
Ontario
CANADORE COLLEGE
Motive Power Technician – CANADORE COLLEGE

Become skilled in motive power by training with industry-standard tools, diagnostic equipment, and lifts. You will learn to operate, diagnose and service all types of vehicles, from standard automobiles to industrial heavy-duty equipment, and have the opportunity to work on the latest technology by way of vehicle donations. You will perform actual service procedures on a wide variety of components found in the power train of heavy vehicles, install and set up clutches, and tear down and assess the condition of manual transmissions. Includes a two-week work placement.

Core Skills
Ontario
CANADORE COLLEGE
Mechanical Technician – Welder-Fitter – CANADORE COLLEGE

Skilled welders are highly sought after and well paid. Learn the specialized skills of the trade on industry-standard machines in our 4,700 sq. ft. lab. You will learn multiple welding processes at one of the 33 individual welding stations, including shield metal arc welding (SMAW), Flux Cored Arc Welding (FCAW), gas metal arc (GMAW) and gas tungsten arc welding (GTAW), FUSION welding, brazing, and cutting techniques. Skills learned are highly transferable and versatile as welding is used in several trades including electrical and automotive. Graduates will have completed all position welding training and possible Canadian Welding Bureau Certification.

Welding
Ontario
CANADORE COLLEGE
Metal Fabricator Apprenticeship – CANADORE COLLEGE

The program focuses primarily on welding, layout and fitting techniques used in the welding and fabrication industry. Earn while you learn. This is a day release program. Student can work and earn income while in class.

Welding
Ontario
CAMOSUN COLLEGE
Welder Foundation, Certificate – CAMOSUN COLLEGE

Conforming to industry standards, practices and procedures, the competency-based welder foundation program provides you with the skills you'll need to prosper in today's job market.

Welding
British Columbia
CAMOSUN COLLEGE
Automotive Service Technician Foundation, Certificate – CAMOSUN COLLEGE

The Automotive Service Technician program prepares you for entry into the automotive mechanical repair trade and provides possible accreditation towards Year 1 Apprenticeship training.

Core Skills
British Columbia
CAMBRIAN COLLEGE
Welding and Fabrication Technician – CAMBRIAN COLLEGE

Working in the College's welding lab, students will take metal fabrication projects from the engineering drawing stage through cutting and forming processes to the welding and inspection phase. You have the option to start your apprenticeship and will also have unique opportunities to put your welding skills into practice by working on real community and applied research projects.

Welding
Ontario
CAMBRIAN COLLEGE
Motive Power Technician – Service and Management – Automotive – CAMBRIAN COLLEGE

This program will gives students hands-on training servicing gas-powered and hybrid vehicles. Students will learn the ropes of shop management in Cambrian's state-of-the-art shop. Our courses provide you with pre-apprentice training that can be combined with an optional, paid co-op and will prepare you for career and automotive service technician apprenticeship opportunities. After an introduction to basic work safety and fasteners and hand/pneumatic tools, your courses will be split between hands-on and classroom training in steering suspension and brakes, drivetrains, and engines.

Core Skills
Ontario
BRITISH COLUMBIA INSTITUTE OF TECHNOLOGY
Automotive Technician Apprenticeship – BRITISH COLUMBIA INSTITUTE OF TECHNOLOGY

The classroom program will include courses in electrical systems, air conditioning systems, fuel systems, driveline, engine mechanical, powertrain, steering and suspension, brakes, options and accessories, computer operated/assisted systems, truck components and system, and body and trim.

Apprenticeship
British Columbia
BRITISH COLUMBIA INSTITUTE OF TECHNOLOGY
Automotive Refinishing Technician – BRITISH COLUMBIA INSTITUTE OF TECHNOLOGY

Apprentices beginning Level 1 after April 2021 will be required to complete their levels in the harmonized program. Please see Harmonized Automotive Collision and Refinishing Apprenticeship Common Core page for further information.

Students will acquire the knowledge and skills to work on vehicle surfaces, restoring vehicle finishes after body repairs have been performed, and using fillers, primers, and surfacers for the refinishing process. Additionally, students will further develop their skills learning to remove layers of old coatings; matching colors; mixing paints; preparing surfaces for painting by spot filling, sanding, and masking; applying primers, primer surfacers, base coats, single-stage, and clear coats; cleaning and polishing painted surfaces, and applying protective coatings.

Apprenticeship
British Columbia
BRITISH COLUMBIA INSTITUTE OF TECHNOLOGY
Auto Body and Collision Technician – BRITISH COLUMBIA INSTITUTE OF TECHNOLOGY

Apprentices beginning Level 1 after April 2021 will be required to complete their levels in the harmonized program. Please see Harmonized Automotive Collision and Refinishing Apprenticeship Common Core page for further information.

For those currently sponsored by an employer, the apprenticeship program will include courses in the following areas:

Performing safety-related functions, using tools and equipment, use of welding equipment, organizing work and documentation, removing and installing vehicle components, surface preparation, applying refinishing materials, detailing, remove and install structural glass, servicing SRS systems, structural repair, and servicing mechanical and electrical systems.

Apprenticeship
British Columbia
BRITISH COLUMBIA INSTITUTE OF TECHNOLOGY
Automotive Collision and Refinishing Common Core – BRITISH COLUMBIA INSTITUTE OF TECHNOLOGY

The structure of the Automotive Collision and Refinishing apprentice programs is common training for Level 1, followed by trade-specific training. Apprentices register in their trade with the Industry Training Authority (ITA) and attend the required common and trade-specific technical training at BCIT, depending on their pathway.

The technical training levels that are required for completion in each of the apprenticeship programs are as follows:

Auto Body and Collision Technician
Level 1 Automotive Collision and Refinishing Common Core
Level 2, 3, 4 Auto Body and Collision Technician

Automotive Refinishing Technician
Level 1 Automotive Collision and Refinishing Common Core
Level 2 Automotive Refinishing Technician

Please see the web pages for each individual apprenticeship program for the time learning on the job, number of years, and further details required to complete certification in each of the specific trades.

Apprenticeship
British Columbia
BRITISH COLUMBIA INSTITUTE OF TECHNOLOGY
Auto Body Repair and Refinishing Technician Foundation – BRITISH COLUMBIA INSTITUTE OF TECHNOLOGY

The Auto Body Repair and Refinishing program is a 40-week offering, which includes a six-week work practicum, that will open doors to a career in the auto body industry. The program allows students to gain the fundamental knowledge required to launch a career as a Red Seal Auto Body Collision Repair or Automotive Refinishing Technician. You will then be ready to start your journey as a registered apprentice, which will prepare you to return to school for level 2 of the traditional apprenticeship pathway.

Core Skills
British Columbia
BETAG
Plastic Repair – Level 1 – BETAG

This plastic repair program focuses on developing the knowledge and skills necessary to repair plastic panels and parts properly and safely. It also includes modules to develop technicians' awareness of the various ADAS systems that can be affected and steps that need to be taken to research and implement associated OEM repair procedures.

Non-Structural Repair
California
BETAG
Small Damage – Level 2 – BETAG

This Small Damage Level 2 course is designed to elevate the skill level of technicians to enable them to successfully complete paintless dent repairs of elastic and plastically deformed small damages. These skills can be applied across a wide range of panel damage, from small parking lot dings and dents to repairing panels damaged by hail.

Non-Structural Repair
California
BETAG
Small Damage – Level 1 – BETAG

Relevant to technicians of all experience levels, BETAG's Small Damage Repair program starts by focusing on the fundamentals of metal repair. These include identifying the complete damage area; understanding the characteristics of plastic and elastic deformations; and using a combination of basic body repair techniques to repair small damage without need for filler.

Non-Structural Repair
California
BASF
R-M Matte Finishes (NAGL205) – BASF

This one-day class teaches the proper process and technics needed to accurately reproduce a matte finish using the Glasurit refinish system. (Available to Canadian BMW CCRC technicians only)

Paint/Refinish
Ontario
BASF
Glasurit Matte Finishes (NAGL205) – BASF

This training is exclusive for technicians currently employed with BMW. This two-day class teaches all aspects of refinishing a BMW Frozen Finish. This class includes proper matching, spraying, and maintenance of BMW Frozen Finish refinishes. (Available to Canadian BMW CCRC technicians only)

Paint/Refinish
Ontario
BASF
BMW Frozen Finishes (NABMW902) – BASF

This training teaches you to understand the concept, importance and benefits of increasing throughput, and cycle time. Trainees will practice new techniques of production management, including how to manage the repair and to understand the need to write a complete damage report.

Paint/Refinish
Ontario
BASF
Advanced Production Management VPU001 Vision+Business – Advanced Production Management (NAV+B001) Vision+Business – Virtual Advanced Production Management (NAV+B001V) – Part 1 Vision+Business – Virtual Advanced Production Management (NAV+B001V2) – Part 2 – BASF

This training teaches you to understand the critical importance of the estimator. Learn to sell first, and estimate second. You will also learn how to generate a complete damage report, effectively negotiate with insurers, and understand how to measure selling performance.

Paint/Refinish
Ontario
BASF
Vision+Business – Estimating for Profit VPU002 (NAV+B002) – BASF

This training teaches how to clearly identify what differentiates a shop from the competition and how to effectively communicate that to customers to close the sale. Trainees will learn how to better communicate with prospective and current customers by asking appropriate questions and exhibiting effective listening skills. This courses teaches how to revitalize, refresh and revamp individual sales tactics using the tools, tips and techniques learned during the seminar.

Paint/Refinish
Ontario
BASF
Get The Keys! VPU038 – BASF

This training teaches you to understand the importance of complete customer satisfaction. Trainees will learn how to implement a systematic approach to identifying and meeting customer needs during the five interactive opportunities that recur in every repair. You will also gain experience in documenting each step of the process with tools, forms, scripts and checklists.

Paint/Refinish
Ontario
BASF
Vision+Business Measuring and Improving Performance VPU003 (NAV+B003) – BASF

This training teaches trainess how to collect accurate and timely financial and non-financial data. You will learn how to develop a working knowledge of the critical collision centre KPIs and what affects them. You will also understand how to use KPIs to measure and improve collision centre performance.

Paint/Refinish
Ontario
BASF
Glasurit 22/55/90 Certification Program Glasurit 90L / 55L / 22L Certification – National Rule (NAGL201NR) Glasurit 55L Virtual Certification – National Rule (NAGL203VNRJ) Glasurit 90L Certification – LVOC (NAGL201LVOC) Glasurit 90L Virtual Certification – LVOC (NAGL201VLVOCJ) Glasurit 90L Virtual Certification – National Rule (NAGL201VNRJ) – BASF

This training teaches trainees how to inspect products properly and teaches where in the process to improve speed, accuracy and quality in shops.

Paint/Refinish
Ontario
BASF
Glasurit Color Adjustment Techniques RFN202 Glasurit Color Adjustment Techniques (NAGL204) Glasurit Virtual Color Adjustment Techniques (NAGL204VJ) – BASF

This course is a systematic mechanical approach to understand tinting and blending colours to achieve an undetectable repair for Glasurit products

Paint/Refinish
Ontario
BASF
R-M Color Adjustment Techniques 1 RFN102 – BASF

This course is a systematic mechanical approach to understand tinting and blending colours to achieve an undetectable repair for R-M products.

Paint/Refinish
Ontario
BASF
R-M Diamont/ONYX Certification Program RFN101 – BASF

This training teaches how to use product properly and where in the process to use products in order to yield quality work that reduces comebacks and do-overs. Learn how to roperly mix and apply R-M coatings to achieve durable, warrantable, and undetectable finishes.

Paint/Refinish
Ontario
BASF
Organizational Structure VPU015 – BASF

This training teaches you to understand the relationship between the repair process and structure. The course helps implement changes to improve effectiveness and understand the advantages and disadvantages of each type of organizational structure.

Paint/Refinish
Ontario
BASF
Paint Department Productivity VPU005 – BASF

With this training, one will learn how to Increase collision centre output and capacity. This course teaches how to ffectively use people, space, equipment and time. It will teach how to maximize paint hours and number of vehicles through the paint department and how to ecognize the need to effectively sell paint labour in order to enhance productivity.

Paint/Refinish
Ontario
BASF
Paint and Material Profitability VPU004 – BASF

This training teaches trainees to understand what affects paint and material profitability. It also teaches how to accurately determine a collision centre's actual profitability on paint and material and helps to understand and track the paint department's key performance indicators.

Paint/Refinish
Ontario
BASF
R-M Recertification Class RFN300 R-M Diamont / ONYX / UNO Recertification – LVOC (NARM102ELVOC) R-M Diamont / ONYX / UNO Recertification – NR (NARM102ENR) – BASF

This course is a one-day overview of all recently released products that meet R-M and OEM warranty specifications. This training is mandatory every two years to renew warranty specifications.

Paint/Refinish
Ontario
BASF
Glasurit Re-certification RFN400 Glasurit 90L / 55L eLearning Recertification National Rule & LVOC (NAGL401ENR) – BASF

This course is a one-day overview of all recently released products that meet Glasurit and OEM warranty specifications. This training is mandatory every two years to renew warranty specifications.

Paint/Refinish
Ontario
BASF
Preparation Process and Analysis RFN207 Advanced Preparation Techniques (NARFN501) – BASF

Preparation is the most important part of a quality repair. It provides longevity of the professional look of the vehicle. In this course, students will learn substrate preparation procedures and the application of the undercoat system. This acquired knowledge will increase shop production and build the foundation for quality repairs.

Paint/Refinish
Ontario
AXALTA COATING SYSTEMS CANADA COMPANY
311 – Commercial Transportation Color Tools and Blending Techniques – AXALTA COATING SYSTEMS CANADA COMPANY

This course is a two-day interactive, hands-on course for experienced paint technicians who
service truck and fleet accounts. This course focuses on color identification, formula retrieval,
and techniques for effective application and blending. Content is delivered in a blended format
of classroom instruction and shop work. The goal of this course is to improve paint technician
effectiveness and efficiency—getting the job done right and done the first time.

Paint/Refinish
Ontario
AXALTA COATING SYSTEMS CANADA COMPANY
201 – Commercial Transportation Finishes – AXALTA COATING SYSTEMS CANADA COMPANY

The Axalta Transportation Finishes course is designed to provide students with the knowledge and hands-on skills needed to properly prepare substrates and use Axalta's line of commercial and fleet transportation finishes.

Paint/Refinish
Ontario
AXALTA COATING SYSTEMS CANADA COMPANY
401 – Standox® Master Certification – AXALTA COATING SYSTEMS CANADA COMPANY

This is a performance-based instructor led class to achieve master level certification. It involves a product and technology update as well as a skills evaluation that enables a technician to be Master Certified. This certification is earned with a written assesment and skills evaluation.

Paint/Refinish
Ontario
AXALTA COATING SYSTEMS CANADA COMPANY
311 – Standox® Coloristic 2—Color Matching Techniques – AXALTA COATING SYSTEMS CANADA COMPANY

This instructor-led Standox® course is designed to help participants understand how to correctly mix and analyze color. This includes color theory, the correct angles and lighting conditions and how to correctly shade a color that needs adjustment.

Paint/Refinish
Ontario
AXALTA COATING SYSTEMS CANADA COMPANY
304 – Standox® Standoblue® Advanced 3-Stage Course – AXALTA COATING SYSTEMS CANADA COMPANY

This instructor-led Standox® course is designed to help the participant understand the three-stage process as well as how to use it to make repairs.

Paint/Refinish
Ontario
AXALTA COATING SYSTEMS CANADA COMPANY
303 – Standoblue® Micro-Repair Course – AXALTA COATING SYSTEMS CANADA COMPANY

This instructor-led hands-on course covers the basic techniques in repairing stone chip damage, very small blends and wheel repair. This non-warranted repair process enables collision repair facilities to offer customer pay options. Skills acquired in this course can be applied to many different situations.

Paint/Refinish
Ontario
AXALTA COATING SYSTEMS CANADA COMPANY
302 – Standox® Advanced Matte Finishes – AXALTA COATING SYSTEMS CANADA COMPANY

This instructor-led Standox® course is a one-day course designed to develop the knowledge and skills of paint technicians when applying matte clears.

Paint/Refinish
Ontario
AXALTA COATING SYSTEMS CANADA COMPANY
301 – Standox® Standoblue® Advanced Tri-Coat & Specialty Colors – AXALTA COATING SYSTEMS CANADA COMPANY

This instructor-led Standox® course is designed to help painters understand the three-stage process, tinted mid-coats, specialty colors, as well as how to repair them.

Paint/Refinish
Ontario
AXALTA COATING SYSTEMS CANADA COMPANY
211 – Standox® Coloristic 1—Electronic Color Tools – AXALTA COATING SYSTEMS CANADA COMPANY

This instructor-led Standox® course is designed to help painters understand electronic color tools such as the ColorNet® computer software, Acquire Plus EFX™ and Acquire EFX™ Quantum spectrophotometer.

Paint/Refinish
Ontario
AXALTA COATING SYSTEMS CANADA COMPANY
202 – Standox® Understanding Pre-Paint Productivity and Profit – AXALTA COATING SYSTEMS CANADA COMPANY

This instructor-led course covers the secrets to productivity and profitability, as it relates to the pre-paint process. This course is intended for anyone who is part of the pre-paint process.

Paint/Refinish
Ontario
AXALTA COATING SYSTEMS CANADA COMPANY
201 – Standox® Standoblue® Painter Certification – AXALTA COATING SYSTEMS CANADA COMPANY

This instructor-led Standox® course is designed to help painters understand the products used in their shop, as well as the processes necessary to successfully and efficiently refinish any color.

Paint/Refinish
Ontario
AXALTA COATING SYSTEMS CANADA COMPANY
102 – Standox® Surface Preparation Certification – AXALTA COATING SYSTEMS CANADA COMPANY

This Standox® course is designed to help participants understand the surface preparation
process and learn how to identify substrates and apply primers to those substrates.

Paint/Refinish
Ontario
AXALTA COATING SYSTEMS CANADA COMPANY
101 – Standox® Standoblue® Field Certification – AXALTA COATING SYSTEMS CANADA COMPANY

This Standox® course is designed to help participants understand the products used in their shop, as well as the processes necessary to successfully and efficiently refinish any color.

Paint/Refinish
Ontario
AXALTA COATING SYSTEMS CANADA COMPANY
401 – Cromax® Master Certification – AXALTA COATING SYSTEMS CANADA COMPANY

This is a performance-based instructor led class to achieve master level certification. It involves a product and technology update as well as a skills evaluation that enables a technician to be Master Certified. This certification is earned with a written assesment and skills evaluation.

Paint/Refinish
Ontario
AXALTA COATING SYSTEMS CANADA COMPANY
311 – Cromax® Color 2—Color Matching Techniques – AXALTA COATING SYSTEMS CANADA COMPANY

This instructor-led Cromax® course is designed to help participants understand how to correctly mix and analyze color. This includes color theory, the correct angles and lighting conditions, and how to correctly shade a color that needs adjustment.

Paint/Refinish
Ontario
AXALTA COATING SYSTEMS CANADA COMPANY
304 – Cromax® Advanced 3-Stage Course – AXALTA COATING SYSTEMS CANADA COMPANY

This instructor-led Cromax® course is designed to help the participant understand the three-stage process as well as how to use it to make repairs.

Paint/Refinish
Ontario
AXALTA COATING SYSTEMS CANADA COMPANY
303 – Cromaxr® Micro-Repair Course – AXALTA COATING SYSTEMS CANADA COMPANY

This instructor-led hands-on course covers the basic techniques in repairing stone chip damage, very small blends and wheel repair. This non-warranted repair process enables collision repair facilities to offer customer pay options. Skills acquired in this course can be applied to many different situations.

Paint/Refinish
Ontario
AXALTA COATING SYSTEMS CANADA COMPANY
302 – Cromax® Advanced Matte Clearcoat – AXALTA COATING SYSTEMS CANADA COMPANY

This instructor-led Cromax® course is a one-day course designed to develop the knowledge and skills of paint technicians when applying matte clears.

Paint/Refinish
Ontario
AXALTA COATING SYSTEMS CANADA COMPANY
301 – Cromax® Advanced 3-Stage & Specialty Colors – AXALTA COATING SYSTEMS CANADA COMPANY

This instructor-led Cromax® course is designed to help painters understand the three-stage process, tinted mid-coats, specialty colors, as well as how to repair them.

Paint/Refinish
Ontario
AXALTA COATING SYSTEMS CANADA COMPANY
211 – Cromax® Coloristic 1—Electronic Color Tools – AXALTA COATING SYSTEMS CANADA COMPANY

This instructor-led Cromax® course is designed to help painters understand electronic color tools such as the ColorNet® computer software, Acquire Plus EFX™ and Acquire EFX™ Quantum spectrophotometer.

Paint/Refinish
Ontario
AXALTA COATING SYSTEMS CANADA COMPANY
202 – Cromax® Understanding Pre-Paint Productivity and Profit – AXALTA COATING SYSTEMS CANADA COMPANY

This instructor-led course covers the secrets to productivity and profitability, as it relates to the pre-paint process. This course is intended for anyone who is part of the pre-paint process.

Paint/Refinish
Ontario
AXALTA COATING SYSTEMS CANADA COMPANY
201 – Cromax® Technician Certification – AXALTA COATING SYSTEMS CANADA COMPANY

This instructor-led Cromax® course is designed to help painters understand the products used in their shop, as well as the processes necessary to successfully and efficiently refinish any color. Available for all Cromax qualities

Paint/Refinish
Ontario
AXALTA COATING SYSTEMS CANADA COMPANY
102 – Cromax® Surface Preparation Certification – AXALTA COATING SYSTEMS CANADA COMPANY

This Cromax® course is designed to help participants understand the surface preparation
process and learn how to identify substrates and apply primers to those substrates.

Paint/Refinish
Ontario
AXALTA COATING SYSTEMS CANADA COMPANY
101 – Cromaxr® Field Certification – AXALTA COATING SYSTEMS CANADA COMPANY

This Cromax® course is designed to help participants understand the products used in their shop, as well as the processes necessary to successfully and efficiently refinish any color.

Paint/Refinish
Ontario
AXALTA COATING SYSTEMS CANADA COMPANY
401 – Spies Hecker® Master Certification – AXALTA COATING SYSTEMS CANADA COMPANY

This is a performance-based instructor led class to achieve master level certification. It involves a product and technology update as well as a skills evaluation that enables a technician to be Master Certified. This certification is earned with a written assesment and skills evaluation.

Paint/Refinish
Ontario
AXALTA COATING SYSTEMS CANADA COMPANY
311 – Spies Hecker® Color 2—Color Matching Techniques – AXALTA COATING SYSTEMS CANADA COMPANY

This instructor-led Spies Hecker® course is designed to help participants understand how to correctly mix and analyze color. This includes color theory, the correct angles and lighting conditions, and how to correctly shade a color that needs adjustment.

Paint/Refinish
Ontario
AXALTA COATING SYSTEMS CANADA COMPANY
304 – Spies Hecker® Hi-TEC Advanced 3-Stage Course – AXALTA COATING SYSTEMS CANADA COMPANY

This instructor-led Spies Hecker® course is designed to help the participant understand the three-stage process as well as how to use it to make repairs.

Paint/Refinish
Ontario
AXALTA COATING SYSTEMS CANADA COMPANY
303 – Spies Hecker® Hi-TEC Micro-Repair Course – AXALTA COATING SYSTEMS CANADA COMPANY

This instructor-led hands-on course covers the basic techniques in repairing stone chip damage, very small blends and wheel repair. This non-warranted repair process enables collision repair facilities to offer customer pay options. Skills acquired in this course can be applied to many different situations.

Paint/Refinish
Ontario
AXALTA COATING SYSTEMS CANADA COMPANY
302 – Spies Hecker® Advanced Matte Clearcoat – AXALTA COATING SYSTEMS CANADA COMPANY

This instructor-led Spies Hecker® course is a one-day course designed to develop the knowledge and skills of paint technicians when applying matte clears.

Paint/Refinish
Ontario
AXALTA COATING SYSTEMS CANADA COMPANY
301 – Spies Hecker® Permahyd® Hi-TEC Advanced 3-Stage & Specialty Colors – AXALTA COATING SYSTEMS CANADA COMPANY

This instructor-led Spies Hecker® course is designed to help painters understand the three-stage process, tinted mid-coats, specialty colors, as well as how to repair them.

Paint/Refinish
Ontario
AXALTA COATING SYSTEMS CANADA COMPANY
211 – Spies Hecker® Coloristic 1—Electronic Color Tools – AXALTA COATING SYSTEMS CANADA COMPANY

This instructor-led Spies Hecker® course is designed to help painters understand electronic color tools such as the ColorNet® computer software, Acquire Plus EFX™ and Acquire EFX™ Quantum spectrophotometer.

Paint/Refinish
Ontario
AXALTA COATING SYSTEMS CANADA COMPANY
202 – Spies Hecker® Understanding Pre-Paint Productivity and Profit – AXALTA COATING SYSTEMS CANADA COMPANY

This instructor-led course covers the secrets to productivity and profitability, as it relates to the pre-paint process. This course is intended for anyone who is part of the pre-paint process.

Paint/Refinish
Ontario
AXALTA COATING SYSTEMS CANADA COMPANY
201 – Spies Hecker® HI-Tec® Technician Certification – AXALTA COATING SYSTEMS CANADA COMPANY

This instructor-led Spies Hecker® course is designed to help painters understand the products used in their shop, as well as the processes necessary to successfully and efficiently refinish any color.

Paint/Refinish
Ontario
AXALTA COATING SYSTEMS CANADA COMPANY
102 – Spies Hecker® Surface Preparation Certification – AXALTA COATING SYSTEMS CANADA COMPANY

This Spies Hecker® course is designed to help participants understand the surface preparation
process and learn how to identify substrates and apply primers to those substrates.

Paint/Refinish
Ontario
AXALTA COATING SYSTEMS CANADA COMPANY
101 – Spies Hecker® Hi-Tec® Field Certification – AXALTA COATING SYSTEMS CANADA COMPANY

This Spies Hecker® course is designed to help participants understand the products used in their shop, as well as the processes necessary to successfully and efficiently refinish any color.

Paint/Refinish
Ontario
AUTOMOTIVE TRAINING INSTITUTE
Refinishing Prep Technician – AUTOMOTIVE TRAINING INSTITUTE

Job security is assured because the demand for collision repair is consistent in good times and bad. Put simply, cars are always going to collide and that means there will always be a demand for well-trained graduates of collision repair schools.

Core Skills
British Columbia
AUTOMOTIVE TRAINING INSTITUTE
Auto Repair Master Class for Shop Success – AUTOMOTIVE TRAINING INSTITUTE

This class includes a live three-hour instruction, one-on-one consultation before and after the event, and supporting documents. This virtual event is jam-packed with actionable tips on how to thrive during this COVID outbreak, maintaining car count and cash flow, marketing in the digital age and more.

Health & Safety
British Columbia
AUTOMOTIVE TRAINING INSTITUTE
Collision Repair Master Class for Shop Success – AUTOMOTIVE TRAINING INSTITUTE

This class includes a live three-hour instruction, one-on-one consultation before and after the event, and supporting documents. This virtual event is jam-packed with actionable tips on how to thrive during this COVID outbreak, negotiate with insurance companies, master estimatics for profit, market in the digital age and more.

Management/Estimating
British Columbia
AUTOMOTIVE TRAINING INSTITUTE
Refinishing Prep and Auto Body Technician – AUTOMOTIVE TRAINING INSTITUTE

This program provides students with hands-on training and up-to-date information for the occupations of an Auto Body Technician and Automotive Refinishing Prep Technician. The focus is on a strong foundation of the skills required to ensure the student's successful entry into the auto industry.

Core Skills
BC
AUTOMOTIVE TRAINING INSTITUTE
Automotive Technology – AUTOMOTIVE TRAINING INSTITUTE

In the Automotive Training Centre's (ATC) Automotive Technology Training program (approved as a vocational program under the Private Career Colleges Act, 2005), instructors provide students with the classroom and hands-on shop training needed to acquire an entry-level position and perform diagnose and repair of many different makes of automobiles.

Core Skills
BC
AUTOMOTIVE TRAINING INSTITUTE
Automotive Service Technician – AUTOMOTIVE TRAINING INSTITUTE

A combination of both classroom theory (40 percent) and hands-on training (60 percent), this program offers the auto mechanic student the experiences required for entry-level auto mechanic jobs. This auto mechanic pre-apprenticeship program prepares students to engage in the servicing and maintenance of all types and makes of cars.

Core Skills
BC
AUTOMOTIVE TRAINING INSTITUTE
Automotive Service Advisor – AUTOMOTIVE TRAINING INSTITUTE

The Automotive Service Advisor program combines the Automotive Service Consultant, Auto Body Collision Estimator and Parts & Warehousing programs to provide a complete automotive service education. It provides a wide-angle view of dealer/store operations and management procedures within a dealership, a repair facility, a bodyshop or a retail parts store.

Core Skills
BC
AUTOMOTIVE TRAINING INSTITUTE
Automotive Detailing – AUTOMOTIVE TRAINING INSTITUTE

ATC's Automotive Detailing 2-week program offers a hands-on approach to learning that takes place, for the most part, in the shop. In fact, you will spend 85% in the shop gaining practical experience.

Core Skills
BC, ON, QC
AUTOMOTIVE TRAINING INSTITUTE
Auto Body Collision Estimating – AUTOMOTIVE TRAINING INSTITUTE

Using interactive media and industry standard software, you will learn the fundamentals of collision damage repair and damage estimating. This means you will be able to properly complete a hand written or computerized damage report for an auto body repair shop, insurance company or fleet and rental outlet.

Core Skills
British Columbia
Automotive Retailers Association (ARA)
Dismantler Orientation AR101 – Automotive Retailers Association (ARA)

This module is required for anyone who dismantles or pulls parts from a vehicle. This module contains four sections: environmental processing, body parts and interior dismantling, mechanical parts dismantling, work orders, storage and cleaning, sectioning and shipping.

Recycling
British Columbia
Automotive Retailers Association (ARA)
Inventory Specialist AR102 – Automotive Retailers Association (ARA)

This module is required for managers or employees who are involved with inventory management, sales or shipping of parts. This module contains several sections, including: Understanding the 2012 ARA Parts Definition Standards, the ARA Damage Code, A, B & C Parts-Grading, and the importance of good inventory management.

Recycling
British Columbia
Automotive Retailers Association (ARA)
Standards of Performance AR103 – Automotive Retailers Association (ARA)

This module is required for managers and supervisors, and employees involved in parts sales and/or inventory management. The focus of this course is on the current standards and expectations for both the Certified Auto Recycler and the repair facilities with whichthey do business.

Recycling
British Columbia
Automotive Retailers Association (ARA)
Collision Repair Shop Relations – Automotive Retailers Association (ARA)

This module is designed to increase partssales by identifying challenges between auto recyclers and collision repair shops by providing best practices for overcoming these challenges and improving customer relations.

Recycling
British Columbia
Automotive Retailers Association (ARA)
Understanding WorkSafe B.C. Premiums – Automotive Retailers Association (ARA)

A free webinar presented by TeksMed Services on the impact of WorkSafeBC premiums on your business and how to control the costs.

Management/Estimating
British Columbia
Automotive Retailers Association (ARA)
ADAS Calibrations – Automotive Retailers Association (ARA)

A free webinar on the pros and cons of performing ADAS calibrations in an auto glass shop, and a look at some of the tools available.

Management/Estimating
British Columbia
Automotive Retailers Association (ARA)
OEM Information Access – Automotive Retailers Association (ARA)

A free webinar on the history of the CASIS agreement and demonstration of vehicle programming and devices.

Core Skills
British Columbia
Automotive Recyclers Association (ARA) University
Improving Your Business With Clear Core Values – Automotive Recyclers Association (ARA) University

Good leaders must have specific beliefs and core values to which they adhere in order to effectively lead. The ultimate role of a leader is to add value to other people.

Recycling
Virginia
Automotive Recyclers Association (ARA) University
Hybrid New Technology – Automotive Recyclers Association (ARA) University

Key course elements include: Smart keys, hybrid testing/storage/shipping, hybrid new technology and hybrid closing.

Recycling
Virginia
Automotive Recyclers Association (ARA) University
Dismantler Training – Automotive Recyclers Association (ARA) University

The ARAU Dismantler Training is designed to provide you with a standardized training option that has your bottom line in mind. Key elements include: Dismantler basics, treating all parts as valuable merchandise, safety procedures and "maximizing the harvest."

Recycling
Virginia
Automotive Recyclers Association (ARA) University
Owner, CEO, President Training: Building a Family Business – Automotive Recyclers Association (ARA) University

How to run a family business is a challenge to an owner. An acknowledged expert leads this practical workshop on how to run a family business.

Recycling
Virginia
Automotive Recyclers Association (ARA) University
Phone Skills, Sales Tools and Motivation – Automotive Recyclers Association (ARA) University

Proper handling sales phone calls is an art, and it can make or break a sale or a sales relationship. Trainer DJ Harrington, CSP, provides expert training on how to handle phone calls that exude professionalism.

Recycling
Virginia
Automotive Recyclers Association (ARA) University
Core Values 2 – Automotive Recyclers Association (ARA) University

This business course is part of ARA's expanded Management Training curriculum. It teaches you and your leadership team how to improve company wide decision-making by understanding the power of company core values.

Recycling
Virginia
Automotive Recyclers Association (ARA) University
Core Processing for More Sales – Automotive Recyclers Association (ARA) University

This top-line growth course focuses on methods that will help you get more from your cores and increase their marketability.

Recycling
Virginia
Automotive Recyclers Association (ARA) University
Inventory Specialist and Parts Grading – Automotive Recyclers Association (ARA) University

This course covers key elements like introduction to inventory specialist and parts grading, understanding parts descriptions, parts coding, ARA part grading for body parts, mechanical parts grading, ending statement and course complete overview.

Recycling
Virginia
Automotive Recyclers Association (ARA) University
ARA Recycled Parts Guide – Automotive Recyclers Association (ARA) University

Thousands of estimates and repair orders are written every day that include recycled parts. This training is intended to help define the expectations and suggest performance standards for estimator expectations, buyer expectations and seller expectations.

Recycling
Virginia
Automotive Career Development Center
Qualified Shop Program – Automotive Career Development Center

Course grants Qualified Hybrid Repair Center status. Curriculum designed for shop owners and technicians to learn training techniques specific to electric and hybrid vehicles, get access to the right equipment, service information, and tools, as well as marketing and management advice.

Hybrid/EV
Massachusetts
Automotive Career Development Center
Up Your Voltage Class – Automotive Career Development Center

This is a seven-day class held in Worcester, Massachusetts designed to answer repairer questions about EMV; any vehicle with an orange cable. After receiving requests for hands-on courses, the Automotive Career Development Center introduced its Up Your Voltage! class.

Hybrid/EV
Massachusetts
Automotive Career Development Center
Electric Drive Class – Automotive Career Development Center

This is a five-day class held in Worcester, Massachusetts. All of the Automotive Career Development Center (ACDC) fleet of cars (14+ vehicles) will be on-site. Most popular HEVs are Gen I, II, III Prius, Toyota Highlander, Camry HEV, Honda Civic I and II, Insight I, Accord HEV I, Ford Escape, Nissan Leaf and Chevy Volt and Kia Niro EV. ACDC has lots of parts to work with, scan tools, and scopes. The class is based on today's technology and teaching methods. What you are missing in your training will be answered.

Hybrid/EV
Massachusetts
Automotive Career Development Center
Amped Up Class – Automotive Career Development Center

This course is designed to equip repairers with EMV repair knowledge. An EMV is any car with an orange cable, says the Automotive Career Development Center. This is a three-day class held in Worcester, Massachusetts, is limited to four people. The class is based on today's technology and teaching methods. Whatever elements you are missing in your EMV repair training, this course will fill the gaps.

Hybrid/EV
Massachusetts
Automotive Career Development Center
Recorded Webinars – Automotive Career Development Center

A wide variety of online classes are available on a range of topics. Discounts are available when registering for multiple webinars.

Core Skills
Massachusetts
Automotive Career Development Center
Live Webinars – Automotive Career Development Center

The Automotive Career Development Center webinars are held twice a day at 8:00am and 2:00pm EST. The webinars cover a wide range of topics and applications. Discounts are available for multiple bookings—reach out to ACDC for more information.

Core Skills
Massachusetts
ASSINIBOINE COMMUNITY COLLEGE
Welding (Apprenticeship) – ASSINIBOINE COMMUNITY COLLEGE

This course equips students for a career as certified welder. Students will learn the knowledge, ability and skills required to layout, cut, prepare, repair, install and join metals of various compositions using a variety of welding equipment. Apprenticeship training takes place at the Len Evans Centre for Trades and Technology at Assiniboine's North Hill Campus.

Welding
Manitoba
ASSINIBOINE COMMUNITY COLLEGE
Automotive Technician – ASSINIBOINE COMMUNITY COLLEGE

In this program, you will learn to repair and service both cars and light-duty trucks with a focus on fundamental shop skills. From there, gain skills in repairing engines, powertrains and electrical systems.

Core Skills
Manitoba
ANEST IWATA
N/A – ANEST IWATA

Anest Iwata provides an online resources library for painter that includes troubleshooting tips, technical guides and guided learning for Anest Iwata automotive refinishing products.

Paint/Refinish
N/A
Altra Products
Aluminum Welding – Altra Products

Learn how to use Car-O-Liner aluminum welding equipment through this two-day course offered by Altra Products.

Welding
Michigan
Altra Products
Computer measuring – Altra Products

Learn how to use Car-O-Liner Computer measuring systems through this two-day course.

Measurement/Alignment
Michigan
ALLDATA
ALLDATA TRAINING – ALLDATA

ALLDATA offers free webinars led by experts on new technologies, current industry trends and top practices for repair and collision professionals. ALLDATA also offers training videos, product experts available by phone and instructor-led webinars that allow participants to learn the basics and ask questions. Plus, support.alldata. com is a self-help resource for how-to info, troubleshooting tips, training options and FAQs.

Core Skills
N/A
ALGONQUIN COLLEGE
– ALGONQUIN COLLEGE

The one-year Welding and Fabrication Techniques Ontario College Certificate program provides foundation skills to gain entry-level employment in the welding industry. Participate in a combination of theory and shop work, and learn metal fabrication techniques and welding, acquiring a solid foundation of principles for the field.

Welding
Ontario
ALGONQUIN COLLEGE
Motive Power Technician – ALGONQUIN COLLEGE

The two-year Motive Power Technician Ontario College Diploma program, delivered in a compressed format over 42 weeks, provides you with the skill-set to find an entry-level position in the transportation service industry. Algonquin College delivers this program in its state-of-the-art Transportation Technology Centre that is outfitted with modern equipment, allowing you to learn using the full range of advanced technology used in today`s motive industry.

Core Skills
Ontario
AKZONOBEL Toronto Training Centre
U-Tech Product Training – AKZONOBEL Toronto Training Centre

Learn how to use AkzoNobels Versitile Durable and Productive commercial vehicle Topcoat and Basecoat System for OEM and Refinish

Paint/Refinish
AKZONOBEL Toronto Training Centre
Sikkens Autowave Advanced Product Training – AKZONOBEL Toronto Training Centre

What are some of the more challenging jobs you have recently handled? How often do you accelerate your systems and what issues do you encounter? How successful are you with more demanding jobs, such as three-stage systems? This class addresses all of these issues in-depth with hand's-on learning. Sikkens Product Training is prerequisite.

Paint/Refinish
Ontario
AKZONOBEL Toronto Training Centre
Sikkens Autocoat BT LV650 Product Training – AKZONOBEL Toronto Training Centre

The goal of the BTLV650 training is to maximize efficiency and productivity by empowering paint staff with key system knowledge and application techniques. The classroom theory is reinforced with extensive hands-on application time. The full range of BTLV650 products and procedures are covered, as are proper system selection and optimum application techniques.

Paint/Refinish
Ontario
AKZONOBEL Toronto Training Centre
Lesonal WB Product Training – AKZONOBEL Toronto Training Centre

Become familiar with the Lesonal WB paint line using a balance of classroom theory and hands-on application exercises. Understand spot repair and blending techniques, plastic parts preparation/finishing and operation of HVLP spray guns. Class is I-CAR- and ASE-certified.

Paint/Refinish
Ontario
AKZONOBEL Toronto Training Centre
Sikkens Colour Tinting – AKZONOBEL Toronto Training Centre

The course teaches the principles of colour theory with subject matter ranging from colour direction to colour and brightness flip. Students learn the effects of spray technique on colour, as well as tinting procedures that will control off-shade paint. Extensive detail on solid, two-step metallic and pearl colour theory. Participate in over 75 exercises in colour matching. Class is I-CAR- and ASE- certified. Class is for Autowave and/or Autobase users.

Paint/Refinish
Ontario
AKZONOBEL Toronto Training Centre
Sikkens Autowave Product Training – AKZONOBEL Toronto Training Centre

Become familiar with the Sikkens Autowave paint line using a balance of classroom theory and hands-on application exercises. Understand spot repair and blending techniques, plastic parts preparation/finishing and operation of HVLP spray guns.

Paint/Refinish
Ontario
AKZONOBEL
Get the Digital Advantage – AKZONOBEL

This Digital Color Process training will review the equipment, process steps, and underlying digital theory, all of which are necessary components for the successful implementation of digital color into a repair facility environment. Highlights include an overview and operation of the Automatchic Vision spectrophotometer, developing a successful measurement process, and interfacing with other AkzoNobel Color Tools. Process videos and links to other AkzoNobel technical materials are included in the training module.

Paint/Refinish
Ontario
ACCESS CAREER CENTRE
Automobile Mechanics – ACCESS CAREER CENTRE

Via the Access Career Centre's Automobile Mechanics course, students will learn to perform preventive and corrective mechanic work; inspect vehicles with the goal of finding the cause of operating problems; perform repairs, replace parts and make adjustments in a number of different vehicle systems; procedure for installing accessories and optional equipment; adhere to health, safety and environmental laws and regulations.

Core Skills
QUEBEC
ACADEMY CANADA
Automotive Service Technician (Pre-Employment) – ACADEMY CANADA

The 9-month Automotive Service Technician (Pre-Employment) Diploma is a provincially-accredited apprenticeship program, offered at both the St. John's and Corner Brook campuses, developed by government and approved by the Provincial Apprenticeship and Certification Board. The program provides students with a range of skills needed as a first-year apprentice, including: safety, engine systems, electrical, steering, braking systems, suspension, body components, trim, restraint systems, hybrid/alternative fuel systems and others, with learning divided equally between the classroom and bodyshop.

Core Skills
NEWFOUNDLAND
ACADEMY CANADA
Auto Body and Collision Technician (Pre-Employment) – ACADEMY CANADA

The Auto Body and Collision Technician (Pre-Employment) program, offered at both the St. John's and Corner Brook campuses, was developed by government and approved by the Provincial Apprenticeship and Certification Board. Auto Body and Collision Technicians repair and restore damaged motor vehicle body parts and interior finishing; repaint body surfaces; and repair and/or replace automotive glass. This group also includes metal repairers who repair defective automobile body parts and damage to the bodies of newly assembled cars.

Core Skills
NEWFOUNDLAND
3D Canada
Professional Car Detail Training – 3D Canada

Professional Car Detail Training from 3D Canada provides a solid option for anyone looking to up their game or learn proper techniques from scratch. If you want to start a detailing business, the four-day program can get you on the right path, or if you have the basics down and are on track to become a more advanced polisher, this training can help you achieve the top-notch finish you're seeking.

Paint/Refinish
Ontario